What's your favorite Nathan Hale death spot?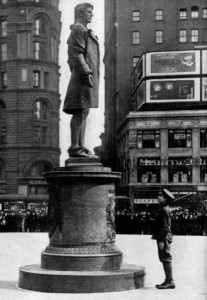 Nathan Hale was a 21 year old Connecticut native who volunteered for George Washington's Continental Army and stayed behind in New York after the Army's retreat in September 1776 in order to gain intelligence from the British. Hale was unfortunately caught — in Flushing Bay, Queens — brought to Manhattan and hanged, though not before delivering his elegant last words, "I only regret that I have but one life to give for my country."
He may have had only one life, but he appears to have three separate locales in Manhattan which claim to be the spot he died.
— A plaque at 65th and 3rd Avenue placed by the New York Historical Society seems to be pretty definitive, being the most recent and shining with that NYHS seal of approval. (The plaque indicates Hale was hung at a place actually on 66th Street.)
— The Daughters of the American Revolution, however have a plaque at the Yale Club on 44th and Vanderbilt Avenue, proclaiming the same thing
— Meanwhile, a statue of Nathan Hale standing right in front of City Hall was once proclaimed to be the spot. Back in Revolutionary War days, this was a grassy commons where many public displays were held, so on the surface it seems a possibility
And those are just the theories that haven't been dismissed. Previous speculation to Nathan's hanging spot have include East Broadway on the Lower East Side, the intersection of Madison and Market streets, and somewhere along "the Brooklyn shore."
Pictured: In 1917, a soldier in World War I regalia salutes Hale's statue in City Hall