The First Subway: Alfred Ely Beach's Marvelous Pneumatic Transit
PODCAST
The unbelievable story of Alfred Ely Beach's Pneumatic Transit, a curious solution from 1870 to New York's growing transportation crisis.
The first subway in New York — the first in the United States! – traveled only a single block and failed to influence the future of transportation. And yet Alfred Ely Beach's marvelous pneumatic transit system provides us today with one of the most enchanting stories of New York during the Gilded Age.
With the growing metropolis still very much confined to below 14th Street by 1850, New Yorkers frantically looked for more efficient ways to transport people out of congested neighborhoods. Elevated railroads? Moving sidewalks? Massive stone viaducts?
Inventor Beach, the publisher of the magazine Scientific American, believed he had the answer, using pneumatic power — i.e. the power of pressurized air! But the state charter only gave him permission to build a pneumatic tube to deliver mail, not people.
That didn't stop Beach, who began construction of his extraordinary device literally within sight of City Hall. How did Beach build such an ambitious project under secretive circumstances? What was it like to ride a pneumatic passenger car? And why don't we have pneumatic power operating our subways today?
FEATURING: Boss Tweed at his most bossiness, piano tunes under Broadway and something called a centrifugal bowling alley!
To get this week's episode, simply download it for FREE from iTunes or other podcasting services.
You can also listen to the show on Stitcher streaming radio and TuneIn streaming radio from your mobile devices.
Or listen to it straight from here:

___________________________________________________________________________
The Bowery Boys: New York City History podcast is brought to you …. by you!
We are now producing a new Bowery Boys podcast every two weeks. We're also looking to improve the show in other ways and expand in other ways as well — through publishing, social media, live events and other forms of media. But we can only do this with your help!
We are now a member of Patreon, a patronage platform where you can support your favorite content creators for as little as a $1 a month.
Please visit our page on Patreon and watch a short video of us recording the show and talking about our expansion plans. If you'd like to help out, there are five different pledge levels (and with clever names too — Mannahatta, New Amsterdam, Five Points, Gilded Age, Jazz Age and Empire State). Check them out and consider being a sponsor.
We greatly appreciate our listeners and readers and thank you for joining us on this journey so far. And the best is yet to come!
________________________________________________________________________
Alfred Speer's moving sidewalk concept would have lifted pedestrians off the street and onto a moving ribbon that would have stretched up and down Broadway.
Read more about this curious proposal over at Scientific American.
An 1880 issue of Scientific American, the publication owned by Alfred Eli Beach that provided the impetus for many extraordinary inventions during the Gilded Age.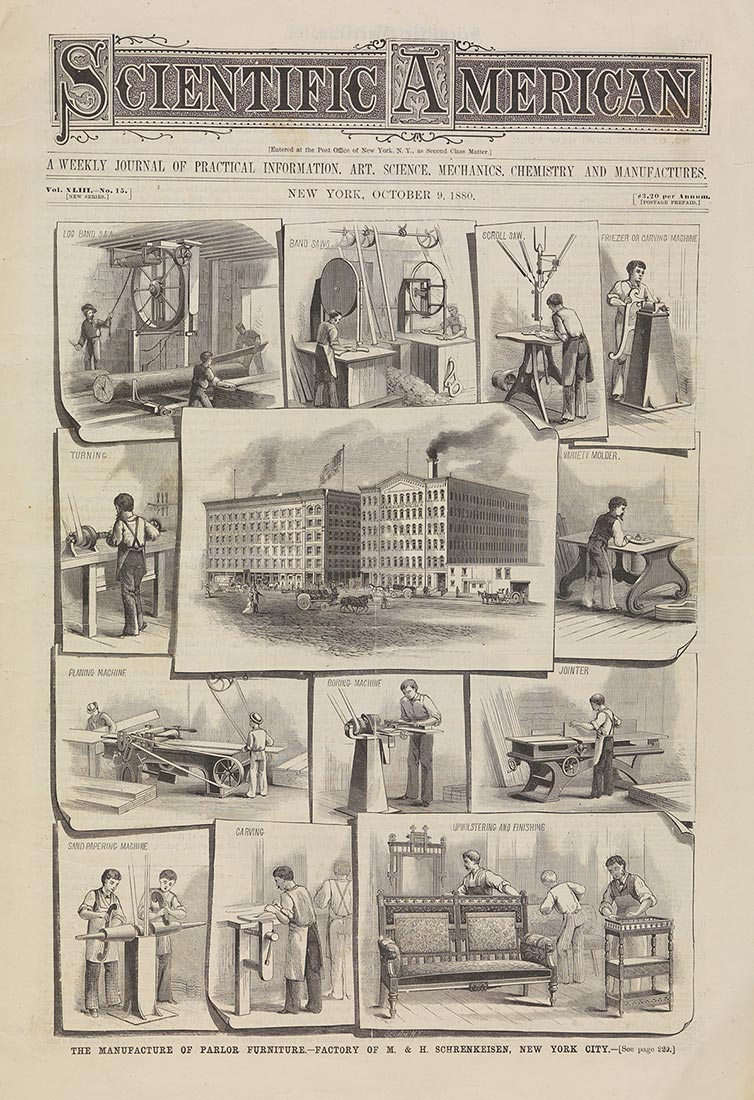 The 'atmospheric railway' which ran during London's Crystal Palace Exhibition in 1864.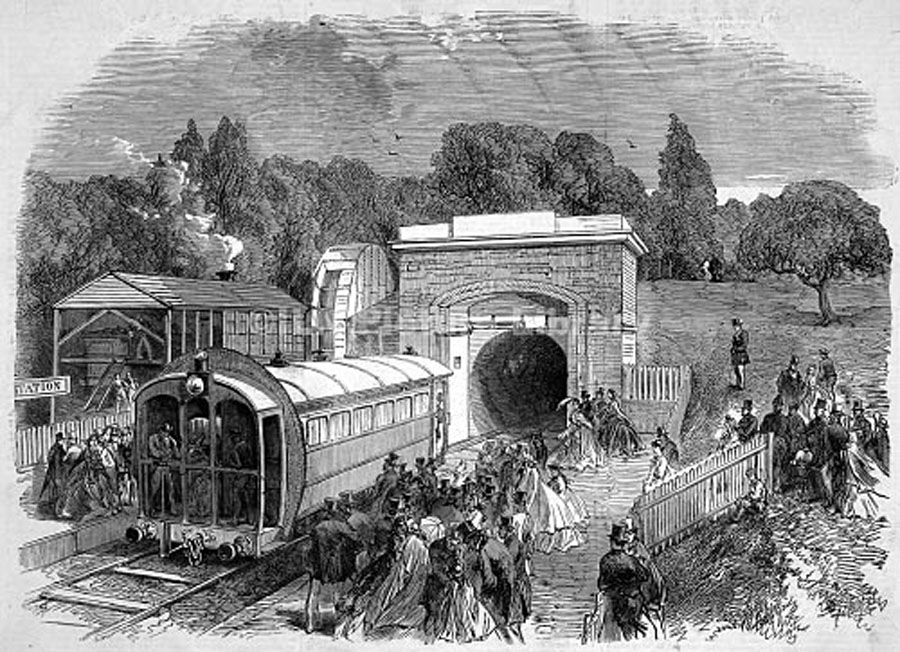 Another idea which transfixed New Yorkers (and in particular Boss Tweed) was the elevated viaduct which would have sliced through dozens of city blocks, creating an epic piece of architecture throughout Manhattan.
Alfred Ely Beach, the mastermind of the Broadway pneumatic tunnel project:
Beach's 'passenger tube' which was displayed to great acclaim at the American Institute Fair in 1867:
Some images from Beach's 1870 pamphlet on the pneumatic system:
An illustration from a newspaper of Beach's workers 'testing the position' late at night over Broadway:
How an underground pneumatic tunnel would have been situated under Broadway. Pictured here in relation to the new post office (which sat at the spot of the southern end of today's City Hall Park).
Had the Broadway Underground Railway actually been fully developed, here's what a station would have looked like:
Stereopticon images of Beach's pneumatic transit tunnel under Broadway, taken in 1870:
Beach's later invention — the centrifugal home bowling alley:

Later application of pneumatic power in New York — shipping office tubes at a location at Franklin and Greenwich Streets (1905) and the series of mail tubes at the National City Bank, 1910.
Start with Joseph Brennan's excellent research and presentation online. Then jump into one of these great books on the history of New York City transportation — 722 Miles by Clifton Hood, The Race Underground by Doug Most, The Wheels That Drove New York City by Roger P. Roess and Gene Samsone and New York Underground by Julia Solis. There's even a children's book on this subject called The Secret Subway by Shana Corey and Red Nose Studio.
For some original documents from the period, look to an Illustrated Description of the Broadway Pneumatic Underground Railway (which we read from on the show), an 1873 presentation of the Broadway Underground Railway, and a very curious publication by Beach himself called The Pneumatic Dispatch from 1868.