The Bowery Boys Halloween Special: Ghosts of the Gilded Age
PODCAST

Four strange and spooky tales taken from New York City newspaper articles published during the Gilded Age

For this year's 10th annual Bowery Boys Halloween special, we're highlighting haunted tales from the period just after the Civil War when New York City became one of the richest cities in the world — rich in wealth and in ghosts!

We go to four boroughs in this one (sorry Brooklyn!):

— In the Bronx we highlight a bizarre house that once stood in the area of Hunts Point, a mansion of malevolent and disturbing mysteries

— Then we turn to Manhattan to a rambunctious poltergeist on fashionable East 27th Street

— Over in Queens, a lonely farmhouse in the area of today's Calvary Cemetery is witness to not one, but two unsettling and confounding deaths

— Finally, in Staten Island, we take a visit to the glorious Vanderbilt Mausoleum, a historic landmark and a location with a few strange secrets of its own

PLUS: Stay tuned until the end to hear the trailer for the new Bowery Boys podcast series — The First!

To get this week's episode, simply download it for FREE from iTunes or other podcasting services.

You can also listen to the show on Stitcher streaming radio and TuneIn streaming radio from your mobile devices.

Or listen to it straight from here:


___________________________________________________________________________

The Bowery Boys: New York City History podcast is brought to you …. by you!

We are now producing a new Bowery Boys podcast every two weeks. We're also looking to improve the show in other ways and expand in other ways as well — through publishing, social media, live events and other forms of media. But we can only do this with your help!

We are now a member of Patreon, a patronage platform where you can support your favorite content creators for as little as a $1 a month.

Please visit our page on Patreon and watch a short video of us recording the show and talking about our expansion plans. If you'd like to help out, there are five different pledge levels (and with clever names too — Mannahatta, New Amsterdam, Five Points, Gilded Age, Jazz Age and Empire State). Check them out and consider being a sponsor.

We greatly appreciate our listeners and readers and thank you for joining us on this journey so far. And the best is yet to come!

________________________________________________________________________

This is the Casanova Mansion aka "the house of many mysteries"
The subterranean tunnels under the Casanova mansion, as they appeared in 1910. Prison cells were discovered along the walls of the tunnels. What could they have been used for?
From the book "The borough of the Bronx, 1639-1913; its marvelous development and historical surroundings" (1913): "Casanova Mansion were stored with powder and rifles which eventually found their way into the hands of the patriots in Havana and other Cuban cities. An underground passage had been made, running from the house to the Sound, and under cover of darkness boats, which were undoubtedly filibusters, were occasionally seen to steal into the little cove that the mansion overlooked; and, after being freighted with ammunition and other implements of war, to creep out again as mysteriously as they had entered."
In 1902 a young girl made the news when she by climbing the the very top of the old mansion. Note that the porch is different than the picture above. This is probably the side of the house that faced the East River.
The Casanova Mansion makes one of its final appearances in the newspapers. This article is from 1902 although it appears that the mansion was not completely demolished until much later (the pictures above are from a later date)
For more information on the Casanova Mansion, check out this exhaustive research from Paul DeRienzo.
From the New York Times, September 18, 1870, a thorough recounting of the strange story of possible ghosts on East 27th Street, with a thorough description of the police's creative use of lighting and photography.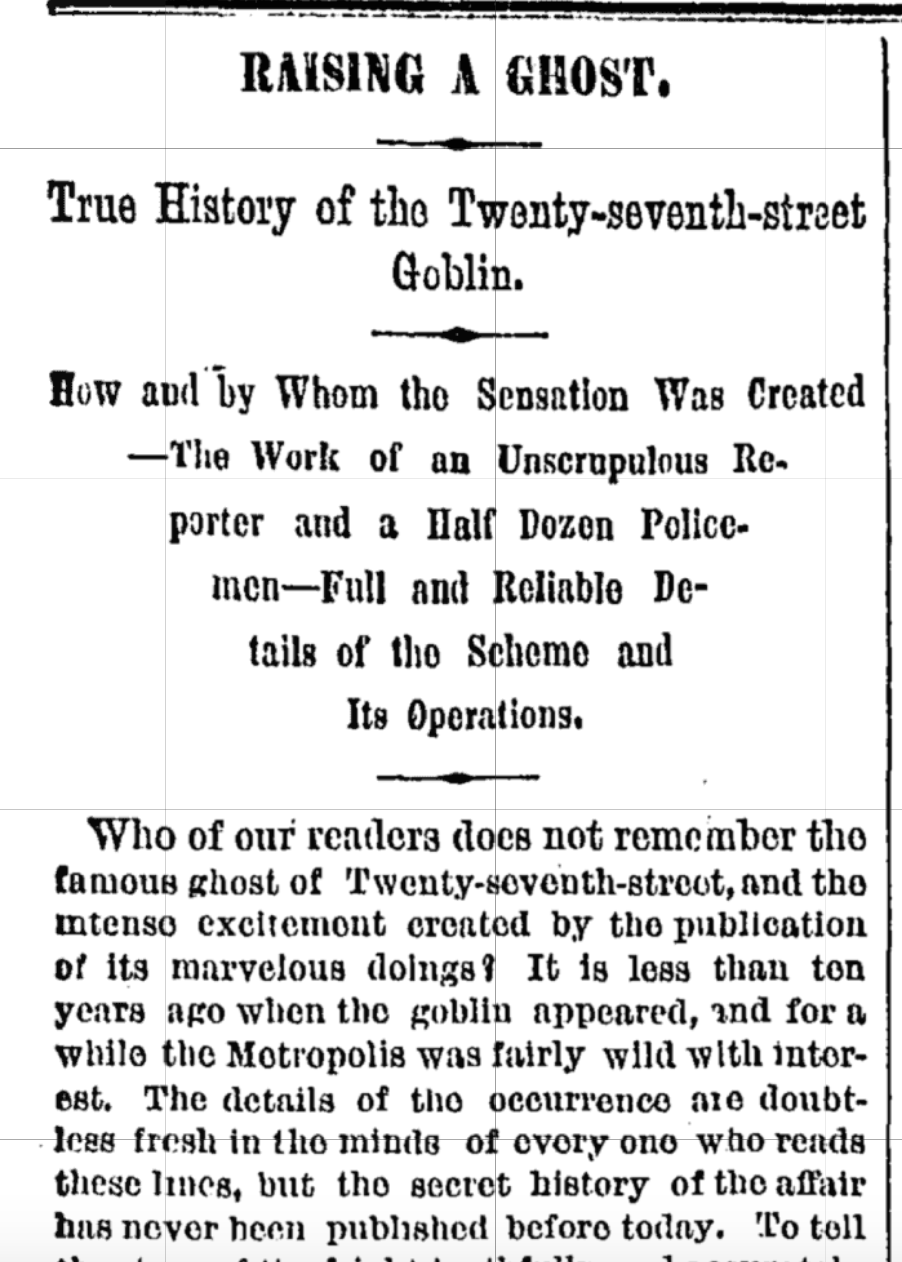 A selection of houses along East 27th Street, photographs by Charles Von Urban, courtesy the Museum of the City of New York
The spectacular Windsor Hotel on Fifth Avenue and 46th Street, pictured here in 1890, many years after the death of its proprietor John T. Daly. For more information on this forgotten hallmark of upper-class glamour, check out this article from Daytonian In Manhattan.
A 'bird's eye' view of Calvary Cemetery in 1855, well before its expansion. Taking from clues from various newspaper, my guess is that the 'cursed farmhouse' lay somewhere to the far right of this image.
A map from 1909 detailing the expansion of Calvary Cemetery.
From the New York Tribune, May 3, 1877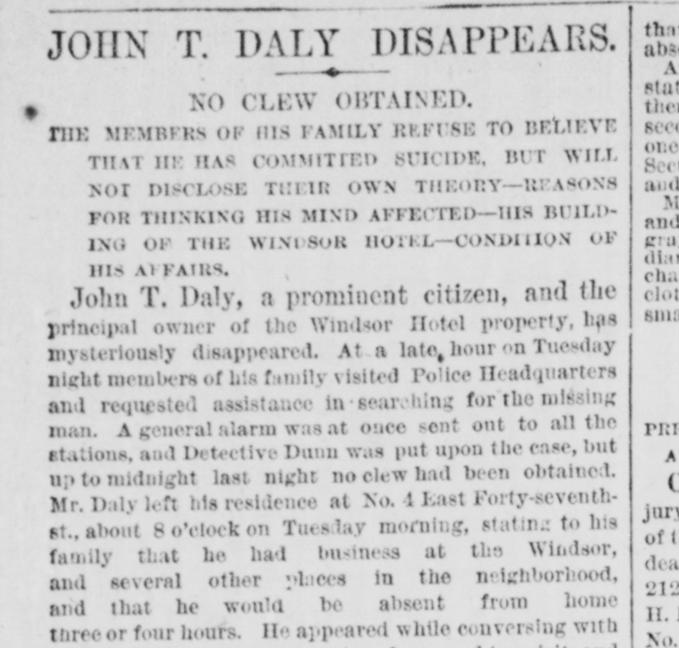 A macabre diagram of the Daly crime scene at the farmhouse, published in the New York Herald, May 7, 1877.
The Vanderbilt Mausoleum, pictured here in 1910
We hope you stuck around until the end of the show — to hear the official trailer for the new Bowery Boys podcast series called The First. Listen to it here:
For more spooky stories, listen to our podcast episode on the Ghost Stories of Hell's Kitchen.