The Bowery Wizards: A History of 19th Century Tattooing in New York
PODCAST

The history of tattooing in the late 19th century and the invention of a mechanical device still used in tattoo parlors around the world.

The art of tattooing is as old as written language but it would require the contributions of a few 19th century New York tattoo artists — and a young inventor with no tattoos whatsoever — to take this ancient art to the next level.

The first documented tattoo parlor (or atelier) in the United States was a small second-floor place near the East River waterfront and close to the site of the Brooklyn Bridge. But as more sailors and seamen — the principal customers for tattoo purveyors — came to New York, more would-be tattoo artists opened shops. By the 1880s, there were a great number of professional tattooists, scattered along the waterfront and up along the Bowery.

This is also the story of the electric tattoo machine, how it was first perfected in tiny tattoo parlors underneath a New York elevated train and how this relatively simple device changed the face of body art forever.

To get this episode, simply download it for FREE from iTunes or other podcasting services.

Subscribe to The First here so that you don't miss future episodes!

You can also listen to the show on Stitcher streaming radio from your mobile device.

Or listen to it straight from here:
THE BOWERY WIZARDS: A HISTORY OF 19th CENTURY TATTOOING


"The Tattooing Fad Has Reached New York" — In fact tattoo artists had been in New York for over three decades by this time.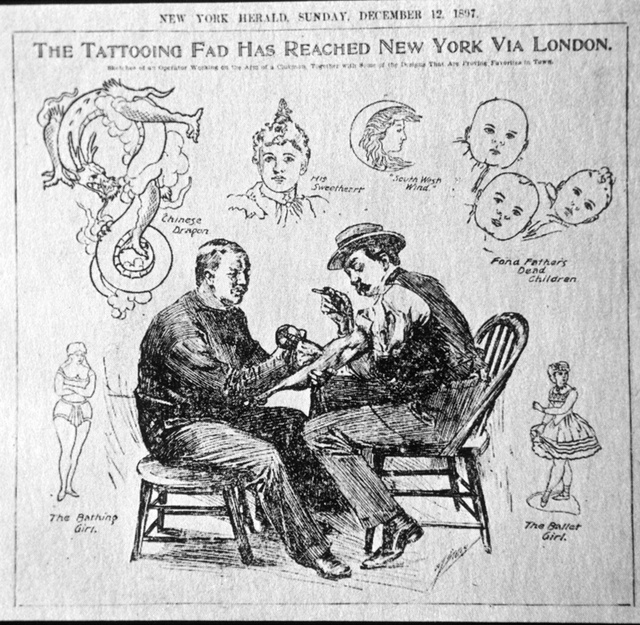 Charles' brother Stephen was a sideshow performer and a tattoo artist himself.
A tattoo parlor from the 1950s
Daredevil Tattoo, at 141 Division St in Manhattan, has a mini tattoo museum with artifacts mentioned in the show. Check them out!
@BoweryBoys @TheFirstPodcast Hey @BoweryBoys we have original artwork by SamuelO'Reilly, an Edison Pen, a Wagner machine all on display at the shop with other artifacts

— Daredevil Tattoo (@daredeviltattoo) May 19, 2017