Every Bowery Boys podcast in chronological order by subject (updated for 2017)
Ten years ago (officially on June 19, 2007) we recorded the very first Bowery Boys podcast, appropriately about Canal Street, the street just outside our windows.  We cannot have possibly imagined on that hot June night, wielding only a bad microphone, a new laptop and some reasonably interesting information about a terribly polluted water source, that would still be doing this, stronger than ever.
Thank you listeners and readers for helping us celebrate almost four hundred years of history in the past ten. We have so many exciting things on the way for 2017.
Here's a new way to experience our old podcasts. Below is our entire list of shows, placed in a particular chronological order, based on a critical date in that subject's history.
Viewing our back catalog of podcasts in this fashion, we hope that you can really start seeing the entire history of New York City emerging. Naturally there are some blatant holes in our coverage that we hope to close up in future shows.
So enjoy! And thank you all again.
You can find our podcasts anyplace. Read here more information.

DUTCH AND ENGLISH PERIOD
#206 The Lenape: The Real Native New Yorkers (Pre 1609 inhabitants)
#83 Henry Hudson and the European Discovery of Mannahatta (1609 – Hudson in the harbor)
#212 Bronx Trilogy: The Bronx Is Born (1639 Jonas Bronck sets up a farm on what would be called the Bronx River)
#14 Peter Stuyvesant (1647 Stuyvesant arrives)
#22 Staten Island (1680 Conference House built)
#228 The Pirate of Pearl Street: The New York Adventures of Captain Kidd (1690 Kidd moves to New York)
#97 Trinity Church (1698 – First Trinity Church opens)
REVOLUTION
#201 GOWANUS! Brooklyn's Troubled Waters (1776 – Battle of Brooklyn)
#191 The Great Fire of 1776 (1776 Fire at the Fighting Cocks Tavern)
#36 Life In British New York 1776-1783 
#157 Early Ghost Stories of Old New York (1778 – Mohican Indians fighting for George Washington slaughtered)
NEW YORK IN THE NEW NATION
#220 George Washington's New York Inauguration (1789)
#221 New York: Capital City of the United States (1789-1790)
#63 New York Stock Exchange (1792 Buttonwood Agreement)
#112 Archibald Gracie and His Mansion (1799 — Mansion constructed)
#138: St. Mark's-in-the-Bowery (1799 — Chapel opens)
#65 Spooky Stories of New York (1800 Levi Weeks accused of murder)
#41 New York Post (1801 Alexander Hamilton establishes the paper)
#19 Washington Irving (1802 Irving begins writing)
#168 DUEL! Aaron Burr vs. Alexander Hamilton (1804 – The infamous duel)
#6 Governors Island (1807 Castle Williams constructed)
#185 Adventures in Governors Island (1807 Castle Williams constructed)
#31 Battery Park and Castle Clinton (1808 Castle Clinton constructed)
#9 St. Patrick's Old Cathedral (1809 Cathedral begins construction)
#50 Canal Street and Collect Pond (1811 Collect Pond is filled)
#163 South Street Seaport (1811 – Schermerhorn Row counting houses constructed)
#93 City Hall and City Hall Park (1811 City Hall constructed)
#40 Union Square (1815 Union Place opened)
#145 Bicycle Mania! From Velocipede to Ten-Speed (1819 – First bicycle on the streets of New York)
NEW YORK, NEW WEALTH
#152 Bellevue Hospital (1821 – Hospital opens)
#52 DeWitt Clinton and the Erie Canal (1825 Canal opens)
#230 Before Harlem: New York's Forgotten Black Communities (1825 Seneca Village founded)
#7 Washington Square Park (1826 City buys potter's field to create a military parade ground)
#70 The Bowery Files (1826 – Bowery Theatre opens)
#58 Delmonico's Restaurant (1827 First restaurant opens)
#142 New York University (NYU) (1831 – College founded in Washington Square)
#193 St. Mark's Place: Party In The East Village (1831 – Hamilton-Holly house constructed)
#91 Haunted Tales of New York (1832 — Merchant's House built)
#171 The Keys to Gramercy Park (1833 — Gramercy Park enclosed with a private fence)
#94 Corlear's Hook and the Pirates of the East River (1833 — First tenement built in the Hook)
#140 Rockaway Beach (1833 – Marine Pavilion opens)
#224 The Arrival of the Irish: An Immigrant Story (1830s)
#208 Great Hoaxes of New York (1835 – the Moon Hoax runs in the New York Sun)
#211 The Notorious Madame Restell: The Abortionist of Fifth Avenue (1836 Ann Lohman begins work)
#222 Who Killed Helen Jewett? A Mystery By Gaslight (1836)
#59 Five Points: Wicked Slum (1837 Old Brewery becomes a slum)
#38 Tiffany & Co. (1837 Tiffany's first opens)
#64 Green-Wood Cemetery (1838 Cemetery opens in Brooklyn)
#82 Roosevelt Island (1839 – Lunatic asylum opens)
#130 Haunted Histories of New York (1841 – Most Holy Trinity in Bushwick constructed)
#46 Barnum's American Museum (1841 Museum opens)
#66 Who Killed Mary Rogers? (1841 Rogers is murdered)
#143 Water for New York: Croton Aqueduct (1842 – Croton Aqueduct opens)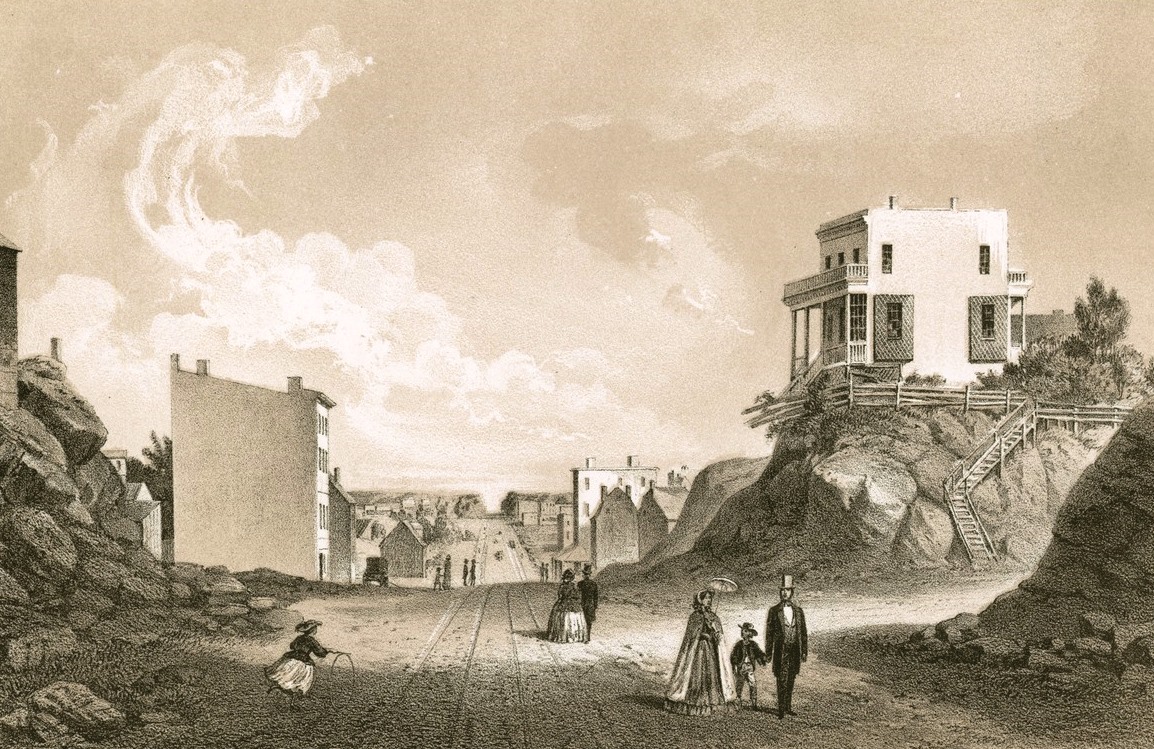 NEW YORK: THE GROWING CITY
#133 Red Hook: Brooklyn on the Waterfront (1847 – Atlantic Basin constructed)
#37 Henry Ward Beecher and Plymouth Church (1847 Beecher moves to Brooklyn)
#164 The Astor Place Riot (1849 — Riot erupts)
#160 Tompkins Square Park (1850 – Park opens)
#181 Park Slope and the Story of Brownstone Brooklyn (1850s – Edwin Litchfield purchases parcels of land in South Brooklyn)
#75 Williamsburg(h), Brooklyn (1852 City of Williamsburgh)
#178: The Crystal Palace: America's First World's Fair (1853 – Crystal Palace opens)
#92 Steinway: the Piano Man (1853 – Henry Steinway opens first shop in Manhattan)
#117 Mark Twain's New York (1853 – Young Mark Twain first visits New York)
#60 Five Points Part Two: The Fate of Five Points (1953 New Mission replaces the Old Brewery)
#51 McSorley's Old Ale House (1854 Tavern opens)
#25 The Original Bowery Boys (1855 Death of Bowery Boys leader Bill the Butcher)
#103: Case Files of the NYPD (1857 — Infamous Police Riot between Municipals and Metropolitans)
#54 The Creation of Central Park (1857 Park opens)
#134 St. Patrick's Cathedral (1858 – Cornerstone laid)
#30 Peter Cooper and Cooper Union (1858 Cooper Union begins construction)
#23 Macy's : the Man, the Store, the Parade (1858 Rowland Macy opens first store)
#129 Chinatown (1858 – First Chinese resident of New York documented)
#126 Fernando Wood: The Scoundrel Mayor (1860 – Becomes mayor of New York)
#139 Brooklyn Academy of Music (1861 – Academy opens)
#183 Orchard Street: Life On The Lower East Side (1863 – Construction of 97 Orchard Street)
#127 The Civil War Draft Riots (1863 — Summer of Draft Riots)
#10 Central Park Zoo (1864 Menagerie opens)
#128 Hoaxes and Conspiracies of 1864 (1864 – Fires in November)
NEW YORK: BEGINNING THE GILDED AGE
#113 Niblo's Garden (1866 – The Black Crook debuts)
#84 Prospect Park (1867 — Park opens to the public)
#141 New York Beer History (1867 – George Ehret opens brewery)
#102 Brighton Beach and Manhattan Beach (1868 – First resort in Brighton Beach)
#114 Supernatural Stories of New York (1869 – Hart Island first used as a potter's field)
#131 The First Apartment Building (1869 Stuyvesant Apartments constructed)
#207 The First Subway: Beach's Pneumatic Marvel (1869 Alfred Ely Beach builds under Broadway)
#161 Fire Department of New York (FDNY) (1870 – City-funded fire team founded)
#177 The Big History of Little Italy (1870s – Italian immigrants began arriving in large numbers)
#86 Boss Tweed and Tammany Hall (1871 – Boss Tweed arrested)
#45 Grand Central (1871 Grand Central Depot opens)
#198 Greenpoint, Brooklyn: An Industrial Strength History (1874 Opening Faber Pencil Factory)
#116 American Museum of Natural History (1877 – First portion of museum opens)
#215 Ghosts of the Gilded Age (1877 – Mysterious body found in an abandoned Queens farmhouse)
#107 New York's Elevated Railroads (1878 – First regular elevated railroad in service)
#172 Ghost Stories of Brooklyn (1878 – Reports of a ghostly doorbell in Clinton Hill)
NEW YORK: CITY OF INNOVATION
#99 Madison Square Garden (1879 – First Madison Square Garden opens)
#8 Dakota Apartments and 'Rosemary's Baby' (1880 Dakota begins construction)
#167 Cleopatra's Needle and the Freemasons Secret (1881 – Obelisk erected in Central Park
#186 Hell's Kitchen: New York's Wild West (1881 Incident at Hell's Kitchen tenement)
#225 P. T. Barnum and the Greatest Show on Earth (1881 Barnum and Bailey Circus formed)
#132 Electric New York: Edison and the City Lights (1882 Pearl Street Station opened)
#108 Cable Cars, Trolleys and Monorails (1883 – New York's first cable car system)
#29 Brooklyn Bridge (1883 Bridge completed)
#89 Chelsea Hotel (1883-5 Hotel is constructed as a cooperative)
#79 The Whyos: Gang of New York (1884 – Whyos list of 'killing prices' published)
#179 The Fight for Bryant Park (1884 – Park renamed for William Cullen Bryant)
#95 Tin Pan Alley (1885 – First music publishers move to West 28th Street)
#81 The Puck Building: "What Fools These Mortals Be!" (1885 — Puck Building constructed)
#34 Katz Delicatessen (1886 Deli opens as the Iceland Brothers)
#73 Webster Hall "The Devil's Playhouse" (1886 Webster Hall completed)
#16 Statue of Liberty (1886 Statue dedicated)
#194 Nellie Bly – Undercover In the Madhouse (1887 Nellie goes to the asylum)
#148 The Great Blizzard of 1888 (1888 The blizzard hits)
#203 Nikola Tesla In New York (1888 – Westinghouse licenses Tesla patents)
#216 Edwin Booth and the Players Club (1888 — Booth forms the Players Club in Gramercy Park)
#169 The Tallest Building In New York: A Short History (1890 – Construction of the New York World Building)
#213 Bronx Trilogy: The Bronx Is Building (1890 Construction begins on the Grand Concourse)
#57 Carnegie Hall (1891 Hall opens)
#120 NYC and the Birth of the Movies (1892 — First Kinetoscope parlor)
#88 Ellis Island (1892 — Immigration station opens)
NEW YORK: CITY OF SCANDALS
#21 The Astors and the Waldorf-Astoria (1893 Hotel Opens)
#146 Herald Square (1894 New offices for the New York Herald)
#165 Ladies' Mile (1896 – Siegel-Cooper opens)
#87 The Kings of New York Pizza (1897 – Lombardi's Pizza opens)
#47 Grants Tomb (1897 Tomb completed)
#189 TAXI: History of the New York City taxicab (1897 first electric taxis)
#150 Consolidation! Five Boroughs, One Big City (1898 Five boroughs created)
#71 Saks Fifth Avenue (1898 Store founded)
#101 The Bronx Zoo (1899 — Zoo opens)
#105 The Newsboys Strike of 1899 and #219 Newsies on Strike!(1899 Strike freezes newspaper delivery)
#159 The Broadway Musical: Setting the Stage (1901 Florodora opens)
#26 Flatiron Building (1902 Flatiron constructed)
#184 The Flatiron Building: A Story from Three Sides (1902 Flatiron constructed)
#166 General Slocum Disaster 1904 
#12 Coney Island: The Golden Age (1904 Dreamland opens)
#109 New York City Subway, Part 1: Birth of the IRT (1904 — First subway opens)
#28 One Times Square (1904 New York Times opens new headquarters)
#118 Times Square (1904 – New York Times opens new headquarters)
#106 Staten Island Ferry (1905 – New York takes over private ferry service)
#188 The Murder of Stanford White (1906 White is killed at MSG)
#190 The Curious Case of Typhoid Mary (1906 Mary gets a job in Oyster Bay)
NEW YORK AT THE END OF THE GILDED AGE
#69 The Plaza Hotel (1907 Hotel opens)
#74 The Ziegfeld Follies (1907 The first Follies)
#195 Midnight in Times Square: New Year's Eve In New York City (1907 – first ball drop)
#98 Manhattan Bridge (1909 Bridge opens)
#180 The Chelsea Piers and the Age of the Ocean Liner (1910 – Chelsea Piers constructed)
#205 The Disappearance of Dorothy Arnold (1910 – Dorothy Disappears)
#80 Pennsylvania Station (1910 – Penn Station opens)
#42: The Triangle Factory Fire (1911 Disaster occurs in March)
#17 New York Public Library (1911 Main branch opens)
#147 Art Insanity: The Armory Show of 1913 (1913 — Exhibition debuts)
#110 New York City Subway, Part 2: By the Numbers (and Letters) (1913 — The Dual Contracts agreement inspired subway growth)
#158 Hotel Theresa: The Waldorf of Harlem (1913 — Hotel constructed)
#156 The Boy Mayor of New York (1913 – Mitchel elected mayor)
#76 Woolworth Building (1913 — Woolworth Building completed)
#39 New York Yankees (1913 Highlanders renamed the Yankees)
#202 The Lower East Side: A Culinary History (1914 – Russ & Daughters opens)
#226 The Beauty Bosses of Fifth Avenue (1915 – Rubinstein opens her first shop)
#199 Battle For The Skyline: How High Can It Go (1916 – Zoning Law)
#197 Danger In The Harbor: The Black Tom Explosion (1916 – Explosion Occurs)
NEW YORK IN THE JAZZ AGE
#223 The Algonquin Round Table (1919)
#144 Mysteries and Magicians of New York (1920 – Joseph Rinn debunks spiritualists at Carnegie Hall)
#137 NYC and the World of Radio (1920 – First radio station)
#18 Ghost Stories of New York City (1920 Showgirl Olive Thomas commits suicide)
#125 Sardi's Restaurant (1921 – Sardi's opens for business)
#196 Ready to Wear: A History of the Garment District (1920s – Moves from LES to Midtown)
#100 Robert Moses (1922 Robert Moses begins work on New York City parks)
#192 Haunted Landmarks of New York (1923 – John Campbell leases his Apartment in Grand Central)
#153 NYC and the Birth of Television (1925 – First television broadcast from Roosevelt Hotel)
#174 American Kicks: A History of the Rockettes (1925 – Dance troupe founded in St. Louis)
#170 The Life and Death of Rudolph Valentino (1926 – Rudolph Valentino dies)
#182 Mae West, "Sex" on Broadway (1926 – The play 'Sex' opens)
#204 The Cotton Club: Aristocrat of Harlem (1927 – Duke Ellington debuts)
#32 Museum of Modern Art (1929 Museum established)
#11 The Chrysler Building (1930 Building completed)
#162 George Washington Bridge (1931 – GWB opened)
#209 The Waldorf-Astoria's Complicated History (1931 Hotel opens)
#44 Rikers Island (1932 Jail opens)
#27 Radio City Music Hall (1932 Opening night)
#55 The Evolution of Central Park (1934 New York Parks Department created)
#15 The Apollo Theater (1934 Vaudeville house becomes the Apollo)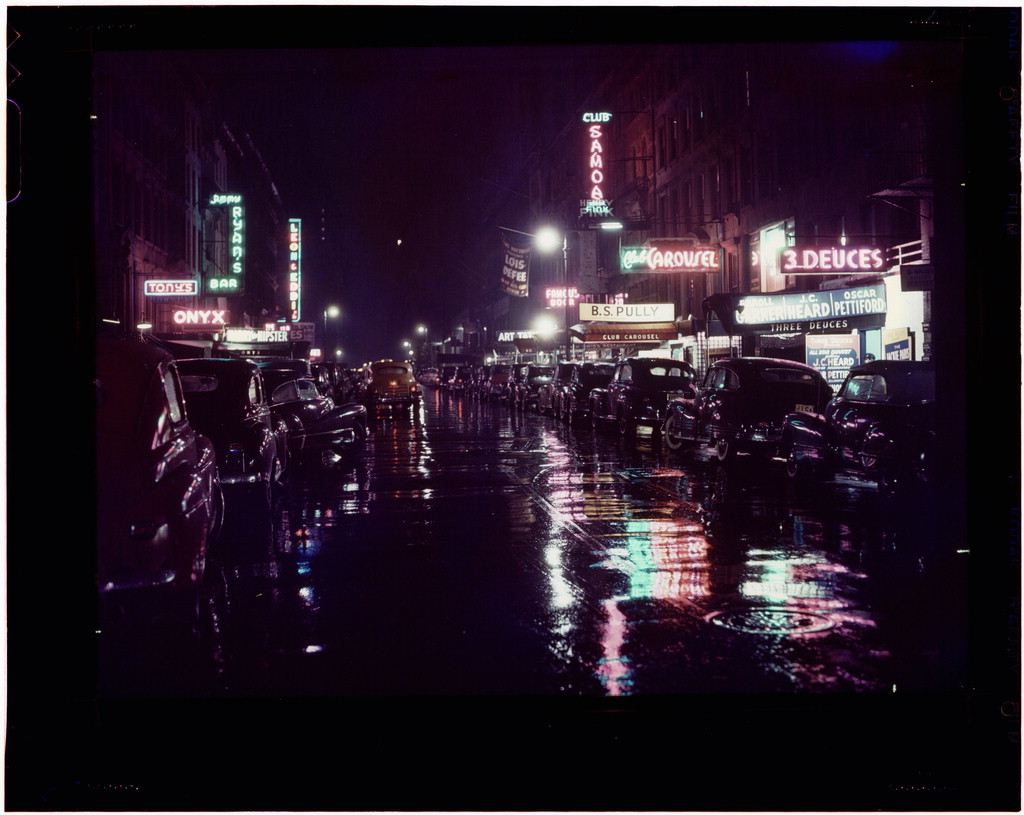 NEW YORK BY NEON
#53 Meatpacking District (1934 Elevated railway opens)
#135 The High Line (1934 Elevated railway opens)
#136 High Line Walking Tour (1934 Elevated railway opens)
#56 Randall's Island (1936 Jesse Owens wins the Olympic trials)
#227 The Hindenburg Over New York (1937 The zeppelin crashes in New Jersey)
#187 Super City: New York and the History of Comic Books (1938 – Action Comics debuts)
#96 The Cloisters and Fort Tryon Park (1938 – Cloisters Museum opens)
# 49 LaGuardia Airport and Early New York Flight (1939 New York Municipal Airport opens)
#72 Rockefeller Center (1939 Opens to the public)
#176 Billie Holiday's New York (1939 – Billie Holiday sings "Strange Fruit")
#24 The Copacabana (1940 Club opens)
#13 Coney Island: 20th Century Sideshow (1944 Luna Park damaged in fire)
#154 New York in the Golden Age of Television (1947 – Howdy Doody first broadcast
#124 Idlewild/JFK Airport (1948 — New York International Airport opens)
#20 United Nations Headquarters (1952 Building Completed)
#85 Shakespeare in the Park (1954 — Festival founded by Joe Papp)
#67 Guggenheim Museum (1959 — Upper East Side museum opens its doors)
#218 Lincoln Center and West Side Story (1959 — Groundbreaking and construction begins)
#77 Freedomland U.S.A. (1960 – Park opens in the Bronx)
#61 Pan Am Building (1960 Construction begins)
NEW YORK IN THE MODERN ERA
#200 Jane Jacobs: Saving the Village (1961 – The Death and Life of Great American Cities)
#119 The Verrazano-Narrows Bridge (1964 – Bridge opens)
#33 The World's Fair of 1964-65 (1964 World's Fair opens)
#173 Ruins of the World's Fair: New York State Pavilion (1964 – World's Fair opens)
#62 Shea Stadium (1964 – Stadium opens)
#217 Truman Capote's Black And White Ball (1967 Ball is held at the Plaza Hotel)
#155 Sesame Street to Seinfeld: NYC TV 1969-2013 (1969 – Sesame Street on the air)
#48 The Stonewall Riots (1969 Riots erupt)
#68 New York City Marathon (1970 The first marathon)
#104 CBGB & OMFUG (1973 Hilly Kristal opens club)
#43 Studio 54 (1977 Disco opens)
#5 Blackout (1977 Blackout occurs)
#214 Bronx Trilogy: The Bronx Was Burning (1977 Game 2 of the World Series at Yankee Stadium)
#123 TRUMP (1978 — Trump develops Grand Hyatt Hotel)
#210 Digital City: New York and the World of Video Games (1978 Space Invaders takes New York by storm)
#111 Subway Graffiti 1970-1989 (1980s – Koch cracks down on subway graffiti)
#151 The Limelight: Church, Nightclub and Mall (1983 Limelight Club opens)
Hurricane Sandy Update (2012)
#175 Bowery Boys 2014 Year In Review (2014)
#229 LIVE IN BROOKLYN! The Bowery Boys: Ten Years of Podcasting
Pictured at top:   That's Midtown Manhattan! The American Horse Exchange at 1634 Broadway and 50th Street. Somebody did a great annotation of this photograph here