Open House New York 2017: Ten FREE places to visit this weekend — no reservations needed
Clear your calendars people. It's Open House New York time!
On Saturday (October 14) and Sunday (October 15), many historic locations normally are closed to the public  — or available at previously limited hours — will be putting out their welcome mats. This is the most exciting weekend of the year for urban explorers. Historic homes and houses of worship, towers and archives, theaters and ships, museums and galleries. And a nice selection of bizarre, tucked-away spots with incredible stories.
As usual, a good handful of the hottest sites are already booked up. But most sites don't need reservations at all. Go to the Open House website for more information or pick up one of their guides and start planning your weekend.
In particular, here are ten sites that we recommend you check out with some suggested listening from our back catalog. Please visit the Open House website for directions to each place: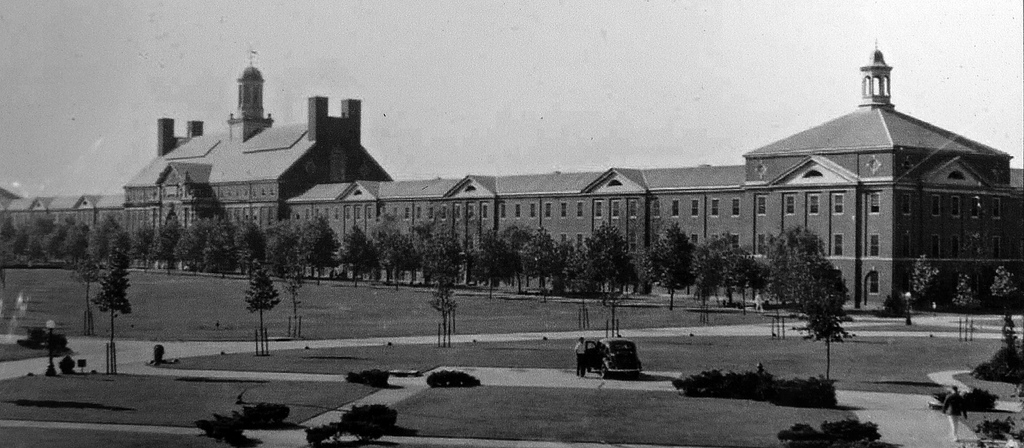 1) LIGGETT HALL GYMNASIUM
Governors Island
Saturday, October 14: 10:00 am – 4:00 pm
Sunday, October 15: 10:00 am – 4:00 pm
It's the largest building on Governors Island and was designed by McKim, Meade and White. And most likely you've never been inside it! Now's your chance. The entire island is participating in OHNY so go out and enjoy it before it gets too cold.
While you're there, give our history of Governors Island a listen:
2) BULLET SPACE
292 East 3rd Street, East Village
Saturday, October 14: 10:00 am – 6:00 pm
Sunday, October 15: 10:00 am – 6:00 pm
A little dash of 80s East Village awaits you on East 3rd Street in this former squat in an old tenement. From their website: "The center was founded in the winter of 1985 and was part of the squatter movement and reconstructed with or without the formal sanction of the city, invisible officialdom." You should see what a 2010 archaeological dig turned up in the backyard! The findings are being displayed in the basement.
3) NEW YORK CITY HALL
Broadway at Murray Street, Civic Center
Saturday, October 14: 12:00 pm – 4:00 pm
It's an election year. What a better time to view the eccentric hallways and curious features of our city's seat of government? This historic structure is over 200 years old; both the city's finest moments — and its most scandalous ones — have taken place here.
We recorded a history of New York City Hall many years ago — when Bloomberg was still mayor.
4) LESLIE-LOHMAN MUSEUM
26 Wooster Street, SoHo
Saturday, October 14: 12:00 pm – 6:00 pm
Sunday, October 15: 12:00 pm – 6:00 pm
Open House New York showcases both historic and artistic sites during the weekend, but here at the Leslie-Lohman, both are on display. Their facade features a large installation of the SILENCE=DEATH poster which reminded New Yorkers in the 1980s of the devastating effect that AIDS was having on America. Come by on Saturday and hear a group of architects, designers, and artists discuss design practices and queer space at 3pm.
And while you're walking around, relive SoHo in the 1980s with our recent podcast history on the neighborhood:
5) CHURCH OF THE TRANSFIGURATION
1 East 29th Street, Murray Hill
Saturday, October 14: 10:30 am – 3:30 pm
Sunday, October 15: 10:30 am – 3:30 pm
From our book Adventures In Old New York:"The Church of the Transfiguration is the embodiment of a pleasant sigh, an 1849 country chapel that today is crowded, but never suffocated, by skyscrapers. Part of the charm of the "Little Church Around the Corner" comes from its lychgate, a covered entrance that has welcomed those on the fringes of society during the direst of moments. African American New Yorkers found peace here during the Civil War draft riots of 1863, and starting in the 1870s the church gained another nickname, the "Actors Church," for its acceptance of those in the theatrical community, many of whom were turned away by other churches, who found the profession to be immoral."
6) UKRAINIAN INSTITUTE OF AMERICA (aka the Henry Sinclair House)
2 East 79th Street, Upper East Side
Saturday, October 14: 10:00 am – 5:00 pm
This Gilded Age home has one of the most peculiar stories on the Upper East Side, a fairytale home built for a wealthy banker taken over in 1918 by Harry F. Sinclair of Sinclair Oil (you might remember their dinosaur mascot). The house itself is a bit of a dinosaur, made like a church, not a home. The Ukranian Institute has made it their home since the mid 20th century.
7) FORT TRYON COTTAGE AND HEATHER GARDEN
Fort Tryon Park, Margaret Corbin Circle, Manhattan
Saturday, October 14: 12:00 pm – 4:00 pm
Sunday, October 15: 12:00 pm – 4:00 pm
You've probably been to the Cloisters Museum but walked by this odd little house without ever knowing its secrets. This fairy-tale cottage from 1905 predates both the park and the museum, and all-day tours will provide you with more interesting details of the grounds' peculiar history.
Stroll the grounds and listen to our history on the Cloisters and Fort Tryon Park:
8) GREATER ASTORIA HISTORICAL SOCIETY
35-20 Broadway, Astoria, Queens
Saturday, October 14: 11:00 am – 5:00 pm
Sunday, October 15: 11:00 am – 5:00 pm
Soak in some of the borough's history — in an actual historic building (the old East River Gas Company). Featured this weekend: A special afternoon lecture on Steinway Piano Factory!
We want to thank the Greater Astoria Historical Society for their help in putting together our most recent podcast on the history of Astoria and Long Island City:
 338 Lighthouse Avenue, Lighthouse Hill, Staten Island
One of the most mysterious and captivating places in all of Staten Island — the replica of an actual Himalayan monastery. "The main building is designed to resemble a Tibetan chanting hall and features both permanent and temporary exhibitions of the collection."
10) EVERGREENS CEMETERY
1629 Bushwick Avenue, Bushwick
Saturday, October 14: 10:00 am – 2:00 pm
Sunday, October 15: 10:00 am – 2:00 pm
Some of you history nerds love old rural cemeteries but perhaps you've never been to this haunting little treasure on the border of Brooklyn and Queens. Among the more unusual markers in this lush and mysterious place — a monument to six victims of the Triangle Factory Fire, unidentified for a century.Evergreens features largely in one of our ghost stories from a couple years ago. Stroll the paths and give this a listen!