The Finest Building in America: Edwin G. Burrows revisits the New York Crystal Palace
The New York Crystal Palace was a gleaming magic castle, containing many of the world's great treasures, existing for only a short time (1853-1858) and remembered only in flamboyant lithographs and a few grime-colored early attempts at photography.
The home of the 1853 World's Fair, the glass and steel structure — heavily influenced by London's own Crystal Palace — became America's first industrial depository where both common manufactured products and great works of art were displayed. It was museum, exhibition hall and, in presenting samples of America's great wares, the country's trophy case.
Then — in less than an hour, on October 5, 1858 — it was all gone.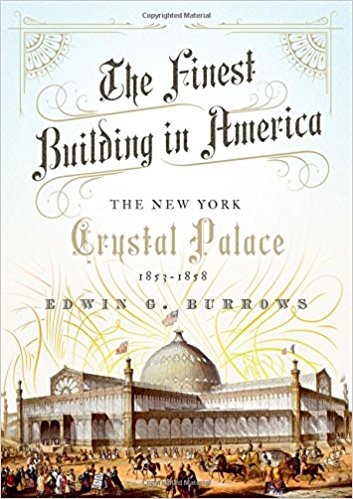 The Finest Building in America
The New York Crystal Palace 1853-1858
by Edwin G. Burrows
Oxford University Press
Burrows, a distinguished professor of history at Brooklyn College, wrote the classic Gotham: A History of New York City to 1898 with historian Mike Wallace (who then went on to write its sequel Greater Gotham). In his latest book, Burrows zeroes in on a single event within Gotham, but one that typified the growing confidence of New York as an economic competitor on the world stage.
London's 1851 world's fair — considered, in fact, the first — did little to express the rising fortunes of American manufacturers. Punch Magazine described the U.S. contribution as "a few wine glasses, a square or two of soap, and a pair of salt-cellars."
The answer was to recreate the fair in New York and fill its corridors with American goods, more fairly placed alongside the contributions of the world. The Crystal Palace, built upon the side of Reservoir Park (today's Bryant Park), instantly became one of the country's most popular tourist attractions, mixing visitors from all walks of life.
The Finest Building in America, a slickly produced, pocket-sized treat filled with illustrations, is a colorful piece of historical escapism, like something you might have actually been able to purchase at the Crystal Palace. It's a little gem of a history guide.
For more information on the New York Crystal Palace, you can also check out our podcast on the subject (Episode #178):