What did New York City really look like in 1896? Enter the real world of The Alienist
HISTORY BEHIND THE SCENE What's the real story behind that historical scene from your favorite TV show or feature film? A semi-regular feature on the Bowery Boys blog, we will be reviving this series as we follow along with TNT's limited series The Alienist. Look for other articles here about other historically themed television shows (Mad Men, The Knick, The Deuce, Boardwalk Empire and Copper). And follow along with the Bowery Boys on Twitter at @boweryboys for more historical context of your favorite shows. 
Look at the faces in old photographs, and you'll find, on occasion, your grandmother or your best friend or neighbor. Their surroundings may be antiquated, faded and forgotten, but their expressions and body language can seem very modern.
Here's a survey of several faces and places, etched in photographs from 1896 — the year in which The Alienist is based. Perhaps you can imagine Luke Evans or Dakota Fanning in the background of these images. While all of the faces below are gone, some of the structures surrounded them are still in existence today.
For instance, New York's tallest building in 1896 — the World Building — is long gone, but New York City Hall remains, and looks largely the same.
Tenement life in 1896 — The location of this photograph is not listed, but you can imagine this was the living condition of most people living in the Lower East Side and other tenement districts throughout the city. Most likely these women (and possibly even their daughters) worked in the garment district. [More information here.]
The elegant Fifth Avenue, back when it was a residential district for the city's wealthiest residents. In this picture, we're looking north from West 53rd Street. The old St. Thomas Church is seen to the left. The church's current house of worship stands on that very spot today. [More information here.]
The spectacular Siegel Cooper department store opened on Sixth Avenue in 1896, the largest store in the city and the jewel in the crown of Ladies Mile. The building still exists today, housing Bed Bath & Beyond and a few other retailers. [More information here.]
After bicycling in Riverside Park, a group of New Yorkers stop to people watch. Sections of Riverside Park were still being developed in 1896. A bit further north, people could watch the finishing touches being placed on Grant's Tomb (completed in 1897).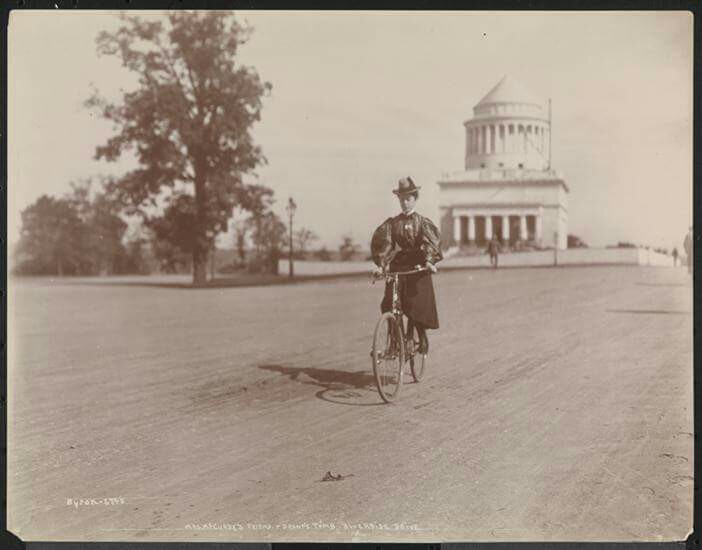 A trusty Bellevue Hospital ambulance awaits its next mission. Bellevue initiated America's first ambulance service in 1869. The fleet of horse-drawn ambulances features a gong to get through busy streets and a container of brandy as an early reliever of pain. [More information here.]
Madison Square Garden 1896 — Bicycles were all the rage in the 1890s as the safety brake made riding safer and more convenient. In particular, women began to look at the bike as a way to travel independently. [More information here.]
Alice Austen's iconic photograph of a telegram bike messenger in 1896. She even rode one around while taking photographs.
Some other captivating photographs from Ms. Austen. For more information on the life of Alice Austen, read my article on the Alice Austen house in Staten Island.
The Bowery in 1896. Its elevated railroad lines obscured some of its seedier establishments from view. [More information here]
The Great Brooklyn Bridge was the only span over the East River in 1896 although its companion — connecting Williamsburg with the Lower East Side — was under construction. [More information here.]
The infamous Tombs prison, in the old Five Points neighborhood, had been constructed in 1838 and was very worse for wear by 1896. Within a few years, it would be replaced with a new city prison on this spot. [More information here]
The street cleaners of New York City, all in white, presumably walking Fifth Avenue. The custom of wearing white began in the 1890s under George E. Waring Jr, head of the department of street cleaning. [More information here.]
Stables at 99 Greenwich Avenue.  Today that corner is an Equinox Fitness.
Broadway, north of West 43rd Street, back when the area was called Longacre Square.
Brooklyn, of course, was still its own city in 1896; it would shortly be absorbed in Greater New York.
A trip to Coney Island in 1896 would have been quite different than one today. The images below are from the summer of 1896. The ferris wheel below is not the famous Wonder Wheel. However it's doubtful one could find a camel ride down at today's Coney Island. Or such interesting bathing-suit fashion!
Meanwhile up in the Bronx, a solitary woman stands by the Bronx River, looking almost completely unchanged from how it would have looked when old Jonas Bronck saw it. Most portions of today's borough were already part of New York by 1896. It would officially become the Borough of the Bronx in 1898. [More information here]