Can you answer these sample trivia questions from our trivia night at WeWork South Williamsburg?
The Bowery Boys had another fine live event last Wednesday evening, a fun and challenging trivia 'extravaganza' at the WeWork South Williamsburg co-working space (109 S 5th Street), in the shadow of the Williamsburg Bridge. Thanks to all those who turned out for this very entertaining evening! Over 25 teams plays three rounds of trivia, with the Queens-based Astor Kickers (pictured below) coming out in the lead.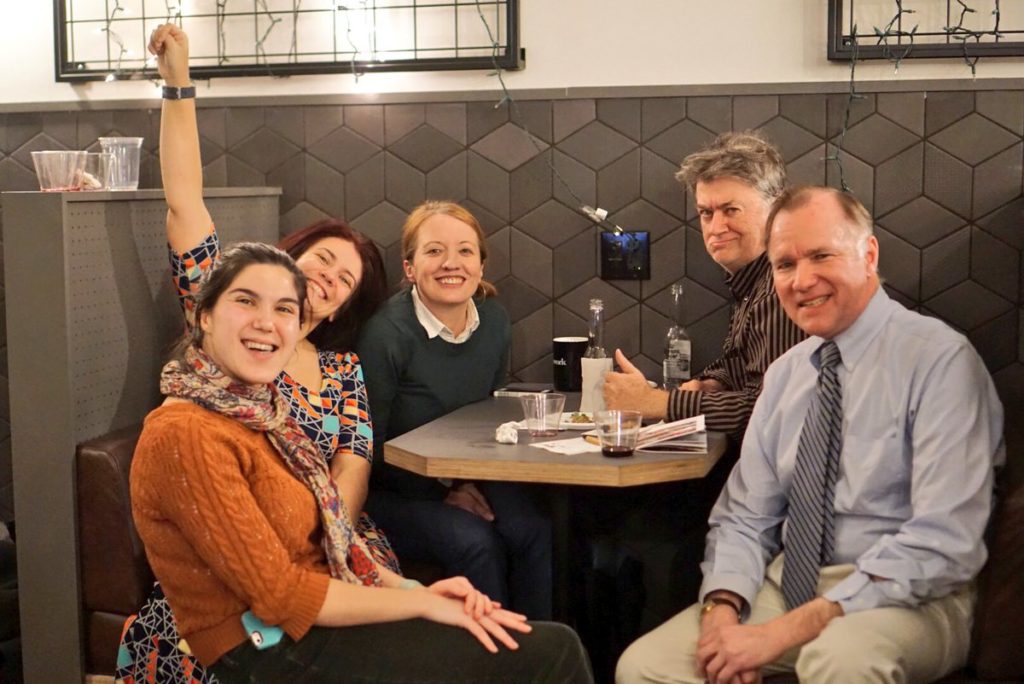 Tom and Greg want to especially thank WeWork for providing space for the event and for sponsoring the last couple episodes of the show (as well as the new one, coming up tomorrow).
Among the prizes that the trivia winners received was a 1-month free hot desk membership to WeWork. But you can win that prize right now! Enter this contest by checking into this link. This contest only last a few more days and the winner will be announced on March 30.
And here's a sampling of trivia questions that were posed to the teams. How many of these can you guess? No looking at Wikipedia!
What Brooklyn neighborhood is named after a liquid consisting of about 5-20% acetic acid, water and other trace chemicals?
Sheepshead Bay is named for a) a sheep, b) a man, c) a fish or d) an Irish land battle?
In 1854, what three cities, as chartered by the state of New York, sat on the banks of the East River?
In 1888, the Iceland Brothers opened a restaurant on Ludlow Street. It's still around — though operating under a different name. What is this restaurant called today?
A December 25, 1888 article in the New York Times with the headline "They Are Not to Combine" dispels the rumor that Thomas Edison's Company was going to merge with its electric rival. What was the name of that company?
Which two of these actors were born in New York City?
7. One year before Stonewall, this 1968 documentary film was released, observing the drama of a drag competition at the Miss All-America Camp Beauty Contest, held at New York's famous Town Hall. What is the name of this landmark cult classic film?
Answer below (highlight to reveal):
1 Vinegar Hill
2 A fish
3 City of New York, City of Brooklyn, City of Williamsburg
4 Katz Delicatessen 
5 Westinghouse
6 Jerry Seinfeld and Julia Louis-Dreyfus
7 The Queen