The Uprising at Columbia University: The voices of 1968 and the complicated story of a campus crisis
Fifty years ago this week, Columbia University erupted.
The founders of Columbia originally built an uptown campus (in the area of Morningside Heights) to remove students from the pressures of urban existence, but they could never really sequester them from the realities of American strife. In 1968 both the country's racial disharmony and an unpopular war abroad arrived at the gates of academia, igniting outrage and protest of a uniquely 1960s sort.
A Time to Stir: Columbia '68
Edited by Paul Cronin
Columbia University Press
For a moment in the spring of 1968, protests of all types united on campus — all so-briefly in harmony — led by anger at Columbia's involvement in the war effort in Vietnam and a gymnasium project planned for a section of Morningside Park that was perceived to be segregated. For several days, students staged sit-ins in various facilities around the campus, grinding the university's idyllic educational life to a halt.
And yet these historical bullet points disguise the chaos and confusion among the various protesting groups themselves. No one voice tells the complete story of these disruptive days.
Fortunately, author and filmmaker Paul Cronin has invited a choir, collecting sixty essays from those who participated in the protests from various perspectives — activists, law enforcement, professors, journalists, men, women, black, white. A Time to Stir: Columbia '68 is a stunning achievement of historical perspective, grappling with an incendiary moment defined only by passion and pandemonium. The final result is the opposite of an organized consensus; the voices are older, wiser, but their stories still surge in an unbroken thread with their beliefs from half a century ago.
Paul Cronin: "This was, all in all, by 1968, a hyper politicized group, indelibly influenced and schooled by television imagery of Operation Rolling Thunder's jungle war and Bull Connor's dogs, plus the duck-and-cover absurdity of mutually assured destruction. These rapturous, sloganeering students were swept up into the whirlwind, inflame by a feverish, idealistic conviction that the hour for action had arrived."
Nancy Biberman, Barnard undergraduate/Strike Coordinating Committee: "Life inside Columbia's occupied buildings was intense, intoxicating, and profoundly pro-feminist. We believed we were making history by shutting down the university, but even at the time I and many other women felt that our views were not being heard and that we were somehow being excluded from real decision-making meetings, from leadership."
J. Plunky Branch, Columbia College undergraduate/Students' Afro-American Society: "Nearly a hundred people encamped and sleeping in a building that was not designed as a residence can be a massive challenge. But in some ways this was an adventure….. Black students on the outside, as well as Harlem mothers, community church groups, and civil rights leaders were all supportive, bringing food, sleeping bags, and messages of encouragement."
Ken Greenberg, architecture grad student: "Each occupied building on the campus had a particular set of burning issues. Not surprisingly,  ours had to do with architecture and the city and the role of the university and our profession as actors shaping it. The Morningside Heights gym that was being aggressively shoehorned into a public park, while offering local residents limited access, was a clear example of the institutions goals trumping those of the community."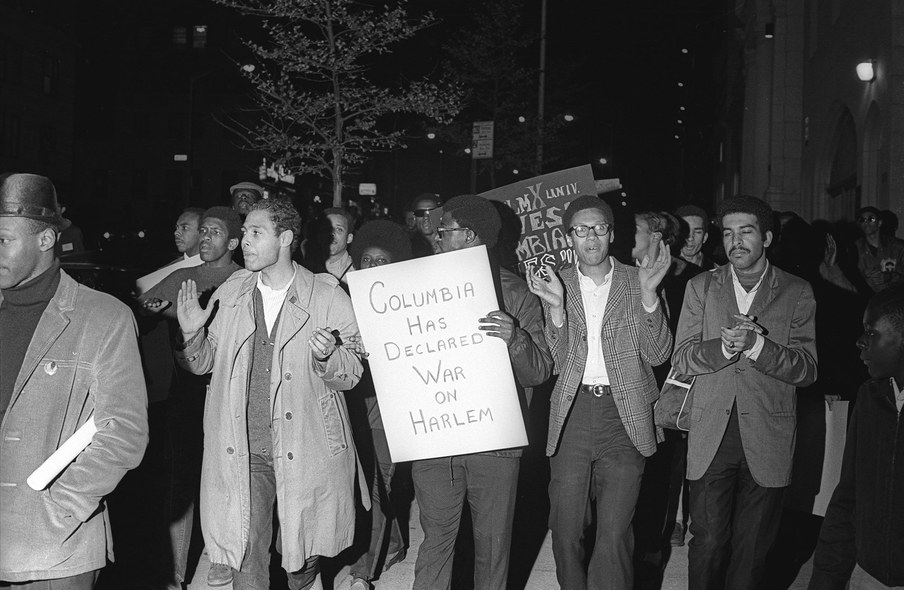 Lois-Eliane Griffith, Barnard undergraduate/Students' Afro-American Society/founding member of the Nuyorican Poets Cafe: "In the spring of 1968, I join with black students at Columbia University demonstrating against war and this country's policies that allow the greed of corporate interests to usurp control of real estate serving black and brown communities. I belong to these times demanding I put my ass on the line for what I believe."
Hamilton Hall — in 1968 and today