When the moon is in the seventh house: The musical Hair opened on Broadway 50 years ago
Fifty years ago today this weekend, on April 29, 1968, the musical Hair debuted on Broadway and basically changed New York's theater industry — where shows come from, how they're staged, what you can even do on stage. [For a taste of Broadway through the years, listen to our podcast episode on the Origin of Broadway.]
Theater lovers walking through Times Square in the spring of a half-century ago would have certainly stopped in their tracks at the mention of the much-hyped "tribal love rock musical" cozying up next to more traditional fare like Man of La Mancha and Private Lives. You'll note from the New York Times theater section below that Hello Dolly! was also playing with the electrifying Pearl Bailey in the lead role.
Here's ten reasons why Broadway's first rock musical is so important, and why today you should probably stream a classic Fifth Dimension album or the original cast recording in tribute to this one-of-a-kind groovy show. (I've put a link at the bottom if you'd like to listen while reading):
1) Hair took the Public Theater to the next level. The show made its debut on October 17, 1967 at the Public, which was itself making its debut doing non-Shakespearean productions. In fact, the theater in which is was being performed — in the former Astor Library — wasn't even finished yet! The Public Theater would go on to become off-Broadway's leading theatrical producer, sending many shows to Broadway including A Chorus Line, Bring in 'da Noise, Bring in 'da Funk and Hamilton.
For more information on the Public Theater, check out our podcast Joseph Papp vs Robert Moses: The Saga of Shakespeare in the Park.
2) After six weeks, Hair would foreshadow Studio 54's own transformation into a Broadway house by moving the remainder of its off-Broadway run into the Cheetah discotheque, located at 53rd and Broadway.
3) Hair is the very first musical to transfer from off-Broadway, moving into the Biltmore Theatre. At the time an extremely risky proposition, today it is considered a logical move for the most critically popular shows. Rent, Avenue Q, Spring Awakening, Hamilton, Dear Evan Hansen — like Hair, all off-center shows with emotional complexity, sexuality or rebellion at their cores — also made the jump to the big stage and all won Tonys for Best Musical.
4) Hair officially brings Tom O'Horgan to Broadway. A regular at the off-off-Broadway La Mama — the East Village's most venerated experimental theater — O'Horgan brought an uncompromising edge to his staging that was entirely shocking to mainstream theatrical audiences. O'Horgan would stay on Broadway throughout the '70s with pivotal work in Jesus Christ Superstar, Futz!, and Lenny.
Below: O'Horgan with Ellen Stewart, 1968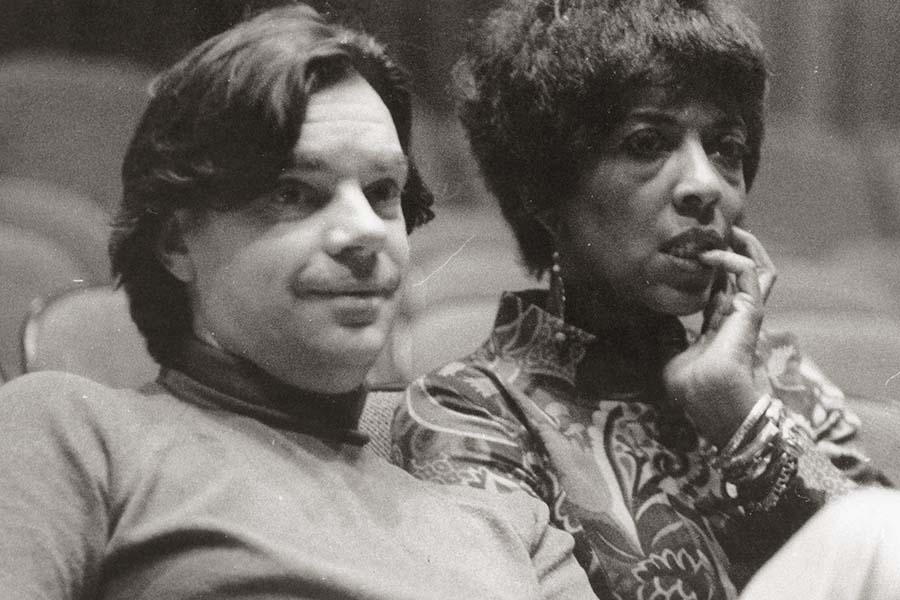 5) Hair doubles the number of songs 'allowed' in a musical. The sheer number of songs in the Broadway restating — over 30! — made it truly unique. Aquarius, Easy To Be Hard, Three-Five-Zero-Zero, Good Morning Starshine and over two dozen more. Cabaret, the big musical from the previous year, barely featured half that number.
A performance from the Grammy Awards where Hair would go on to win for Best Score From An Original Cast Album
6) O'Horgan also brings the nudity. The uptown redux features one of the most influential scenes in all of Broadway history — at the end of the first act, when the entire cast, in low lights, appear completely unclothed, the first stage nudity to hit the Great White Way. Critics of the show saw the decision as a perfect reflection of Times Square, now festooned with pornographic bookstores and theaters.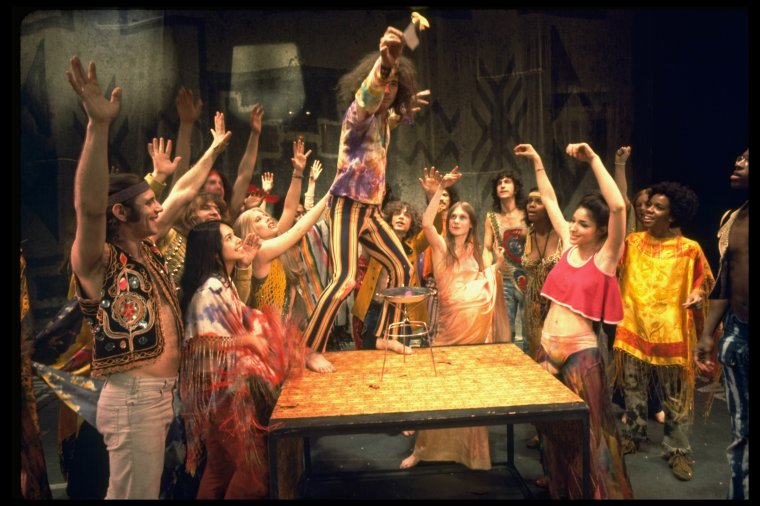 7) A New York icon debuts. Diane Keaton becomes an understudy in the show but refuses to do the nude scenes. After several months with the cast, Keaton goes on to her next show — Play It Again, Sam — where she makes the acquaintance of young director Woody Allen.
8) Up for only two awards (Best Director and Best Musical) at the 1969 Tony Awards, it lost both to the musical 1776. Its 2009 Broadway revival was more successful, winning the Tony for Best Revival of a Musical.
Interestingly, Diane Keaton is up for her Tony that year for Play It Again Sam and also lost. But otherwise it was an extraordinary list of winners; taking home Tony Awards that night were James Earl Jones, Angela Lansbury, Julie Harris, Jerry Orbach and a young actor named Al Pacino.
9) Hair closes July 1, 1972 after 1,750 performances. It is currently the 44th longest running musical in Broadway history, between La Cage Au Folles and Aladdin.
10) An unbelievable one-night revival of Hair, in 2004, for an Actors Fund benefit, mounted at the New Amsterdam Theatre featured the following cast: JM J. Bullock, Harvey Fierstein, Ana Gasteyer, Billy Porter, RuPaul, Michael McKean, Laura Benanti, Adam Pascal, Lillias White and future Oscar winner Jennifer Hudson.
Here's about a comprehensive list of some of Hair 's original reviews but, generally speaking, the show was received warmly.
"What is so likable about Hair, that tribal rock musical that last night completed its trek from downtown, via a discotheque, and landed, positively panting with love and smelling of sweat and flowers, at the Biltmore Theater? I think it is simply that it is so likable. So new, so fresh, and so unassuming, even in its pretensions." — Clive Barnes, New York Times
And the Village Voice? Hated it. "As for Hair, I loathed and despised it. Described as 'an American tribal love-rock musical' it turned out to be all phony."
One might sympathize with that context considering what's happening in the world in the spring of 1968. Indeed, a New Yorker could take the subway several stops northwards to see real-life protest; the Columbia University demonstrations and sit-ins were happening at the same time.
Revised and expanded from an earlier post on this blog