Meet the Mets! The Metropolitans, that is, an early New York baseball team
The New York Mets, 2015 National League Champions and New York's perpetual baseball underdogs, are only 53 years, formed in 1962 to fill the void after the departure of the Brooklyn Dodgers and the New  York Giants* to California. But in name, at least, they're older than even the Yankees.
The first New York ball club to call themselves the Mets — or really, the Metropolitans, if we're being fancy — made their first appearance 130 years ago.  They burned bright for many years, inaugurated New York's first great sports venue, then faded away.
To be metropolitan in 1880 did not merely suggest a team representative of a city and its surrounding area.  It was code for the finest — from the Metropolitan Opera (which formed the same year) to the Metropolitan Museum (whose Central Park building also opened that year).
Jim Donahue, catcher
Baseball, however, was not a prestige sport by any means in 1880, but this did not matter to John Day, baseball fanatic and owner of a large tobacco plant on the Lower East Side. One day Day met Jim Mutrie, a shortstop from Boston, and agreed to fund a new team. In September, the New York Metropolitans made their debut on a field in Brooklyn.
A few weeks later they would take over a playing field used mostly for polo matches, located at the northeast corner of Central Park. While it would later be known as the Polo Grounds, it would soon host a variety of sports. A larger version of the Polo Grounds, further north on 155th Street, would later be home to the modern Mets franchise.
James John 'Chief' Roseman
Day and Mutrie had also formed a second team — the New York Gothams — who proved to be more lucrative. In 1885 they sold the Metropolitans to  land developer Erasmus Wiman who then moved the team to Staten Island as a way to encourage growth for the underpopulated future borough. (Wiman also owned a ferry service.) The Metropolitans went from a polo grounds to a cricket's ground — the St. George Cricket Grounds.
Below: The Metropolitans in Staten Island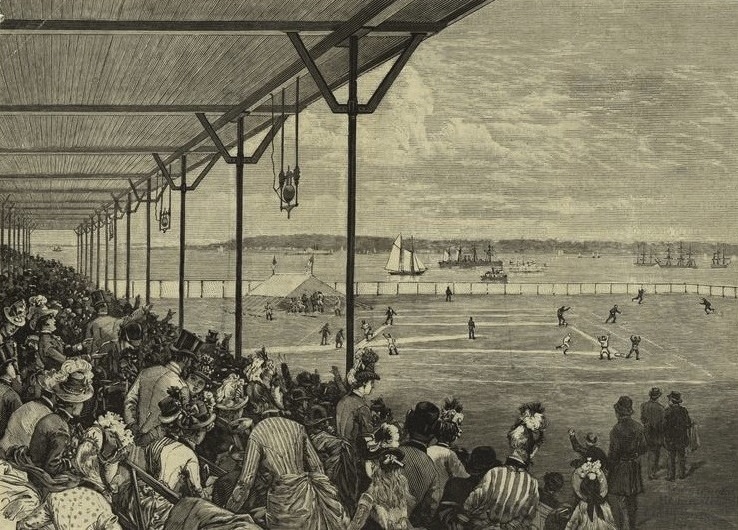 To no one's surprise by Wiman's, this idea didn't work, and the Metropolitans were soon sold for $15,000 to their rivals the Brooklyns (the Brooklyn Base Ball Club later known as the Brooklyn Dodgers) who dismantled the team by recruiting its best players.  Their last game was 1887.
Below: At the pass off to Wiman, The New York Sun profiles all the players of the Metropolitans. You can read the entire article here.  "The Metropolitan Club, organized by James Mutrie, has had a brilliant career.  Ever since it was started it has been more than successful, and each year it has become stronger, until at present it is probably the finest fielding team in the country."
Another reason the Metropolitans may have disappeared — their weight. The New York Sun, reporting on one of their last games, played on October 30, 1887: "The old men of the Metropolitan have grown very stout. Troy, with his 195 pounds is running a close race with Orr for avoirdupois, while Brady and Kennedy have gained remarkably in weight." [source]
The above images from the Library of Congress are tobacco cards. Here's what they look like on the flip side: