Eighty years ago today, "Wrong Way" Corrigan earns his nickname in a dangerous, madcap stunt
Eight decades ago, in summer of 1938, the pilot Douglas Corrigan landed on an airstrip in Dublin, Ireland, after a grueling flight over North America and the Atlantic Ocean that lasted over 28 hours.
Nonstop transatlantic flights were no longer a rare thing in 1938, but they could still be very dangerous. Adding to the adventure, Corrigan had left Floyd Bennett Field in Brooklyn on July 17, 1938, with a plane that was leaking gasoline into the cockpit floor.
There was just one problem with that illustrious journey to Ireland. Douglas Corrigan was supposed to be flying to California.
From all appearances, he had flown the wrong way.
Indeed he had just flown his Robin OX-5 monoplane from Long Beach, California, to Brooklyn the day before. How does somebody fly for over a day in the wrong direction?
Today we know that Corrigan had every intention of flying across the Atlantic. (Corrigan idolized Charles Lindbergh who famous made a similar flight in 1927 in the Spirit of St. Louis — a plane Corrigan worked on as a mechanic.) But the public interest in such a colossal 'mistake' made Corrigan a novelty celebrity and earned him the nickname 'Wrong Way' Corrigan.
Below: Corrigan in 1927 with the other builders and mechanics of the Spirit of St. Louis. He's second from the left.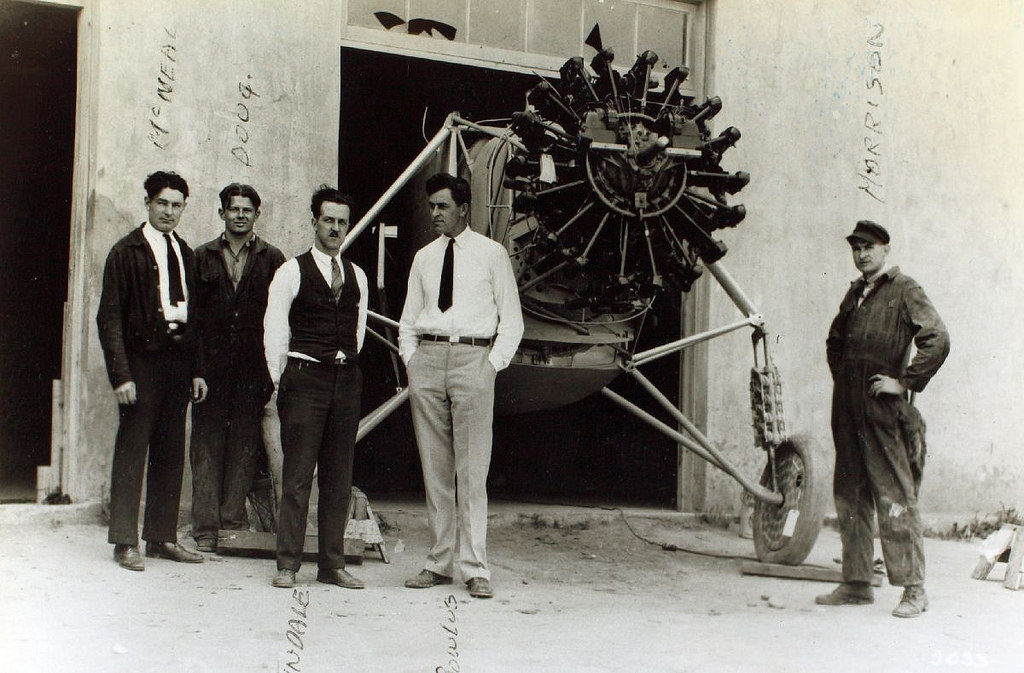 Corrigan's antics became big news throughout the United States and Europe. "The annals of aviation since the barnstorming days of the post-war period, when pilots mended their rickety craft with friction tape, string and baling wire, show no such ill-equipped machine or a lesser planned long flight than the one completed yesterday by Douglas G. Corrigan," proclaimed the New York Times on July 18, 1938.
The treacherous journey — paired with Corrigan's cheeky insistence that it was all a mistake — made him an appealing figure in the romantic era of flight. New York Evening Post writer H.R. Knickerbocker wrote:
"You may say that Corrigan's flight could not be compared to Lindbergh's in its sensational appeal as the first solo flight across the ocean. Yes, but in another way the obscure little Irishman's flight was the more audacious of the two. Lindbergh had a plane specially constructed, the finest money could buy. He had lavish financial backing, friends to help him at every turn. Corrigan had nothing but his own ambition, courage, and ability. His plane, a nine-year-old Curtiss Robin, was the most wretched-looking jalopy. "
Below: Corrigan on the steamship back to New York:
Today we might not look kindly upon this kind of stunt; our skies are so filled with airplanes that such an 'accident' would be received suspiciously. But in 1938, New Yorkers so admired his moxie that he was given a ticker-tape parade when he finally returned to New York on August 5, 1938.
Below: The editors of the New York Post got a bit cheeky themselves in reporting on the parade:
Below: Corrigan posing with Mayor Fiorello La Guardia
Why did Corrigan resonate so strongly with the public? For many, he represented a personal initiative and gumption that felt all the more unique in the later years of the Great Depression. This editorial from August 5, 1938 in the New York Daily News gives some insight into Corrigan's particular appeal:
Enjoy some newsreel footage of Corrigan basking in the afterglow of his famous 'accident':