Magic, Music and Mystery: Three live events! Tickets now on sale for these Bowery Boys shows
You'll want to catch all of three of these Bowery Boys live events! Tickets are now on sale for all three shows listed below.
THE BOWERY BOYS MAGICAL MYSTERY HOUR
Tuesday, August 14th, 2018 | 7:00 pm to 8:30 pm
$20 (Members $18)
Presenting the most magical tales in all of New York City history! Tom Meyers and Greg Young of the Bowery Boys: New York City History podcast conjure up stories of historical wizardry and superstition, from the dusty backrooms of old magic shops to the impossible feats of illusion and incantation from the Gilded Age's most mysterious parlors. You may even see them perform a bit of sleight-of-hand themselves! Book signing after the program.
A tie-in event to the New-York Historical Society's Summer of Magic: Treasures from the David Copperfield collection
LOCATION
The Robert H. Smith Auditorium at the New-York Historical Society, 170 Central Park West, New York, NY
TO PURCHASE TICKETS
Click HERE to purchase tickets online
By phone: Contact New-York Historical's in-house call center at (212) 485-9268. Call center is open 9 am–5 pm daily.
Advance tickets may be purchased on site at New-York Historical's Admissions desk during museum hours.
FIVE VIEWS OF THE ERIE CANAL
In Celebration of the Bicentennial of the Erie Canal
A sunset performance on Saturday, August 25, 2018 | 8:00 pm to 9:30 pm
Dancer Davalois Fearon, musician Mike McGinnis, and historian podcaster Greg Young combine their talents to paint a multi-faceted portrait of the Erie Canal, its geography, social impact, engineering, labor issues, and more.
LOCATION
Waterfront Museum, 290 Conover Street, Brooklyn, NY
This series of performances will take place aboard Lehigh Valley no. 79, a 104 year old Lehigh Valley Railroad barge moored in Red Hook, Brooklyn.
Canal to Coast: Reuniting the Waters is a program of the Waterfront Alliance made possible by the New York State Council on the Arts with support of Governor Andrew M. Cuomo and the New York State Legislature.
In addition to performances, Canal to Coast will offer boat tours focused on Erie Basin in Red Hook, Brooklyn and its role in helping the Erie Canal make New York City a world capital.
TO PURCHASE TICKETS
Tickets to performances will cost $2 (plus processing fee) each. Yes $2! Boat ride tickets will cost $5 each (plus processing fee).
Click HERE for more information and to reserve your tickets
And finally, we are very excited to announce our first ever LIVE Halloween show!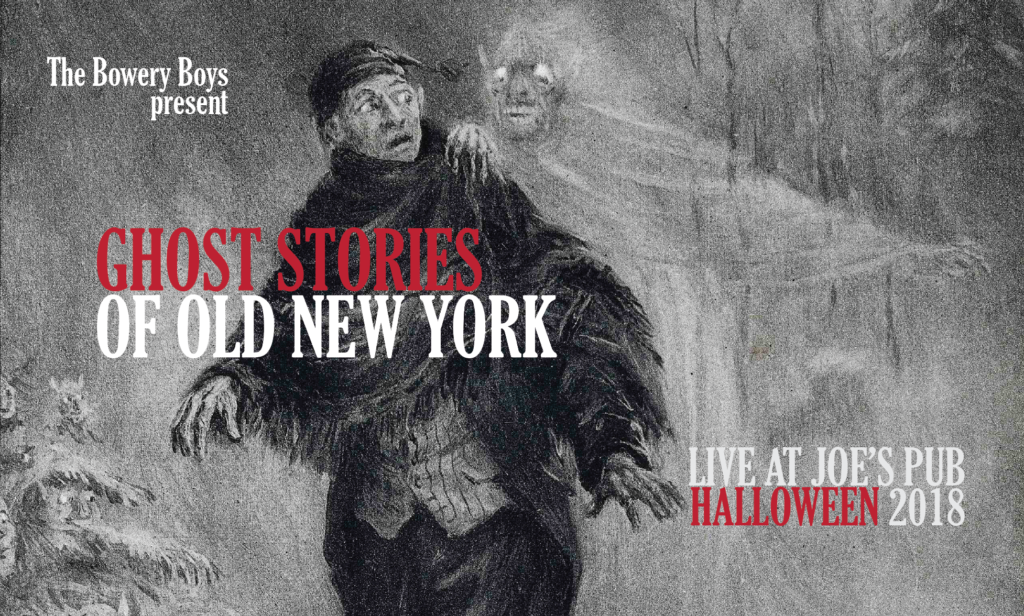 THE BOWERY BOYS
GHOST STORIES OF OLD NEW YORK
LIVE HALLOWEEN SPOOKTACULAR
Halloween night, Wednesday, October 31, 2018 — two shows!
LOCATION
Joe's Pub at the Public Theater, 425 Lafayette St, New York, NY
TICKETS ON SALE NOW! Get your seats early.