Remembering John Purroy Mitchel, the 'boy mayor' of New York City who died 100 years ago today
On the east side of Central Park, at the East 90th Street entrance called the Engineers Gate, sits one of the strangest memorials in New York — the gilded bronze bust of John Purroy Mitchel, the former mayor of New York City.
Surrounding this curious bust is a dedication in gold:
IN MEMORY OF / JOHN PURROY MITCHEL / MAYOR OF THE CITY OF NEW YORK / 1914-1918
BORN JULY 19, 1879 / DIED IN THE SERVICE OF THE UNITED STATES / JULY 6, 1918
Mitchel, the Bronx-born grandson of an Irish revolutionary, became the mayor of New York in 1914. He was called "the boy mayor" for his youthful good looks and youthful age (34) when he took office, swept into power by the strength of his sterling, anti-corruption reputation.
And yet he was not a particularly effective mayor and was swiftly voted out four years later by a wide margin. (For more information on his tenure as mayor, check out our podcast The Boy Mayor of New York at the end of this article.)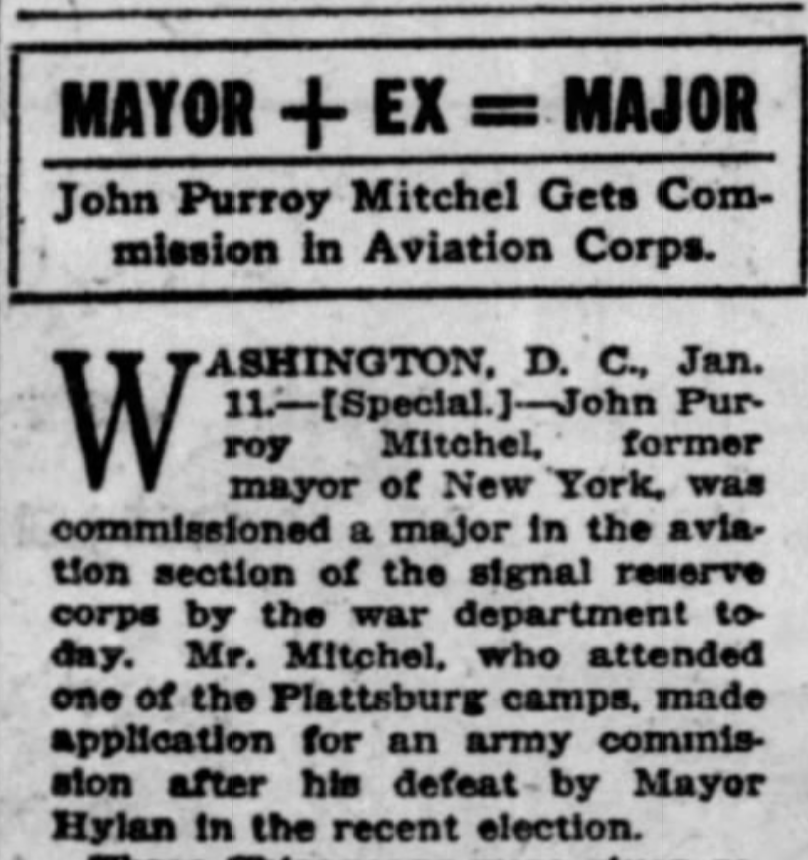 After leaving office, he entered in the Signal Corp Army Air Service as a flying cadet with intentions to serve his country as war raged in Europe.
On June 6, 1918, near Lake Charles, Louisiana, Mitchel tragically fell from an airplane he was piloting during military training in Louisiana.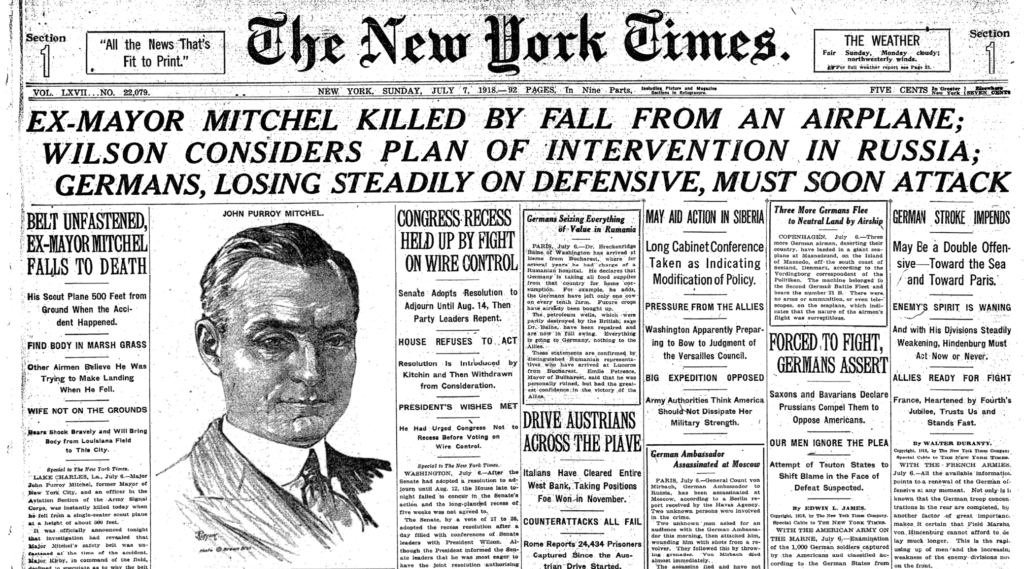 "It was officially announced tonight that the investigation had revealed that Major Mitchel's safety belt was unfastened at the time of the accident. Major Kirby, in command of the field, declained to speculate as to why the belt was unfastened, although it is a rule in the air service that the belt shall always be fastened."
"Major Mitchel and his instructor, Lieutenant John McCaffery, went out on the grounds early this morning and were laughing and talking about New York City politics. Lieutenant McCaffery jokingly remarked he was sorry he did not vote for Mr. Mitchel in the last election. The Major as he climbed into his seat, smilingly replied, 'That's all right; it's all over now." — New York Times, July 6
"Oscar S. Straus (New York politican): I regard the death of John Purroy Mitchel as a national calamity. He represented the highest type of America's young manhood. Fearless, upright, a patriot in peace no less than in war. His services to this city will enshrine his memory and will serve as an inspiration for generations to come."– Brooklyn Daily Eagle, July 6
"Many thousands of New Yorkers last night paid respect to the memory of John Purroy Mitchel, Major in the United States Air Service and former Mayor of New York City by passing before his body, which lay in state all night in the rotunda of the City Hall." — New York Times, July 11
On July 11, a procession made its way up Lafayette Street and Fifth Avenue to St. Patrick's Cathedral for a military funeral, accompanied by "dropping flowers, let fall from circling squadrons of airplanes by comrades in the flying service in which Major Mitchel met his death." [source]
Images of his funeral procession through the city:
Mitchel was buried at Woodlawn Cemetery in the Bronx, and a plans for a permanent memorial were hatched almost immediately. Ten years later, a unique tribute to the former mayor was dedicated at the 90th Street entrance to Central Park.
From the NYC Parks website: "The Mitchel Memorial Committee retained architects Thomas Hastings and Don Barber to design the expansive granite stele and commissioned German-born sculptor Adolph Alexander Weinman (1870–1952) to design the gilded bronze portrait bust of Mitchel. In 1926, Weinman also designed a monument in Brooklyn to William Jay Gaynor, who served immediately before Mitchel, and paved the way for Mitchel's pro-reform mayoralty."
On this unique anniversary, we highly recommend a listen to our podcast on the life of John Purroy Mitchel, a man of extraordinary potential and unfulfilled promise:
Below: John Purroy Mitchel and his wife Olive, 1914