A most unusual New York Christmas tradition: The candlelit procession through Trinity's cemetery
Clement Clarke Moore, the lord of Chelsea (the manor for which the neighborhood is named), lived a long and distinguished life as an educator and land developer, dying in 1863 at his home in Newport, Rhode Island.
He was originally buried in the churchyard of St. Luke-in-the-Field (pictured below) in the area of today's West Village. In 1891 the cemetery was redeveloped  and the remains were transferred to Trinity Church's graveyard in Washington Heights.
What does all this have to do with Christmas you ask?
Moore was a revered scholar, former president of Columbia College (later Columbia University) and the developer of the General Theological Seminary on his old Chelsea property. But most everybody knows him better as the author of "A Visit from St. Nicholas" or "Twas the Night Before Christmas," a verse of holiday anticipation penned for his children.
For well over one hundred years an unusual ceremony has taken place at Church of the Intercession, the house of worship which sits upon the grounds of Trinity Church Cemetery.
The tradition was apparently initiated by a vicar at the chapel named Milo Hudson Gates. He "instituted the Christmas Eve service in which many hundreds of children went in procession to decorate the graves of  Moore, the author of 'A Visit from St. Nicholas', and Alfred Tennyson Dickens, son of Charles Dickens, the author of A Christmas Carol."
Hundreds of children, carrying lanterns and torches in the old days, gathered around Moore's gravestone and sang Christmas songs.  "Carols were sung and wreaths placed on the grave," according to a 1919 report. The famous poem by Moore was then recited.  (Sadly, I'm not sure they still do the march to Dickens' resting place.)
"His name was Clement C. Moore. His body sleeps beneath the Christmas trees that grow in Trinity Cemetery." [December 23, 1918]
Below: Children surrounding the grave of Moore's, sometime in the 1920s or 1930s (according the church website).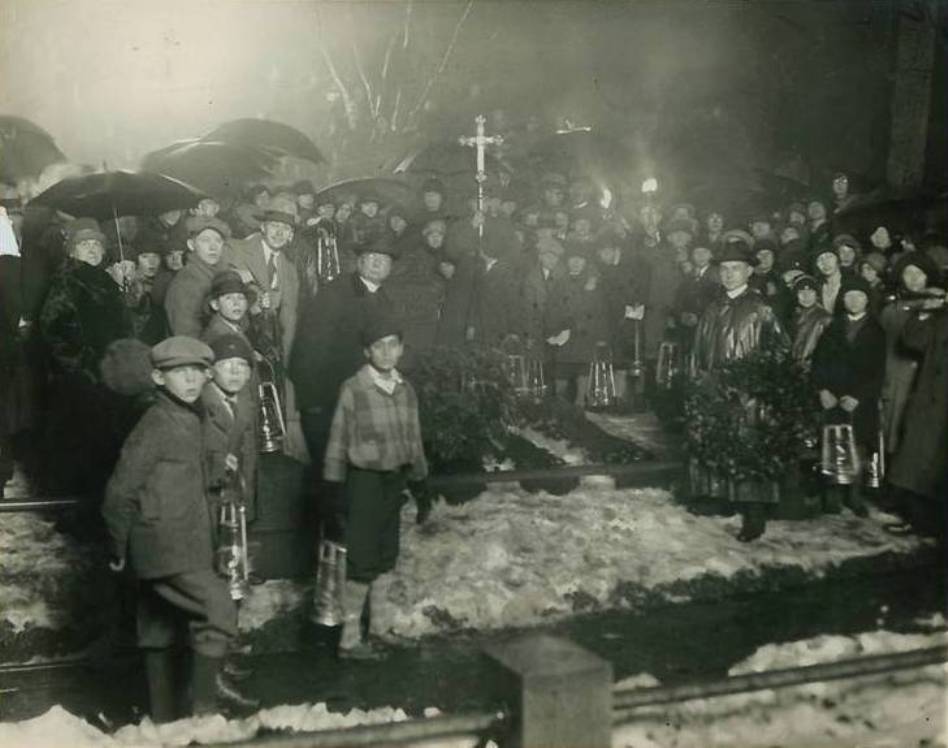 This tradition has survived into modern day with some interesting variations.
Frequently a person dressed as Saint Nicholas (the saint, not the Santa) leads the procession. In recent decades, a person of some renown reads the poem such as in 2003 when basketball great Isiah Thomas brought Moore's words to life.
And the tradition continues this year!  Tune in tonight at 11pm on PIX11 to watch this year's reading, led by PIX11 news anchor Kaity Tong.
The church and cemetery are located at Broadway and West 155th Street.
XMAS SPECIAL OPEN ROUGH from PIX11 Creative on Vimeo.