Return to Tin Pan Alley: American music history, saved from the threat of demolition
GOOD NEWS! On December 10, 2019, five buildings along 28th Street were unanimously declared official New York City landmarks. This was made possible by George Calderaro of the Save Tin Pan Alley! initiative whom we interview on this show.
And a big thanks to all of you who signed the petition that George calls out on the show. Even that small gesture of support helped to protect and save these important buildings.
---

PODCAST Let the music play! In 2009 we recorded a podcast about the history of Tin Pan Alley, the cluster of buildings on West 28th Street where the American popular music industry was born. It was from these loud, bustling offices and parlors that some of the world's greatest songs were written and sold, launching and igniting the careers of songwriters like George Gershwin, Cole Porter and Irving Berlin.
But nine years later, Tin Pan Alley finds itself in peril as the neighborhood surrounding it — now called NoMad (North of Madison Square Park) — rapidly develops into a boutique hotel district. Can these historic structures be saved?
We present to you our original 2009 podcast, followed by a brand-new segment for 2018 featuring an interview with George Calderaro of the Save Tin Pan Alley! preservation campaign.
Featuring even MORE music classics from the Tin Pan Alley era including "A Pretty Girl Is Like a Melody, "Toot, Toot, Tootsie (Goodbye)," "Nobody" and "My Blue Heaven."
Listen Now: Return to Tin Pan Alley Podcast
To download this episode and subscribe to our show for free, visit iTunes or other podcasting services or get it straight from our satellite site.
You can also listen to the show on Overcast, Google Music and Stitcher streaming radio.
Or listen to it straight from here:
___________________________________________________________________________
The Bowery Boys: New York City History podcast is brought to you …. by you!
We are now producing a new Bowery Boys podcast every other week. We're also looking to improve the show in other ways and expand in other ways as well — through publishing, social media, live events and other forms of media. But we can only do this with your help!
We are now a member of Patreon, a patronage platform where you can support your favorite content creators for as little as a $1 a month.
Please visit our page on Patreon and watch a short video of us recording the show and talking about our expansion plans. If you'd like to help out, there are five different pledge levels (and with clever names too — Mannahatta, New Amsterdam, Five Points, Gilded Age, Jazz Age and Empire State). Check them out and consider being a sponsor.
And join us for the next episode of the Bowery Boys Movie Club, an exclusive podcast provided to our supporters on Patreon. This month's selection — Ghostbusters!
We greatly appreciate our listeners and readers and thank you for joining us on this journey so far.
________________________________________________________________________
SIGN THE PETITION to save Tin Pan Alley! Visit the Save Tin Pan Alley website for more ways you can help. They also have a near-complete list of all the music publishers who were located on West 28th Street during Tin Pan Alley's heyday:
A row of former Tin Pan Alley music-publisher buildings still stand, but they are danger of being swept away.
In 1905, writer Charles Darnton railed against the vast influence of Tin Pan Alley songwriters in the essay "The Song Claque Nuisance."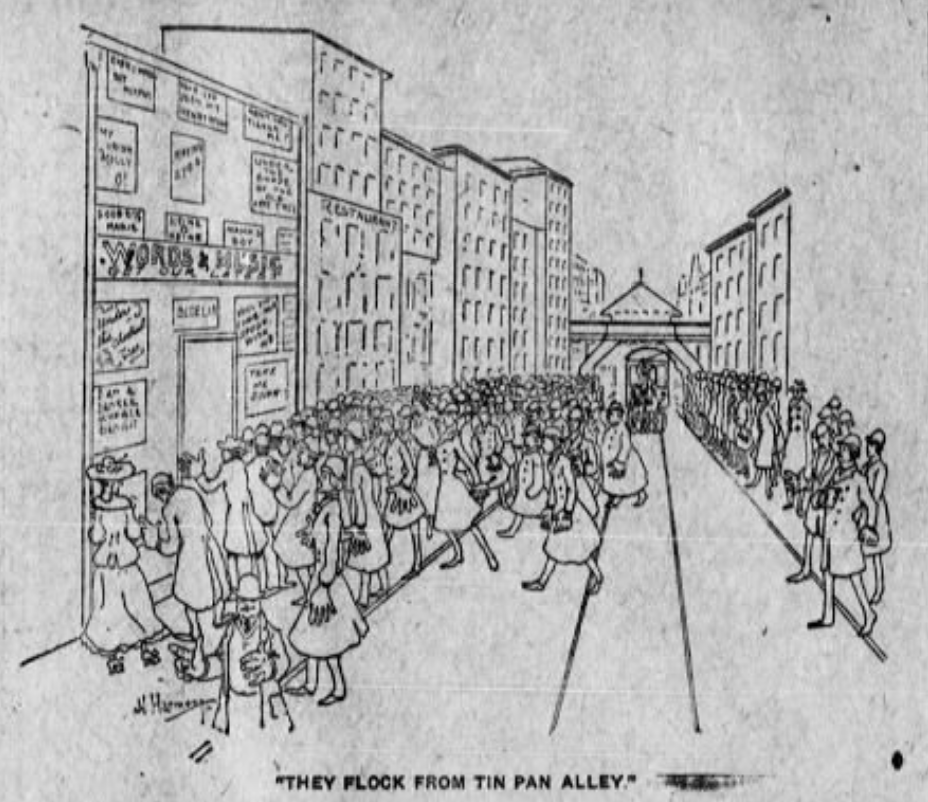 Music featured on this show:
John Steel singing "A Pretty Girl Is Like A Melody"

Al Jolson singing "Toot, Toot, Tootsie"

Bert Williams singing "Nobody"

Billy Murray singing "You're A Grand Ole Flag"

Gene Austin singing "My Blue Heaven"

FURTHER LISTENING:
This show references an older episode on the history of Steinway and 19th century piano production.
The history of Herald Square plays a big role in the development of Tin Pan Alley.
For some more insight on early popular music, check out our history on the development of the Broadway musical.