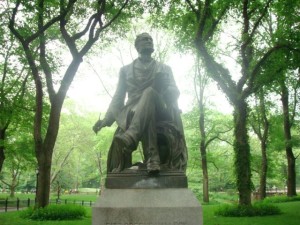 Hallack reclines under the leafy Central Park mall
Frederick Law Olmsted would have preferred Central Park have no sculptures, yet almost from the moment the park opened, monuments to the great men of the day began sprouting up. Yet for every William Shakespeare and Christopher Columbus, there are an equal number of completely forgotten individuals, languishing in relative obscurity along park pathways. Well, let me come to the rescue of five of my favorites!
Famous figure: Fitz-Greene Halleck (pictured above)
Location: The Mall's 'literary walk'
Who is he?: Satirical poet of the mid-19th century and private secretary to John Jacob Astor
Was he a big deal?: Let's put it this way. Halleck's statue is the first ever in the United States erected to a poet. Its unveiling in May 1877 was attended by President Rutherford B. Hayes and his cabinet. He's also considered an early American gay icon.
Statue status: Pales in comparison to the other men along the walk of literary greats, which includes better knowns like Walter Scott, Robert Burns and Shakespeare.
Famous figure: Albert Bertel Thorvaldsen
Location: East 97th Entrance
Who is he?: A Danish sculptor of the neo-Classicist era
Was he a big deal?: Not so much in the United States, although his depiction of Jesus, called Thorvaldsen's Christus, is popular with Mormons and sits in Temple Square in Salt Lake City. However Danish Americans were so enamored of him they successfully petitioned this installation in the park in 1892.
Statue status: It's the only self-portraiture in the entire park, a copy of a sculpture Thorvaldsen made of himself in 1839. He's also been moved a few times.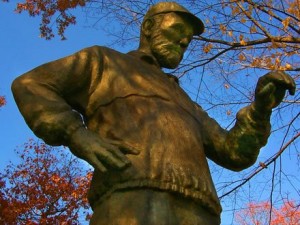 Famous figure: Fred Lebow (above)
Location: East side, near the Reservoir
Who is he?: Romanian who revolutionized the New York City Marathon
Was he a big deal?: In the world of long distance running, he's an icon. He founded the very first NYC marathon in 1970 and personally helped it grow to the international event it is today. He was still running in it at age 60 when he was diagnosed with brain cancer.
Statue status: One of Central Park's newest statues (1994) and beloved by running fanatics, Lebow is moved every year during the New York Marathon so runners can get a better look at him (and vice versa)
Famous figure: John Purroy Mitchel
Location: 90th Street entrance on the east side
Who is he? : The Boy Mayor of New York City, from 1914-17
Was he a big deal?: In the scheme of New York City history, not really. But his untimely death just a year after leaving office brought out this appreciation of the young mayor
Statue status: Gilded and a little creepy, Mitchel's bust greets visitors at the Engineers Gate. On a great summer's day, he's the brightest thing for ten blocks.
Famous figure: King Wladyslaw Jagiello (below)
Location: looking out over Turtle Pond, near the Met Museum
Who is he?: The glorious medieval warrior-king of Lithuania and Poland
Was he a big deal?: Clearly. But so was his statue. Created for the 1939 New York World's Fair by the Polish delegation, World War II gave the mighty statue a new relavance and was installed in 1945
Statue status: The dramatic King Jagiello Monument is among the park's most striking and memorable, probably the most famous of the most obscure. As a memorial, it does its job almost better than any other in Central Park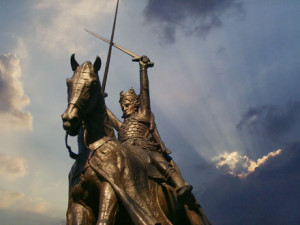 Pic courtesy of Central Park 2000