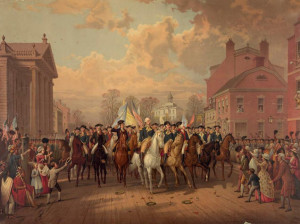 George dusts his shoulders off and re-enters New York
Today, November 25th, is the anniversary of the day when the British officially fled New York City after occupying the city for years during the Revolutionary War. For years after, New Yorkers celebrating this day by shimmying up a greased flagpole in Battery Park. I have always said that the city of New York should bring back this fantastic tradition.
NYC to mark Evacuation Day [Star Tribune]
Happy Evacuation Day! [Gawker]
225th Anniversary of Evacuation Day [Gothamist]
ALSO: Celebrate by listening to our podcast on Life In British New York. It'll be available next week for download on iTunes in our "New York History: Bowery Boys Archives" feed. Evacuation Day is also talked about in our Battery Park podcast, which is already available on the archives feed.