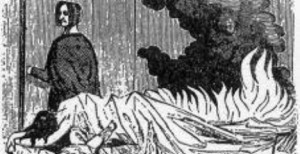 Our annual October ghost stories podcasts are quite popular, probably because they cross over into a whole fanbase of ghost enthusiasts who aren't particularly interested in New York. But hey, more the merrier!
Here's the second installment from 2008 and our second most popular podcast episode ever — Spooky Stories of Old New York.
Featuring: the most haunted brownstone in the world; a SoHo bistro with a nasty secret in the alley; the foppish spirits galavanting through one of Manhattan's oldest hotels; and of course, the witch of Staten Island!
Get it directly from this site, find it on iTunes or other podcasting services, or listen to it below: