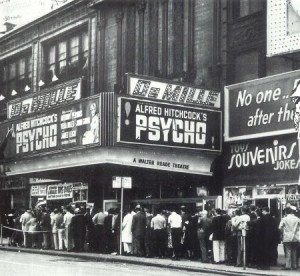 Photo courtesy the Hitchcock Papers
Fifty years ago today, a movie by a British director that was mostly filmed in Los Angeles made its New York City debut. That film, Alfred Hitchcock's 'Psycho', would change the medium forever, from its unrelenting suspense and terrifying soundtrack to that famous shower scene.
The movie was first shown at The DeMille Theater at Seventh Avenue and 47th Street. Fifty years of film and vaudeville proceeded it in the space; originally opened as the Columbia Theater in 1910, the movie house was purchased by the family of Walter Reade in 1960 and renamed after the famous silent-film director Cecil B. Demille whose films had once screened there.
Apparently, it was simultaneously screened at another theater, the Baronet, at 59th and 3rd Avenue.
According to a contributor to Cinema Treasures who recalls the opening: "One of the first to open there was Alfred Hitchcock's "Psycho," which created a sensation with its "No one admitted after the start of the movie" policy. If I recall correctly, "Psycho" ran day-and-date with the same policy at Reade's Baronet on Third Avenue. Those were the only two theatres in the Greater New York-New Jersey area showing the movie, and the grosses were astronomical."
Bosley Crowther's review for the New York Times ran the next day — there were no press screenings, to preserve the film's surprises — and in his usual style, seems only faintly ruffled by the film. "Frankly, we feel his explanations are a bit of leg-pulling by a man who has been known to resort to such tactics in his former films. The consequence is his denouement falls quite flat for us. But the acting is fair."
You can read his whole review here.
Click here to check out some great old pictures of the movie house, which closed in the 1990s. And of course, the always amazing Cinema Treasures has an exhaustive discussion of the theater's history.
Incidentally, the first television broadcast of 'Psycho' was also for New Yorkers — by WABC-TV, who broadcast an edited 'toned down' version as the late night movie on June 24, 1967. (The edited version took a few knife thrusts out of the pivotal shower sequence.) CBS had planned to screen the film a year earlier, but after controversies surrounding the real-life stabbing of the daughter of a prominent senatorial candidate the week before, the station caved to protests and nixed the film.