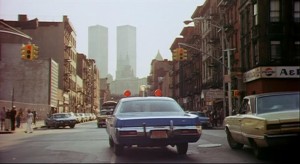 From the forgotten Carroll O'Connor vehicle Law And Disorder, from 1974
I just found the most fantastic website to peruse on a day like today. The World Trade Center In Movies is a methodical — some would say obsessed — look at the Twin Towers as they appear in motion pictures. This site seem to have the buildings' complete filmography, including silhouettes and appearances in skyline scenes.
Although it made many more appearances in the 1980s and 1990s, I prefer a good peek via a good '70s. Check out the extensive collection here. Here are a few of my favorites:
Klute 1971, with the World Trade Center, still under construction, in the background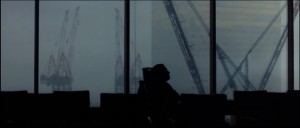 The lovely 1975 Robert Redford/Faye Dunaway thriller Three Days Of The Condor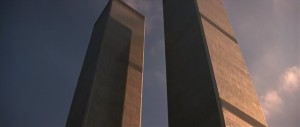 And the 1978 oddity Bye Bye Monkey starring Gérard Depardieu!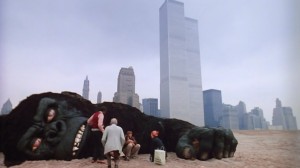 All pics from the World Trade Center In Movies