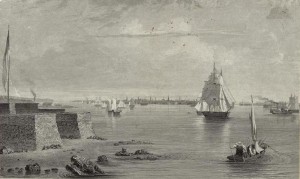 New York Harbor, possibly late 1810s (caption reads only '1800s') courtesy NYPL
Two hundred years ago today, a boat on its maiden voyage left New York's harbor. This happened virtually every day in New York, of course, during this period as America's most active and bustling port city. However, from 1807 and lasting well into the War of 1812, merchants were suffering under debilitating federal embargo laws — in place to prevent American shippers from trading with England and France — and were hungry for solutions.
That boat on its first voyage, the Tonquin, was owned by German fur trader John Jacob Astor. He had commissioned it for an unusual mission — to set up an outpost on the other side of the North American continent, virtually unknown territory in 1810. It didn't help that its young captain, Jonathan Thorn, was a wee unhinged. "I fear we are in the hands of a maniac," said one crewman.
The vessel should have left two days earlier, but foul winds kept the impatient crew planted off of Staten Island. When the finally left, on Sept. 8th, they were alledgedly escorted out of the harbor by no less than 'Old Ironsides' itself, the frigate USS Constitution.
The Tonquin ended its trip, over six months later, on the west coast of North America and down along the Columbia River. This would be the first permanent American settlement on the west coast, in the future state of Oregon.
The crew set up a trading post and named it Astoria in honor their financier. An expedition of more Astor employees arrived the next year having trekked across the continent.
Many years later, in 1839, investors in a new development in Queens County would attempt to lure the wealthy businessman by stealing the name of that outpost for themselves. Alas, John Jacob Astor never lived in either Astoria — the one in Oregon, or in Queens. [More on the Astor family in one of our early podcasts.)
The Tonquin was a distant memory then, as was its captain Thorn. Just a month after leaving the outpost at Astoria, Thorn and his crew were slaughtered by angry northern Salish inhabitants, who then blew up the ship.