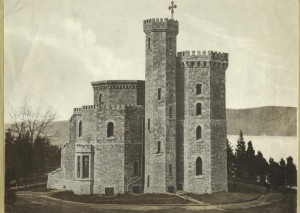 Above: Fonthill Castle in the neighborhood of Riverdale in the Bronx, built in 1852 as the personal kingdom (if only briefly) of one of the world's great Shakespearean actors, Edwin Forrest. The actor was born today, 205 years ago. The lavish home has long since been a part of the campus of the College of Mount Saint Vincent. (Courtesy NYPL)
The Queens Museum Panorama is strange little miniature of the city erected for the World's Fair in 1964 and occasionally updated today. (The last addition, according to the museum website, was the museum's neighbor Citi Field.) a commission of Robert Moses who sometimes carried on as though the city it mimicked could be as equally remade.
If you can locate the areas of Vinegar Hill, Van Nest, the former San Juan Hill and both Chelsea neighborhoods on a map, then make your way posthaste to 4th Annual Panorama Challenge this Friday, March 11, a colossal "geographical trivia-based" competition using the city of miniatures as a game board. Visit the Queens Museum website for more information, or email Mark@Levysuniqueny.com to register a team.
__________________________________________
I'm not going to give you a flat out review on the quality of the Matt Damon film 'The Adjustment Bureau'. However the movie is a real celebration of New York City, filmed in what seems to be dozens of locations, including The Rose Room at the New York Public Library, Liberty Island, Red Hook, Fort Tryon, the top of Rockefeller Center, even the floating mall that is Pier 17. If the movie is a hit, it could sprout a cottage industry of 'Adjustment Bureau' related tours. Damon even rides a Circle Line! Get the lowdown from New Yorkology.
________________________________________________
The Apollo Theater is getting its day in the sun at the Museum of the City Of New York with a terrific new collaboration with the Smithsonian, Ain't Nothing Like the Real Thing: How the Apollo Theater Shaped American Entertainment. But why stroll the galleries yourself when on March 19th, you can join a group tour led by Billy Mitchell, the theater's revered 'in-house historian' whose been with the Apollo for over 45 years. Find information on the tour and the exhibit at the museum's website [Museum of the City of New York]
And we mention Billy in our own podcast through the history of the Apollo Theater, recorded in 2008. You can download it directly from here or look for it in our Bowery Boys: NYC History Archive feed.