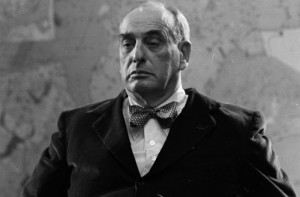 If you've ever thought to yourself, "You know, that Robert Moses, I wish he were even more larger-than-life," then your wish may be granted this Wednesday, April 27, when the Artists Playground Theatre launches into a staged reading of Robert Moses "three-act, historical fantasy" titled "World of Tomorrow."
On top of more traditional dramatic moments recounting his struggles with other New York power players, the play, written by Bill McMahon, will also include "fevered dreams in which he is teased and tormented by community organizer and urbanist, Jane Jacobs."
As if that wasn't enough, the reading takes place at the legendary Player's Club in Gramercy Park, and former haunt of New York's literary and dramatic elite. And it's FREE. More information [here].
I believe this is entirely different from the Robert Moses musical that was first presented in January, with Moses' biographer Robert Caro in attendence. That oddity, "Robert Moses Astride New York," was crafted by Gary S. Fagin. You can hear a snippit of it here.
When will we get Robert Moses, the ballet?
Speaking of our favorite parks commissioner, his late great World's Fair of 1964-65 opened its gates for the very first season 47 years ago last Friday (April 22, 1964). Below: Moses overlooking the finishing touches on that day.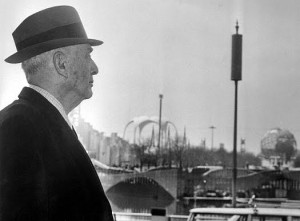 Robert Moses image courtesy Life Magazine (source)