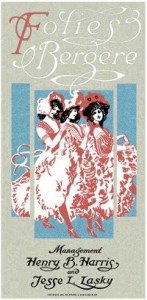 New Yorkers have been borrowing things from Paris for decades — the fashion, the architecture, the people. And, one hundred years ago today, the city paid homage to Paris' naughtiest hideaway with the opening of the Folies Bergere (206-14 West 46th Street) on April 27, 1911, a dinner-theater extravaganza that Irving Berlin once proclaimed was "the first theatre cabaret in America."
Theater producer Jesse Lasky was 30 years old when he opened the dinner theater, hoping to borrow some of the exotic allure of the Parisian music hall, with a big entrance fee to boot. In September a young Mae West performed there for over a week in the show A La Broadway.
The theater even inspired a sassy Berlin Irving number titled "Down At the Folies Bergere": "In old New York up at Long Acre Square / Turn 'round the corner, you'll find yourself there / Millions of miles from all trouble and care / Two doors from Heaven the Folies Bergere."
More appealing than the comediennes and the dancing girls, however, was a remarkable innovation; the Folies Bergere was the very first air conditioned theater in New York.
Its reputation belies its longevity. Within the year, the Folies Bergere abandoned the dinner theater idea and, with it, the name. Lasky went on to become an iconic film mogul. The stage survived as the Fulton Theater, then, after 1955, as the Helen Hayes Theater. It was ripped down to make room for the Times Square-consuming Mariott Marquee. Another theater on 44th Street was then given the name Helen Hayes Theater