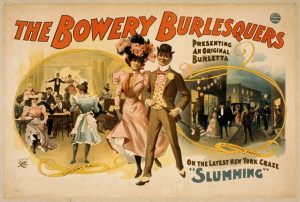 Seems like forever since we've had a new podcast right? Well, Tom is back from vacation this week, and we'll begin work on the new show. Episode #128 will be ready for download on Friday, August 26. Then we should be back to our regular monthly schedule — with one or two surprises in between — straight through until the end of the year.
Just wanted to note that the blog will have a couple less updates than normal over the next two or three weeks as I'll be moving to a new apartment. Starting tomorrow I'll begin posting here on subjects pertaining to next week's podcast topic.
And finally, I'll have some exciting news about a Bowery Boys-related LIVE EVENT coming in September.
Poster image courtesy the Library of Congress