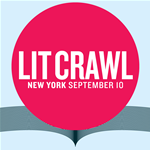 Come join The Bowery Boys this Saturday, Sept. 10, at Swift Hibernian Lounge (34 East 4th St.) as part of this weekend's fourth annual Lit Crawl, a combination literary festival/pub crawl taking place throughout the East Village and the Lower East Side.
The Lit Crawl is a free event featuring almost two dozen readings throughout the neighborhood, from 6 to 9 pm. Each event is about 45 minutes, then you go to another bar, grab another drink and listen to another performer! The entire schedule can be found here. I'll be starting with the first shift at 6pm.
Tom will be hanging around to join in the madness, but I'll be behind the podium, doing a short reading about some scandalous New York history. I'm honored to be paired for our little segment called "New York's Scalawags, Scoundrels and Satanists" with Ed Hamilton, basically the historian of the Chelsea Hotel and author of the excellent book Legends of the Chelsea Hotel: Living with the Artists and Outlaws of New York's Rebel Mecca.
By the way, Swift Hibernian Lounge — one of my favorite East Village taverns with a great back room — is right across the street from the Merchant House Museum. If you heard our Haunted Tales of New York podcast from a couple years back, you may remember our discussion of certain ghostly events that allegedly occur there at night. Perhaps we'll invite the ghost of old Gertrude Treadwell over for a cocktail?