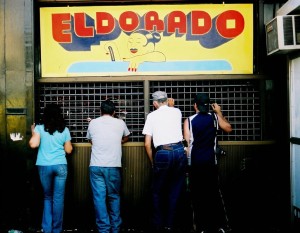 The old Coney Island El Dorado bumper car ride, 2007 (courtesy Flickr/chris trudeau)
Whistleblower: A heartfelt tribute to David Durk, the NYPD officer who exposed corruption in the force with the help of Frank Serpico (subject of the 1973 Al Pacino film 'Serpico'). "Durk then went on to take a mad genius approach to enforcing the law and to serve as a beacon for whistleblowers far and wide." [New York Daily News]
Master of Ceremonies: One of New York's little museum treasures of the fall has been Bard Graduate Center's Circus and the City: New York 1793-2010, from the earliest of bizarre amusements to the electric splendor of P.T. Barnum and beyond. Highly recommended. [Bard]
Reports from Rockaway Beach: The Hurricane Sandy cleanup here has taken on a surreal and almost apocalyptic air. "Giant dump trucks were lined up in front of the old bathhouse built by Jimmy Walker in 1932 for "the recreation of all New Yorkers," ready to deposit their loads. Each truck was piled high with 36 cubic yards of what used to be people's worldly possessions. " [New York Magazine]
Tragedy remembered amidst another: The Rockaways' Belle Harbor neighborhood remember the 2001 crash of American Airlines Flight 587. [CBS New York]
Report from Coney Island: Some Coney Island rides have come out of the Sandy aftermath fairly unscathed, like the Cyclone roller coaster. [Brooklyn Paper]
But not all. A few rides were irreparably destroyed. A reader Bruce CS reports from the Coney Island amusement district: "Coney's last two dark rides, Ghost Hole and Spook-A-Rama sustained heavy damage. Deno's may try to revive the Spook-A-Rama, but the Ghost Hole is history most likely.
"All other street level attractions were heavily damaged, all electric components were destroyed, and need to be replaced. Zamperla likely will rebuild, since they are a ride builder and be easier for them to repair. El Dorado is most likely gone,. no more chances to bump your ass off there."
Also gone, per Eater: Denny's Ice Cream, on the boardwalk
Coney Island USA headquarters was one of several area businesses ransacked by rushing waters, damaging the Sideshow, Freak Bar and Coney Island gift shop. According to their website, they need volunteers this weekend to help clean up! "We need help with cleaning Wednesday, November 14th through Sunday, November 18th from 12pm – 6pm. Water hardy clothing and footwear recommended. No need to email us first, just come to 1208 Surf Ave."
If you can't make it out there this weekend, you can also donate individual cleaning items. Their website has instructions and a list of necessary items.