Hopefully New Yorkers will never pick up the sitting-out bag as a trendy winter fashion trend. In their day, no teenager wore this cumbersome device for fun.
Below: "Boy wearing coat with attached bag covering feet, seated at table, outside of classroom, reading, New York City." Courtesy Library of Congress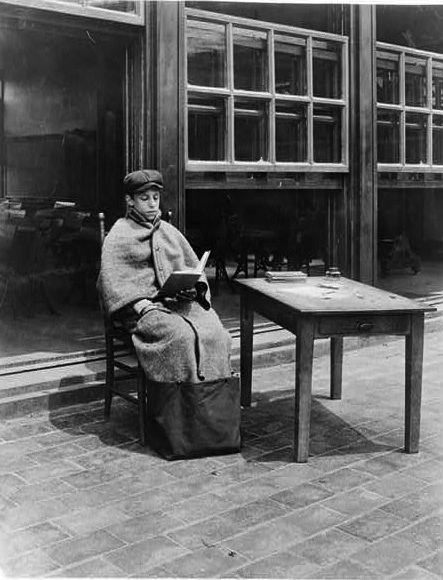 The sitting-out bag was basically the sleeping bag for daytime, a device used to warm the body in New York's so-called 'open air schools'.
One may immediately ask, "Why submit children to study outside in cold weather?" Subjecting any child to such conditions today would probably lead to a lawsuit. But a century ago, such measures were believed to be helpful in fending off one of the most horrifying dangers to children of that era — tuberculosis.
Below: The Seward Park Library opened up its rooftop as a reading room for students, both as a way to beat the heat but also to encourage the flow of air and the prevention of disease. (Courtesy NYPL, date unknown, photographer Lewis Hine)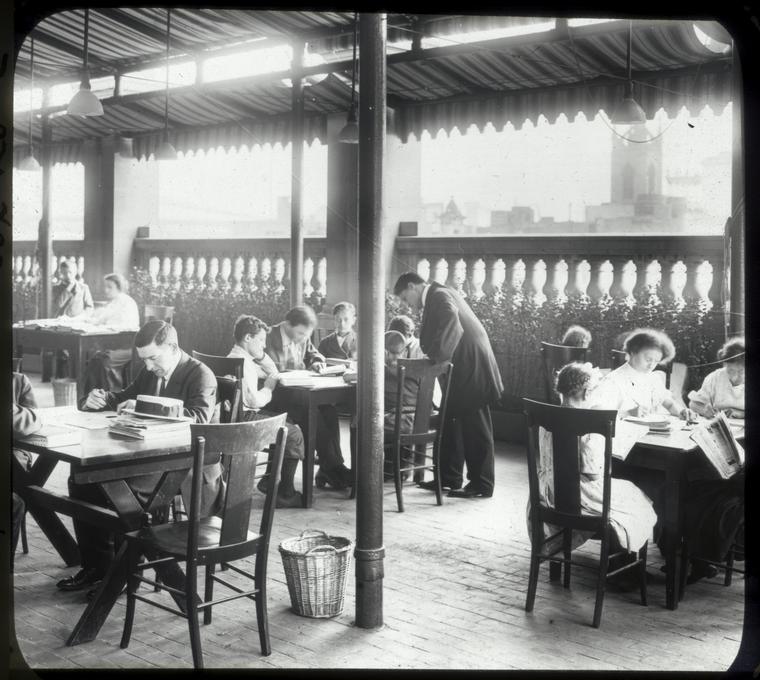 The so-called 'open air schools' instructed students in environments with ample ventilation, often on rooftops or outdoors.  According to a 1916 analysis of the movement, an open-air schoolroom was "fully exposed to the air on one or more sides, providing merely shelter from wind and rain. There is no artificial heating, the temperature of the room always being that of the open air."
The first open-air school in New York opened in 1908 on an "abandoned ferryboat." Â Easily the most notable of New York's open-air schools — and a model of this unusual form of education — was the Horace Mann School, operated by the Teachers College at Columbia University.
Horace Mann's students had to meet a certain unfortunate criteria. Â "The children who make up the classes were chosen because they were nervous, or irritable, or anaemic, or undernourished." [source]
Tuberculosis was one of the leading causes of death worldwide in the 19th century and would not fully be controlled until the widespread acceptance of vaccines after World War II.
Below: An advertisement promoting "fresh air in abundance"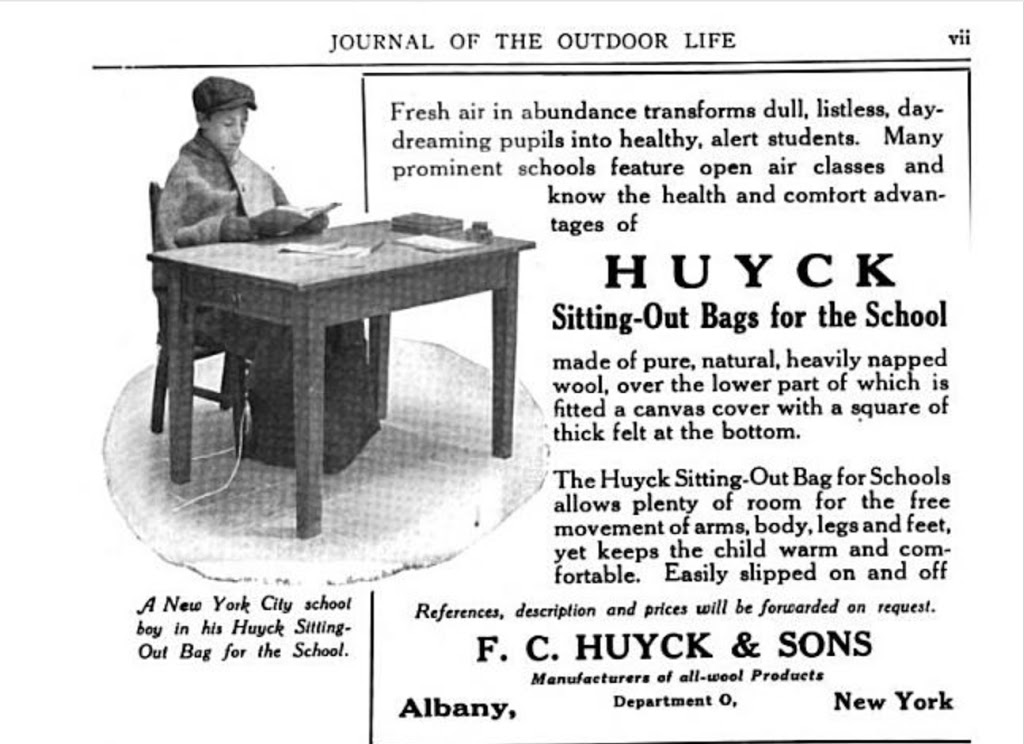 But while the open-air school was created for the prevention of one illness, it most likely encouraged another — pneumonia. And that's where the sitting-out bag comes in, a thick sheath of material that allowed the student to study even in freezing temperatures.
It was by no means a pleasant ensemble. Â One guide to open-air schools described the sitting-out bags as "made of a brown, pliable, hairy, felt-like cloth bound with tape and fitted with snap fasteners."
Because the sitting-out bags were often used by several students — and reused, over many years — parents were encouraged to make their own sitting-out bags at home for their children.  An article in a 1910 Survey Magazine offered tips to adults on how to make homemade sitting-out bags. (If you'd like to make your own sitting-out bag, find the instructions here, but you'll need lots of braid and cotton batting.)
Many sitting-out bags came with hoods, leading to the alarming sight of an entire classroom of hooded children in stiff uncomfortable cocoons. Below is pictured a hooded version, advertised in the Journal of the Outdoor Life in 1922. A sporting magazine? Â Sadly, no. The publisher of this guide to open-air living was the National Tuberculosis Association.