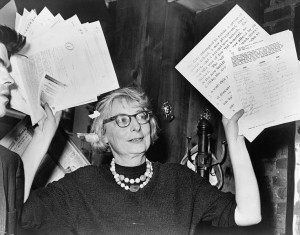 If you see large clusters of people walking around historic neighborhoods this weekend, drop what you're doing and join them. The Municipal Art Society celebrates the May 4th birthday of urban planner Jane Jacobs with dozens of free walking tours this weekend, led by volunteers through a great many corners of New York City.
From the Municipal Art Society
website
:
"On Saturday, May 4 and Sunday, May 5, thousands of New Yorkers will come together for Jane's Walk NYC – an annual series of 100+ FREE guided walks (and bike rides!) throughout New York's five boroughs. Registration is NOT required. Whether you choose to stroll through neighborhoods you love or discover new neigborhoods you've never visited, you'll enjoy this international program created to commemorate the life and legacy of urbanist Jane Jacobs."
Visit the Municipal Art Society's website for a complete listing of tours.
The five tours that personally looks the most intreguing to me:
— Manhattan: The Lake That Shaped Manhattan: Collect Pond and the Five Points (May 4 at 3pm)
— Manhattan: 1000 Steps: Walk Broadway from the Battery to the Bronx (May 4 at 10am and May 5 at noon)
— Brooklyn: Red Hook: Past and Post Sandy (May 4 and May 5, starting at 9am)
— Roosevelt Island: FDR Four Freedoms Park (May 4, starting at noon)
— Staten Island: A Ramble from Bentley Street to Billopp Manor in Staten Island (May 5, starting at noon)
However, if you're a contrarian and would prefer staking out on your very own Robert Moses walk, here's a map of the Cross Bronx Expressway. Watch out for traffic!