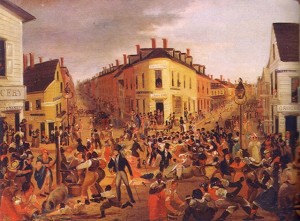 "Five Points" by George Catlin, painted in 1827, when it was Paradise Square and not yet the ramshackle slum of yore.
The Bowery Boys are excited to be embarking on an exciting new project that will bring New York City history closer to you than ever before — with our "Five Points Weekend" newsletter.
What's in a "Five Points Weekend"?
Starting in next week's debut newsletter, the two of us will recommend five free (or almost free) activities in the city that relate to history happenings that weekend — from special tours and museum exhibits to commemorations and parties.
Our five choices will be sent to your inbox every Wednesday morning, just in time for the weekend.
We hope to bring a mix of the fascinating, the informative and the zany, from across all five boroughs. What might we choose to include?
Ghost tours of a famous cemetery? Check.
An interesting (and overlooked) exhibit in a small museum in the Village? Absolutely.
Actors in period dress? We're there!
Sign up!
To receive the Bowery Boys "Five Points Weekend" email, please sign up here.
We'll see you there!
Thanks in advance for subscribing. We're so excited to give a little extra love to those New York history events and exhibits that make this city, and its story, so special. We look forward to seeing you there!
Submit an event
Do you have a New York City history-themed event you'd like us to consider for inclusion in the newsletter? Please email Tom about the event. Be sure to include details about location, hours, admission charges and a link for more information. Many thanks!