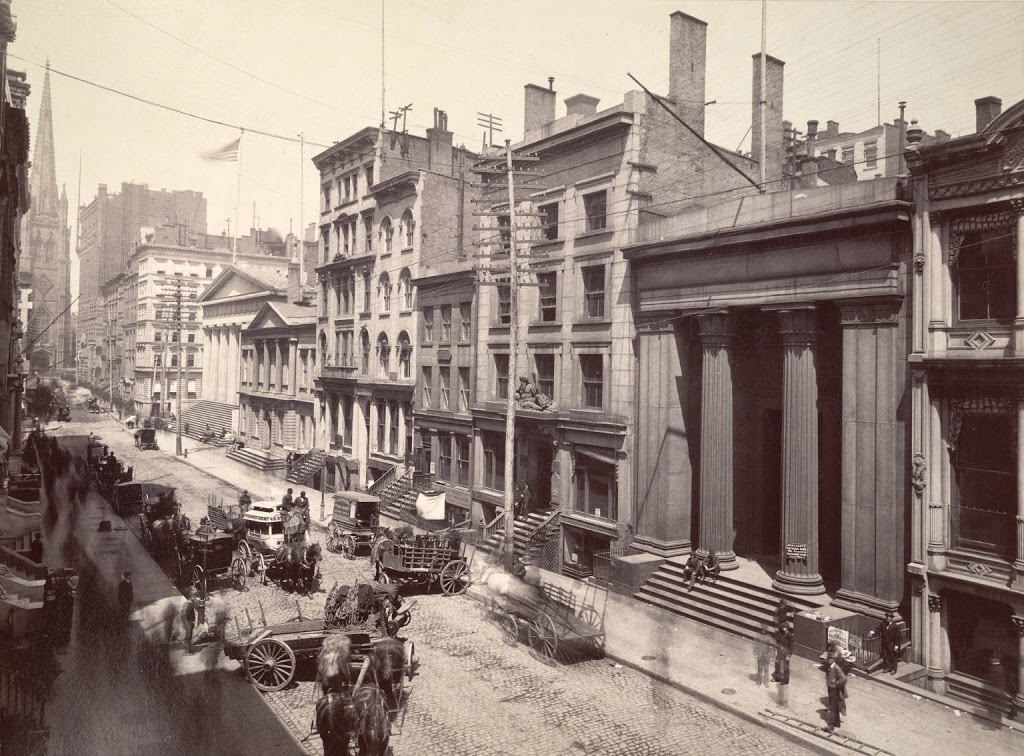 Above: look west on Wall Street 1883 (Courtesy Cornell)
No need to walk around New York City this weekend completely devoid of purpose and context! The Municipal Art Society will be providing dozens of dozens of free walking tours this weekend as part of their annual Jane's Walk NYC.
It's going to be sunny and in the 60s this weekend. And any day we get to celebrate Jane Jacobs in this city is a good day! Here's the full list of free walks. Just show up at the meeting place indicated on the list. There are currently over 130 walks available.
I have no particular insight on any particular planned event, but these eight certainly look the most intriguing to me:
1) The Secrets of Death Avenue (Manhattan)
Before there was an elevated freight line dominating the Meat Packing District, there was a street-level railroad causing all sorts of mayhem on Manhattan's West Side. As a bonus, enjoy the High Line afterwards! (Extra bonus: Listen to the Bowery Boys High Line walking tour.)
Saturday 12pm; Sunday 5pm
2) Discovering the Future of Freshkills Park (Staten Island)
Freshkills Park is one of the most ambitious ongoing projects in the New York City area, the transformation of an infamous landfill into a city park. Any peek behind the scenes of this unusual project is worth the trek.
Saturday at 10am and 1pm
3) NoHo: New York's Architectural History 1800 through 2014, In One Small Neighborhood (Manhattan)
Our new podcast will be up and ready this Friday, and it all takes place right here in this neighborhood. We didn't even plan this! Take advantage of both our show and this free tour and never, ever look at Astor Place and Lafayette Street the same way again.
Saturday 12pm, Sunday 12pm
4) Gowanus Mural Tour (Brooklyn)
Sure, you could do the galleries today, but why not enjoy the strange and ravishing art that's already installed all over the Gowanus area of Brooklyn?
Saturday 12pm
5) A People's History of Wall Street (Manhattan)
This one sounds provocative indeed, a history of capitalism "from the mouths of Occupy Wall Street activists, workers and scholars of finance" via the New York street most associated with money. Leave your Thomas Piketty at home!
Saturday 2pm, Sunday, 2pm
6) Hunter and Twin Islands: Pelham Bay Park (Bronx)
I know Jane's all about urban environments, but if you're craving something a little more wild, this fits the bill — a stroll around two former isolated islands in Pelham Bay, infilled (so no boats!) and teeming with nature.
Saturday 10am, Sunday 10am
7) Jackson Heights Tour (aka Explore America's First Planned Garden & Cooperative Apartment Community) (Queens)
The Queens garden apartment complex is a unique product of the borough's sudden population influx in the 1910s, with urban planners experimenting with styles of community living. This tour is also a good excuse to enjoy the great architectural surprises of Jackson Heights.
Saturday 12pm, Sunday 12pm
8) Domino Sugar Factory In Transition (Brooklyn)
Find out just what the heck is going on at one of Williamsburg's most beloved landmarks. I'm not sure you'll be going inside — it's an active construction site these days — but you'll marvel at the abundance of street art that has sprouted up around it.
Saturday 10am
And of course, celebrate Jane's birthday this Sunday at the Hester Street Fair: