"Manhattan has been compelled to expand skyward because of the absence of any other direction in which to grow. This, more than any other thing, is responsible for its physical majesty. It is to the nation what the white church spire is to the village – the visible symbol of aspiration and faith, the white plume saying that the way is up."
— E.B. White (in Here Is New York)
"Architecture is the art of how to waste space."
— Philip Johnson (in the New York Times, Dec. 27, 1964)
Over the past few months I've done a couple of podcasts that specifically focused on New York City's architectural prominence, the aesthetic flair that separates it from the rest of the world.  In the show 'The Tallest Building In New York: A Short History', New York becomes a testing ground for engineering one-upmanship, a race to touch the sky that employed the grandeur of the Gilded Age, the beauty of Art Deco and the practicality of Modernism.  In 'Ruins of the World's Fair: the New York State Pavilion', architecture in New York breaks into the realm of the weird and the fantastic as a community struggles to figure out how to re-purpose a  strange work of art by an iconic architect.
Throughout these and other podcasts, I've amassed quite a list of books on New York architectural history. Â So if you're looking for something to read during these cold winter months, give one of these a try!
Here is a list of my 25 favorite books on the subject, from histories of specific buildings to theoretical (but very readable) essays on the future of architecture.
This is by no means a complete list. I'm just a historian dipping his toe into architectural history. Â  Â If you have any suggestions of books on this topic that I may have missed, please leave them in the comments section. Â (NOTE: Comments are moderated so it may take an hour or two for your comment to appear.)
Some notes on this list:
— Many of these books deal with specific buildings in New York while others delve into specific concepts or theories that played out here in the city. Â Some of these authors have more famous books on architecture (Le Corbusier's Towards An Architecture, for instance) but I felt that The City of To-Morrow and Its Planning spoke to the sort of New York style that would eventually emerge in the mid-century.
— There are two guide books here that are essential for your collection — the recent  AIA Guide To New York City and the Guide to New York City Landmarks.
— Yes, I'm plugging Jane Jacobs' The Death and Life of Great American Cities again.
— Okay, so many you can't read all 25 books.  If you have to go to just one book,  try the Ada Louise Huxtable anthology On Architecture which takes its name from a Roman treatise written in 15 BC for Augustus Caesar!  Or perhaps reach for Rem Koolhaas' Delirious New York which revels in the power of New York's specific cultural background in shaping its structures.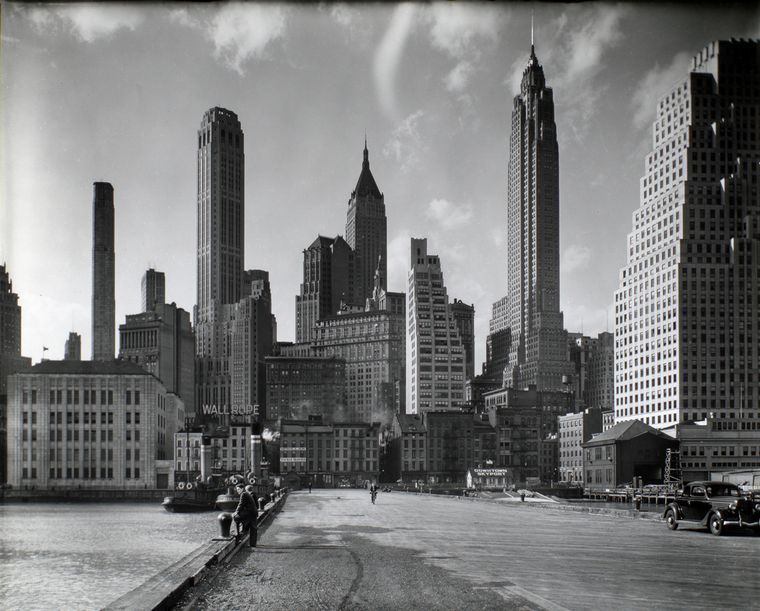 UPDATE: I'm getting some additional selection from readers on Twitter. Â Lavelle Porter recommends Harlem Lost and Found by Michael Henry Adams.