PODCAST REWIND: A podcast that's "very Saks Fifth Avenue," we get to the origins of the famous upscale retailer, follow its path from Washington D.C. to Heralds Square and then to "the most expensive street in the world," and tell you a little about a glamorous milliner.
NOTE: This show was originally recorded in December 2008.
A special illustrated version of the podcast on Saks Fifth Avbenue (Episode #71) is now available on our NYC History Archive feed, via Stitcher streaming service and of course on iTunes.  Chapter headings with images have been embedded in this show, so if your listening device is compatible, just hit play and a variety of pictures should pop up.  The audio is superior than the original as well.
For this and our older episodes (Episodes #5-#70, subscribe to The Bowery Boys: NYC History Archive feed, on iTunes, directly from our host page, or directly via our RSS feed.
CORRECTION: There's a slight error in the original show that I kept in this cleaned-up version for continuity –Â Â I describe one style used in the creation of Saks Fifth Avenue as Art Moderne, which is a variation of Art Deco using curved, streamlined surfaces. This clearly describes the inside of Saks, not the outside, which is a bit more formal.
Fifth Avenue and 50th Street in 1881, mostly the domain of mansions, entirely residential at this time. Commercial concerns such as a department store would not have dreamt to have sneaked up to this area at this time. (NYPL)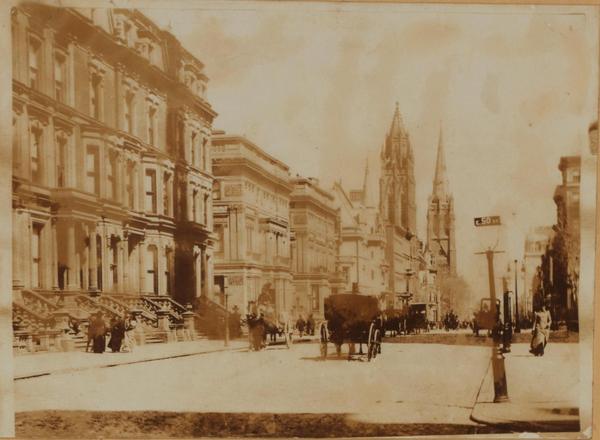 These were the buildings which stood on the plot of land that would soon be the home of Saks Fifth Avenue.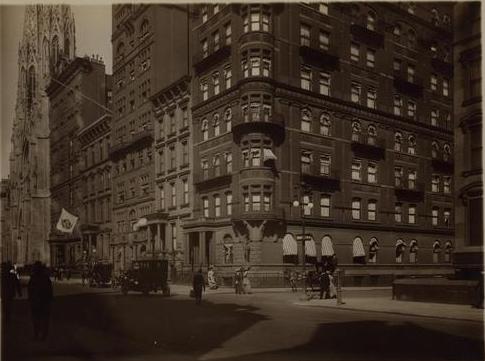 1902 — The original Saks & Company on the left, with 34th Street separating it from the new Macy's. The Herald Square elevated train races by the two of them.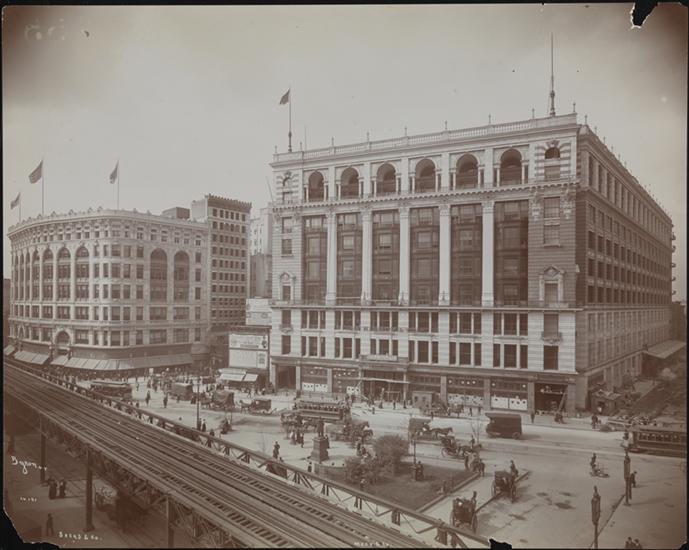 1922 — Crowds gather in front of the display windows at the 34th Street location. Saks helped innovate the lavish, sophisticated nature of display windows. In this case, the attraction was a model of the ship S.S. Giulio Cesare, a brand new Italian passenger ship.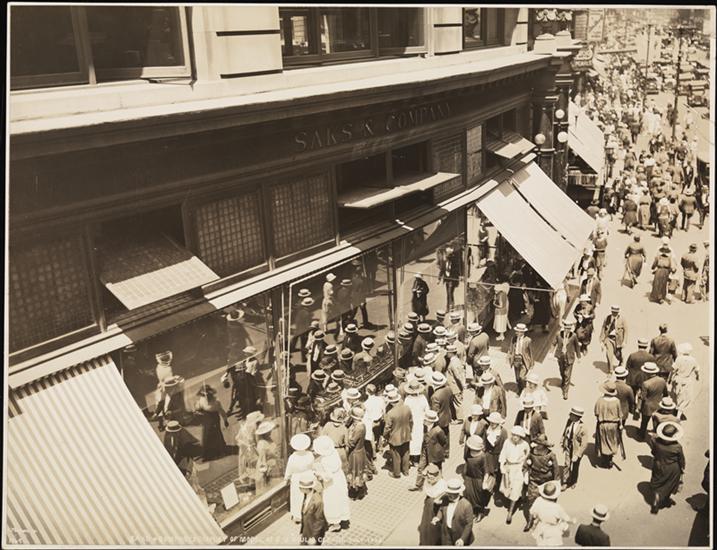 1923 – Saks Fifth Avenue going up next to St. Patrick's Cathedral. Â This photo was taken on a plot of land that would be transformed into Rockefeller Center a decade later.
The exterior of the new Saks on Fifth Avenue, next to St. Patrick's Cathedral and across from the spot where Rockefeller Center would soon develop.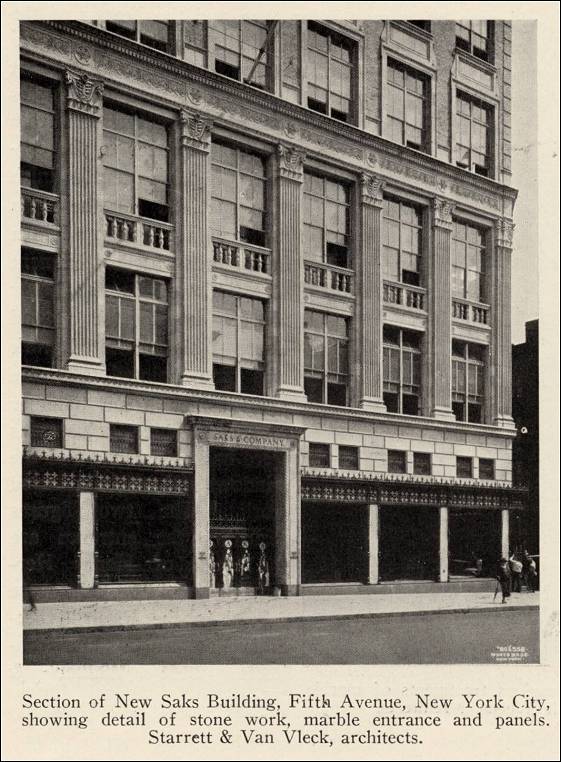 1944 — US servicewomen gaze inside the windows of Saks Fifth Avenue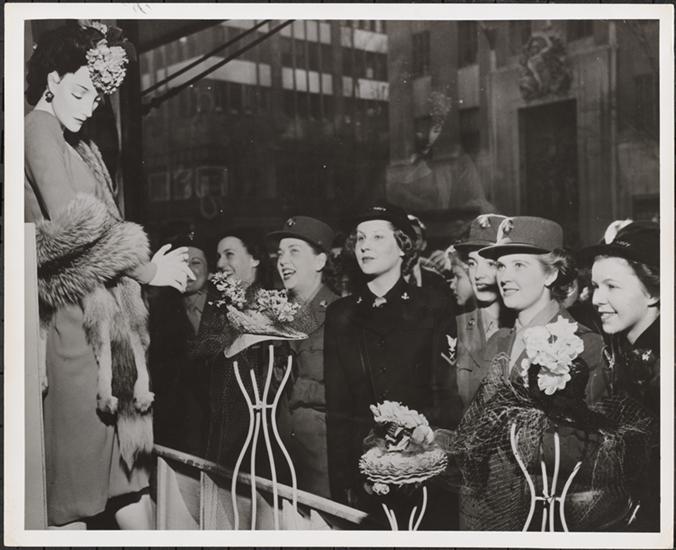 1954 — Nancy Berg in snowflake tweed suit with white satin bow from Saks Fifth Avenue, hat by Tatiana du Plessix Liberman of Saks Fifth Avenue.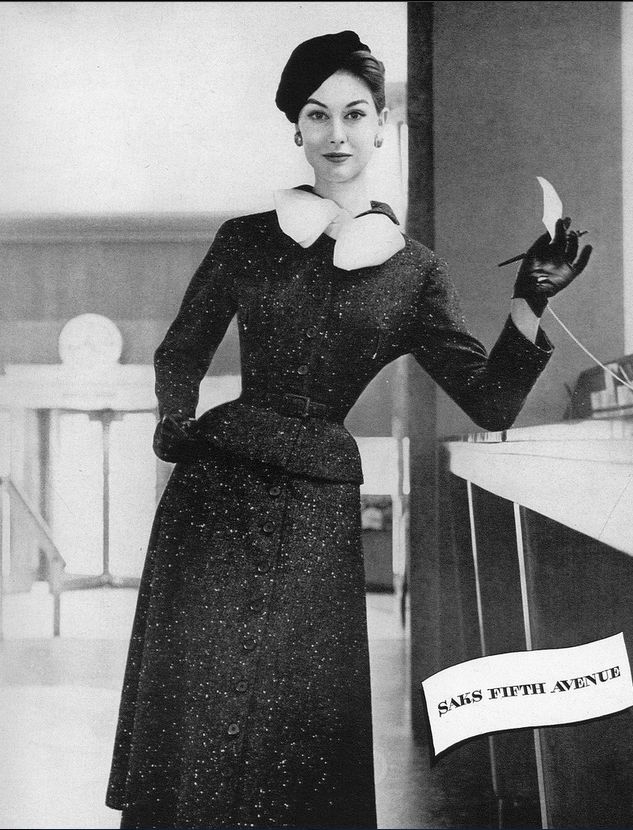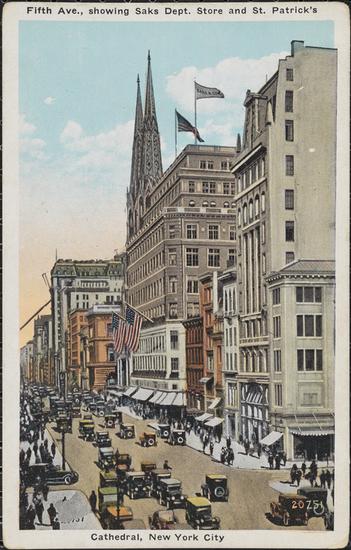 Meanwhile, the 34th location was soon encased with a brutal brutalist redesign and EJ Korvette moved in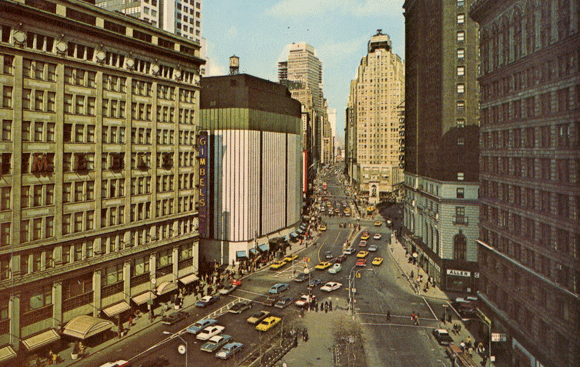 Korvette's in 1979, a year before it went bankrupt.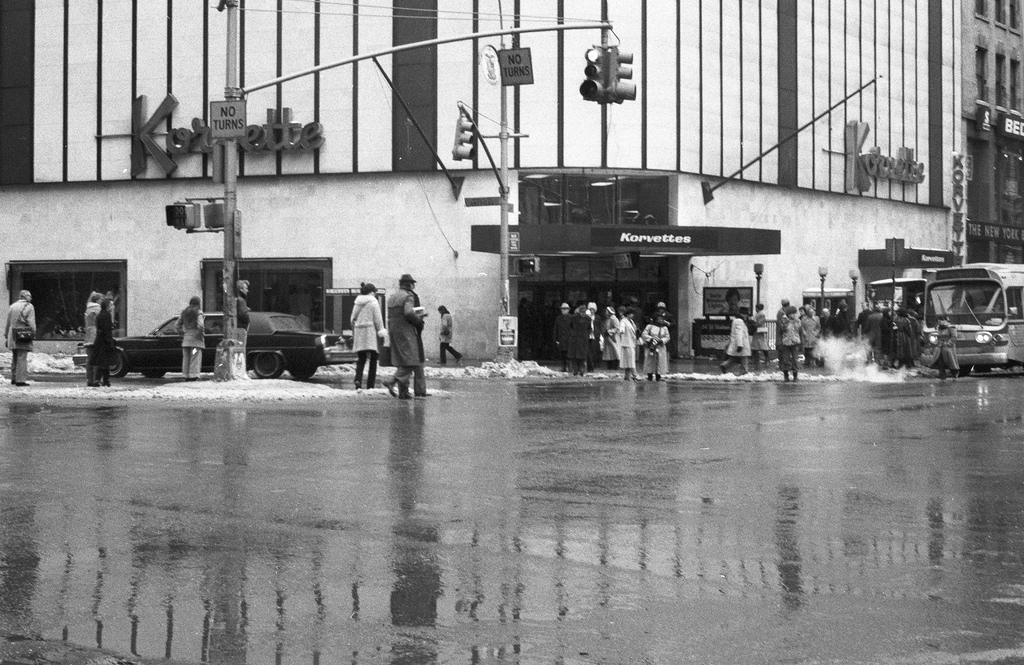 Today, the old Saks 34th Street is Herald Center Mall, now shimmering in a glass curtain front.