St. Marks Is Dead, the new book by Ada Calhoun on the history of St. Mark's Place, was one of our favorite books of the year.  Low Life: Lures and Snares of Old New York, a grungy look at New York's Gilded Age by Luc Sante, is one of our favorite books ever.  Combine the two, and you have a must-see event at the Museum of the City of New York!
As part of their My City Book Club series, Calhoun and Sante will be in conversation at the museum on Wednesday, January 27, 6:30 pm, to discuss the past and future of one of New York's most curious streets. If you heard our podcast on St. Mark.s Place from last year, you know some of the story — a once-respectable street (and home to Alexander Hamilton's widow) that became home to East Village hippie and punk culture in the late 20th century. Â What's been the appeal of this street and what does the future hold?
There's a reception afterwards and get your copy of Calhoun's book signed afterwards. And we have an offer code for Bowery Boys listeners and readers to get a discount! Go to MCNY's website to order your tickets and use offer code MARKS to get a deep discount on your admission ($6 off the $16 ticket price).
The Museum of the City of New York is at 1220 Fifth Avenue. See you there!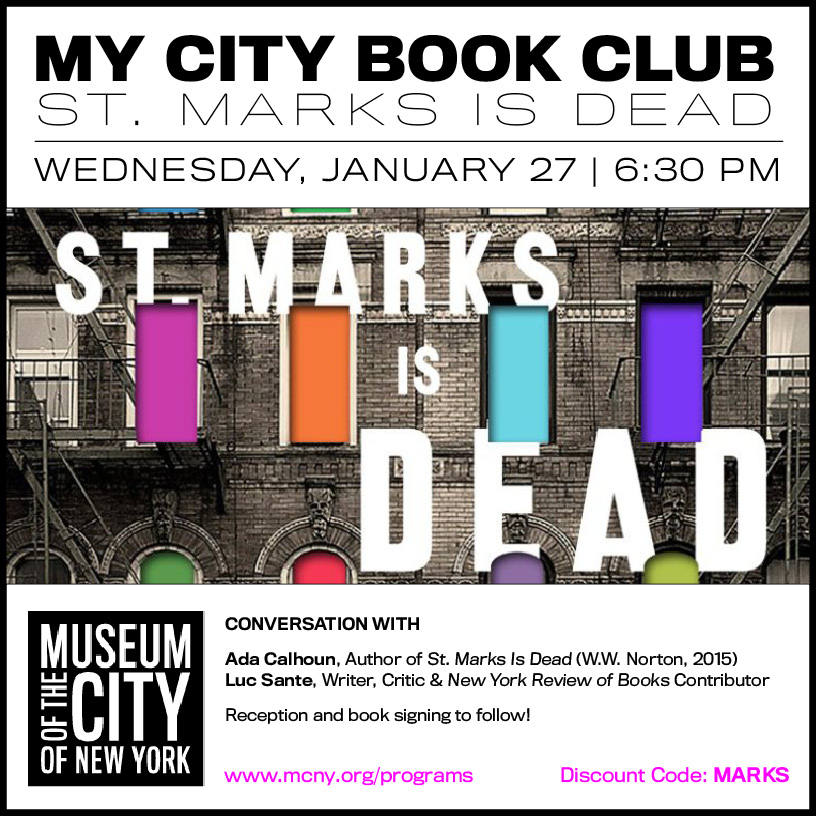 Picture at top:  Deutsch-Amerikanische-Schützen Gesellschaft (German-American Shooting Society) building, 12 St. Mark's Place. taken in 1975 by Edmund Gillon, Courtesy Museum of the City of New York