In 1935, the play Dead End by Sidney Kingsley debuted on Broadway, arriving with great anticipation as Kingsley had just won the Pulitzer Prize for Drama the previous year with his play Men In White. Today this is probably the least interesting detail about Dead End.
You probably know Dead End for one of two reasons. The first is its talented Broadway ensemble cast featuring, among others, Huntz Hall, Bobby Jordan, Bernard Punsly and Leo Gorcey. The young actors would carry over into a Hollywood film version of the play in 1937, then act as an ensemble in several movies, including their own series. They were known as the Dead End Kids, then the Little Tough Guys, then the East Side Kids and finally — the Bowery Boys.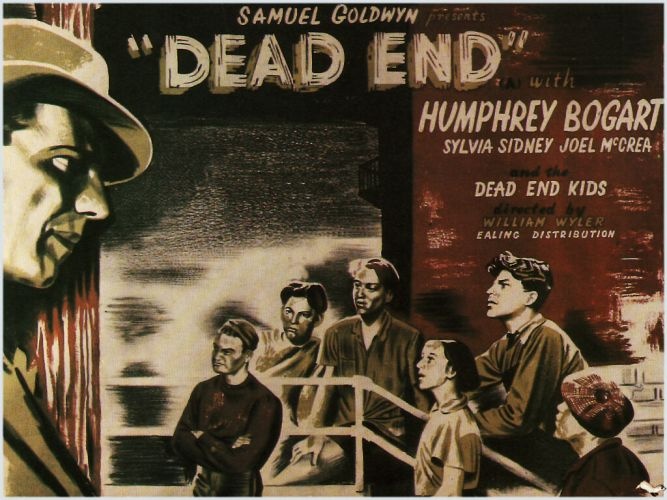 There's another reason you may know the film. It features an early screen appearance by Humphrey Bogart, in a performance transitioning him from his two-dimensional supporting gangster roles to characters of greater prominence. One year later Bogey would join the Dead End Kids (and James Cagney) in the classic Angels With Dirty Faces.
The Axis Theatre Company is mounting an intriguing new production of Dead End this month at their West Village home on Sheridan Square. Its a sleek and even bare-boned production, replaying the tale of life on an economic fault line — the kids of the slum against the residents of a new luxury apartment on the east side. (Reminder: The play was written in the 1930s, not the 2010s.)
Broken dreams, corrupted youth, fallen women, fallen men  — the stuff of Great Depression melodrama!
Another historical tidbit which may enamor you to this production. A year after Dead End opened in movie theaters, the nightclub Cafe Society opened, employing Billie Holiday who eventually debuted the song "Strange Fruit" upon its stage. The Axis Theatre's home is the former Cafe Society room!