Frances Xavier Cabrini was born on this date (July 15) in 1850 in today's Italian region of Lombardy. She entered the sisterhood at a young age, and by 1880 had formed her own order with seven other women — the Missionary Sisters of the Sacred Heart of Jesus.
The good works performed by the order soon got the attention of Bishop Giovanni Scalabrini — and Pope Leo XIII. The church had a very specific mission for Cabrini.
Thousands of Italian immigrants already lived in New York by the late 1880s. Word got back to the Vatican of the horrible living conditions in the city — not only the squalor of the city's tenement districts, but the difficulties for Italian-speaking immigrants to continue practicing their faith. Most Catholic churches in New York at this time were for Irish or German congregations only.
In 1889, Mother Cabrini and the sisters sailed to America with a mission to tend to New York's new Italian immigrant population. While the recently installed Statue of Liberty, still golden copper, greeted them in New York harbor, it seemed no others did.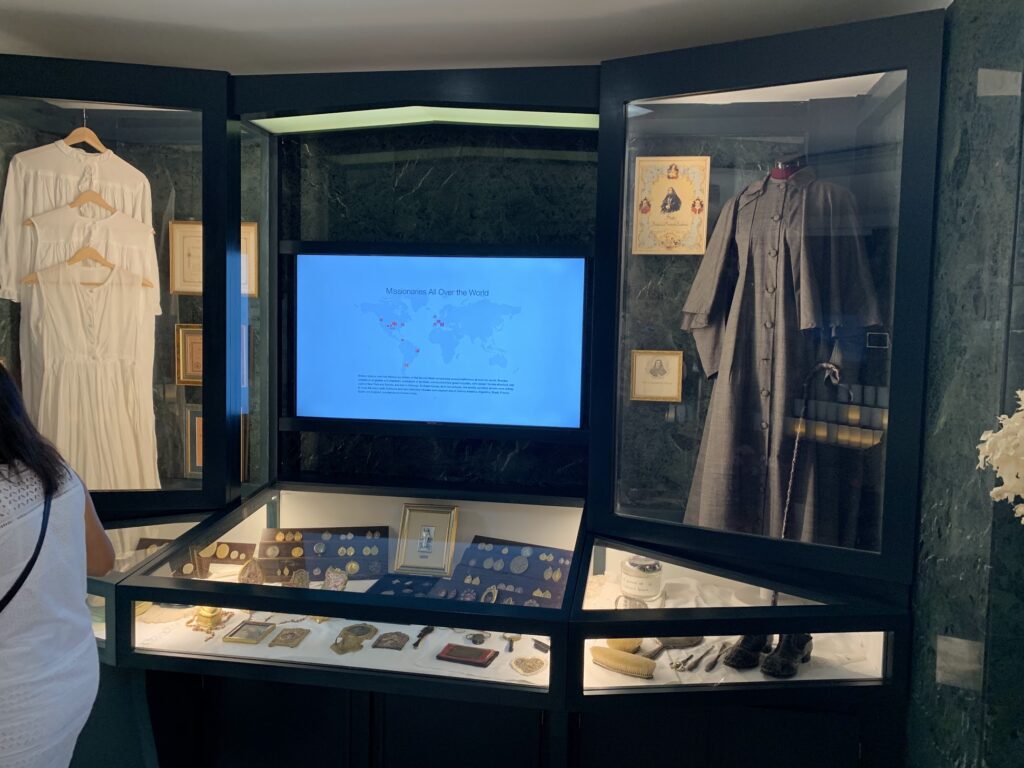 "No one met them at the dock. No one was there to meet them because they came way faster than anyone expected," said Cherie Sprosty, director of liturgy at the Cabrini Shrine, who Greg spoke to for his 2019 podcast. "And the next day they made their way to Archbishop Corrigan's residence to let him know that they were ready to get started. And he said, "What are you doing here? Didn't you get my letter? Go back. We don't have anywhere for you to live."
Unwavering in their mission, Cabrini and the other sisters did eventually get settled in a parish on the Lower East Side. They found a room at St. Joachim's Church (at 26 Roosevelt Street, now demolished) where they begin holding catechism class in Italian.
Italian immigration would greatly increase within the next couple decades here — not just in New York but across the country — and the sisters' mission would expand into education and healthcare. Their work would create a sound, religious bedrock for Italian Americans, ensuring a smooth transition into American life without losing their Catholic faith.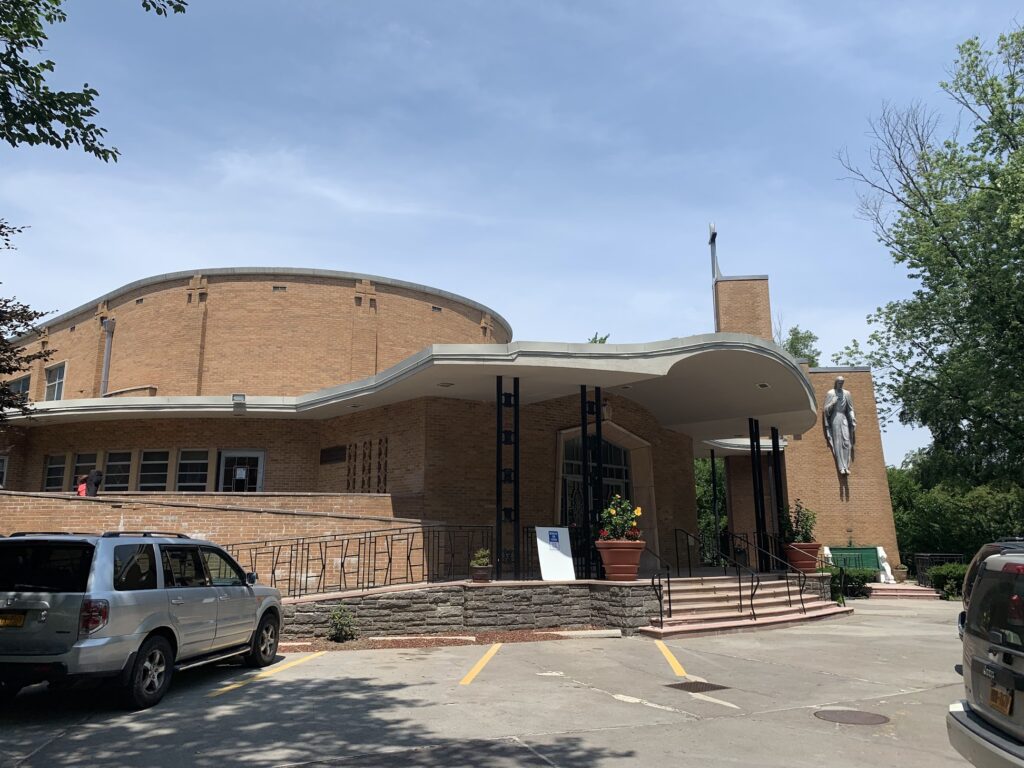 Today you can find the Cabrini Shrine in upper Manhattan on Cabrini Boulevard — named, of course, in her honor in 1938 on the occasion of her beatification.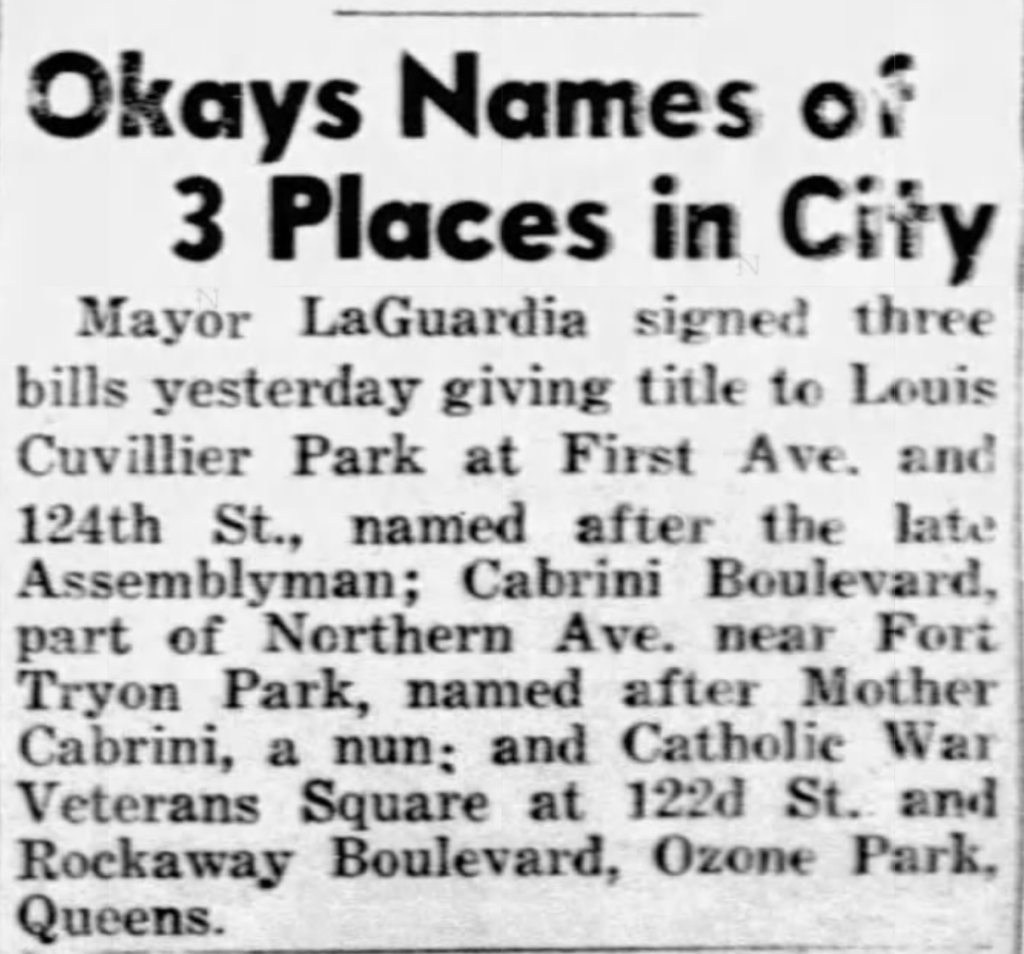 From the Cabrini Shrine website: "Mother Cabrini discovered this property in 1899 as she drove her horse and buggy to the remote northwest edge of New York City. She purchased land at what is now 190th St. and Fort Washington Avenue to build a school for middle-class girls, the tuition from which was used to fund orphanages and free schools for the poor. Mother Cabrini always found great peace of mind and personal tranquility whenever she visited this site. A bench upon which she liked to meditate remains for visitors to sit upon."
Cabrini died at Columbus Hospital in Chicago, Illinois, in 1917. On July 7, 1946 she was canonized as a saint by the Roman Catholic Church. New York's Cabrini Shrine opened in 1959.
From the website:
"Mother Cabrini's remains were then transferred to the Shrine, where she now rests. A pictorial mosaic composed of Carrera marble, Botticino marble, and gilded Venetian glass surrounds the altar, depicting significant scenes from Mother Cabrini's life. A towering three-story stained-glass image of St. Cabrini at the back of the chapel overlooks the Hudson River. It features an unusual mid-century composition of pieced stained glass with painted details. The carefully restored carriage Mother Cabrini drove when she visited West Park sits beneath it."
You could find Cabrini's influence all over the place today, far and wide, 67 institutions throughout the United States, hospitals, orphanages, Catholic schools.
The National Shrine of Saint Frances Xavier Cabrini is located in Chicago on the spot of Columbus Hospital (which she had founded in 1905). According to the Shrine's website: "The room where Mother Cabrini died has been preserved and is currently on exhibit inside the National Shrine of Saint Frances Xavier Cabrini."
In 2020 a statue devoted to the life and work of Mother Cabrini was placed in New York's Battery Park: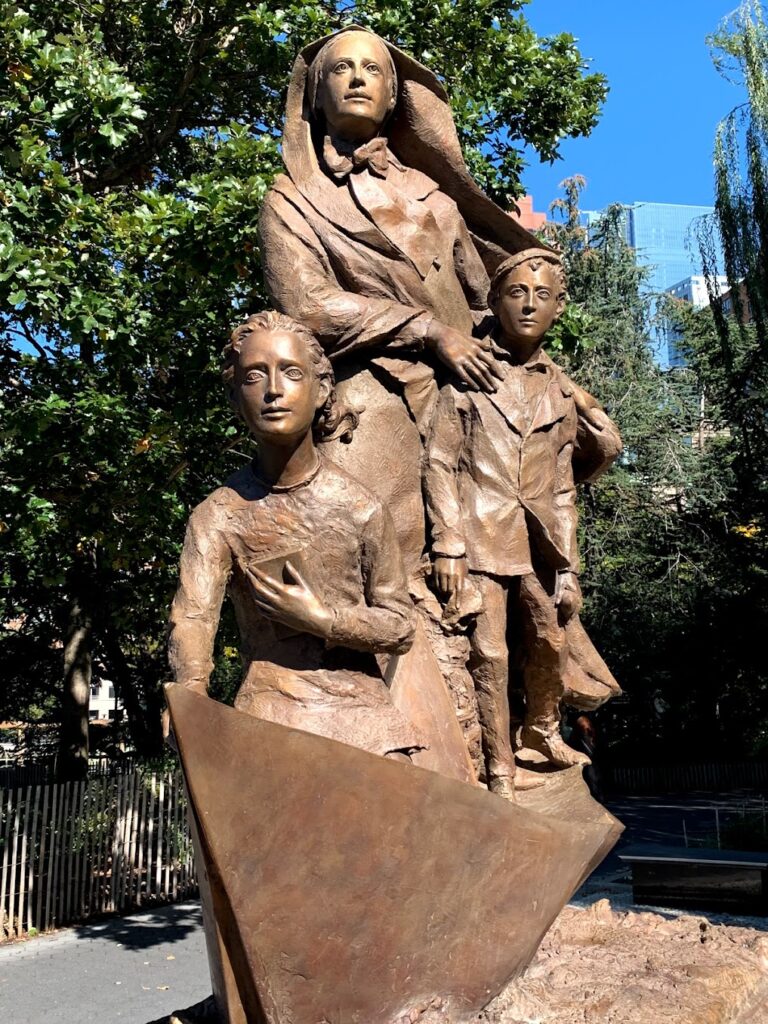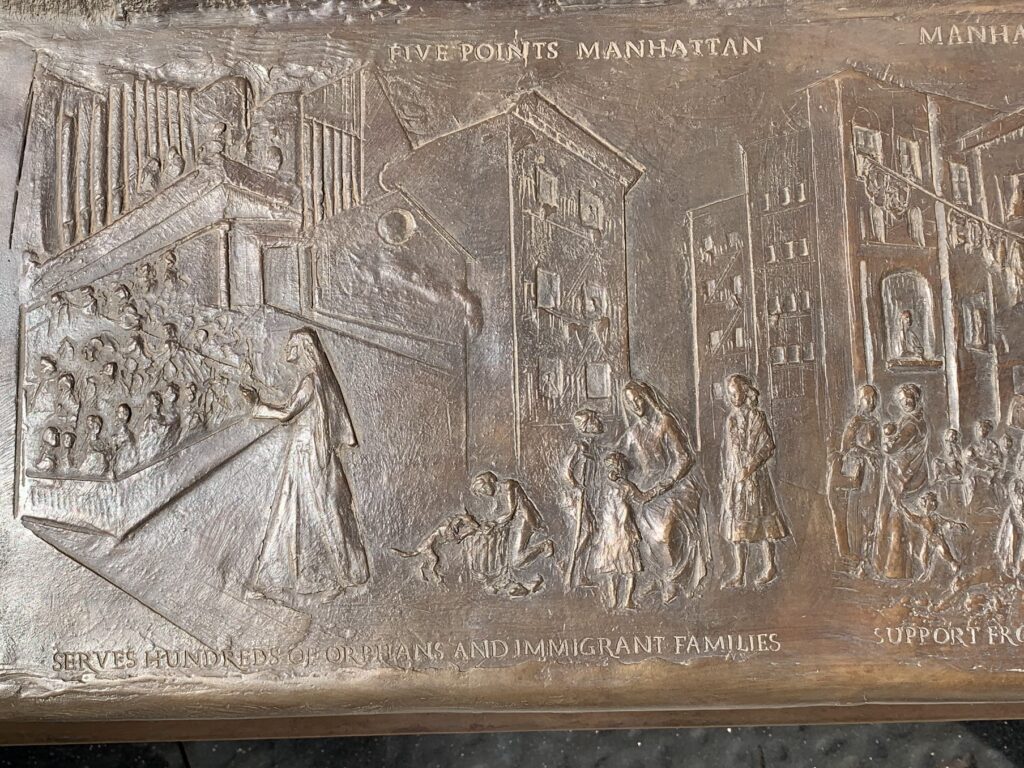 For more information on Mother Cabrini listen to the Bowery Boys 2019 podcast Saving the City: Women Of The Progressive Era.