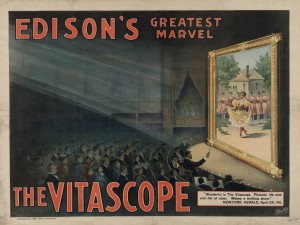 PODCAST New York City inspires cinema, but it has also consistently manufactured it. Long before anybody had heard of Hollywood, New York and the surrounding region was a capital for movies, the home to the earliest American film studios and the inventors who revolutionized the medium.
It began with Thomas Edison's invention of the Kinetoscope out in his New Jersey laboratory. Soon his former employees would spread out through New York, evolving the inventor's work into entertainments that could be projected in front of audiences. By the mid 1900s, New Yorkers fell in love with Nickelodeons and gasped as their first look at moving pictures.
We also take a look at the medium's first superstar director D.W. Griffith and how he helped hasten the move out west. But even as studios fled for sunny California weather, movie making never fully left New York. Find out where you can still find some relics of New York's pre-Hollywood movie career.
NOTE: As this is of course a New York podcast, we are very NYC-centric here. We breeze by the early film contributions of many inventors and significant locales. Our apologies to Georges Melies and to Fort Lee, NJ!
Click here for further notes and clarifications on this week's show.

You can tune into it below, download it for FREE from iTunes or other podcasting services, or get it straight from our satellite site.
Or listen to it here:The Bowery Boys: NYC and the Birth of the Movies
This hideous looking shed is actually America's first film studio — the Black Maria at Thomas Edison's West Orange laboratory. (LIFE)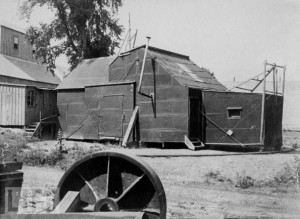 The Edison company's principal film studio in the Bronx, a glass-ceilinged warehouse where hundreds of films were produced. Below, what the interior looked like, with film sets and even other productions sandwiched right next to each other.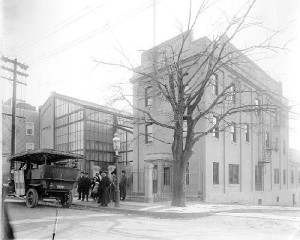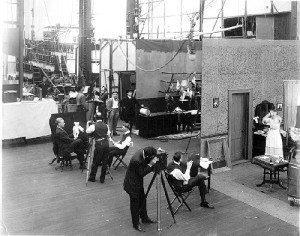 The uniform, industrial look of a Kinetoscope parlor, almost like a room of slot machines. The one below is probably from San Francisco, not New York, but the first ever parlor, which was located at Broadway and 27th Street, would have looked much like this one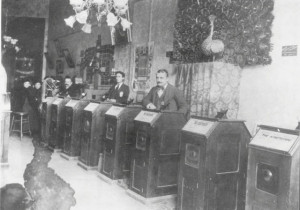 Edison's chief competitor in the early years was the American Mutoscope and Biogaph Company, which initially made stand-alone 'peep show' machines similar to the Kinetoscope, then successfully made the transition to films projected and exhibited to an entire audience. Below that, a Biograph film crew records a boxing match in Coney Island. (Courtesy LOC)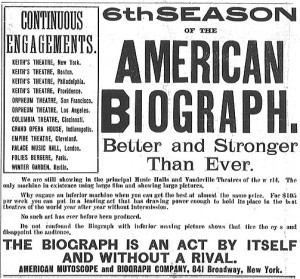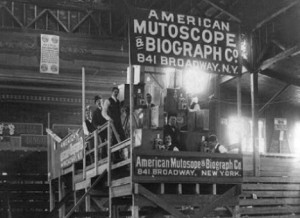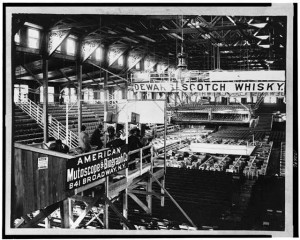 The Eden Musee on 23rd Street — a wax museum turned early film parlor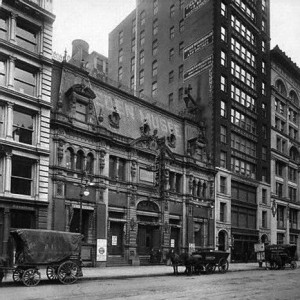 'From Show Girl To Burlesque Queen', a Biograph production. Nickelodeons were heavily scrutinized and even outright banned for a short time in New York due their sometimes salacious (for the day) content. (LOC)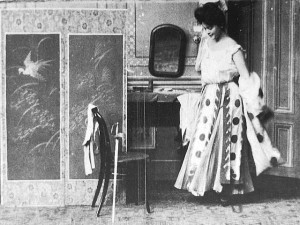 The Museum of the Moving Image in Astoria, Queens — The best place to find the artifacts of New York's early film history, as well as a lot of other spectacular film and video presentations. Film history floors devote themselves to the craft of motion picture making, from a display of early cameras to interactive displays highlighting the technical aspects of movie making.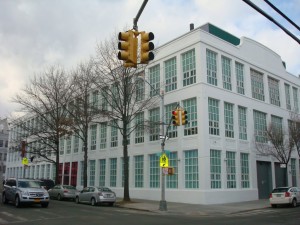 Many 'peep show' devices are on display and functional. Some helpful museum curators should be around to assist you if you want to actually look inside this Kinetoscope and see how it works. Nearby, the early 'greatest hits' of the 1890s play in a loop.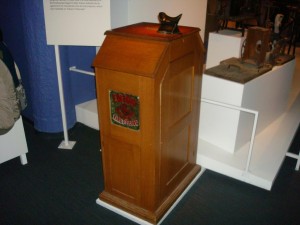 Here's a few of the films we mentioned in our podcast this week. These were all filmed in New York or New Jersey.
Eugen Sandow, an early discovery of Florenz Ziegfeld and one of the first stars of moving pictures

DW Griffith's 'Father Gets In The Game', with Mack Sennett, filmed in Central Park

'Those Awful Hats', a Griffith creation, with a movie within a movie

And finally, 'Musketeers of Pig Alley', arguably the first 'gangster' movie (allegedly using real members of New York gangs), although organized crime looked quite different pre-Prohibition, and sticklers might balk at that distinction.