PODCAST Why did they knock down old Pennsylvania Station?
The original Penn Station, constructed in 1910 and designed by New York's greatest Gilded Age architectural firm, was more than just a building. Since its destruction in the 1960s, the station has become something mythic, a sacrificial lamb to the cause of historic preservation.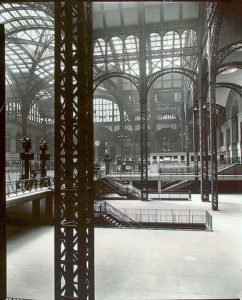 Amplifying its loss is the condition of present Penn Station, a fairly unpleasant underground space that uses the original Pennsylvania Railroad's tracks and tunnels. As Vincent Scully once said, "Through Pennsylvania Station one entered the city like a god. Perhaps it was really too much. One scuttles in now like a rat."
In this show we rebuild the grand, original structure in our minds — the fourth largest building in the world when it was constructed — and marvel at an opulence now gone.
Why was Penn Station destroyed? If you answered MONEY!, you're only partially right. This is the story of an architectural treasure endangered — and a city unprepared to save it. Should something so immense be saved because of its beauty even if its function has diminished or even vanished? Does the public have a say in a privately owned property?
PLUS: We show you where you can still find remnants of old Penn Station by going on a walking tour with Untapped Cities tour guide Justin Rivers.
Listen Now: Old Penn Station Podcast
To download this episode and subscribe to our show for free, visit iTunes or other podcasting services or get it straight from our satellite site.
You can also listen to the show on Google Music and Stitcher streaming radio.
Or listen to it straight from here:
_______________________________________________________
The Bowery Boys: New York City History podcast is brought to you …. by you!
We are now producing a new Bowery Boys podcast every week. We're also looking to improve the show in other ways and expand in other ways as well — through publishing, social media, live events and other forms of media. But we can only do this with your help!
We are now a member of Patreon, a patronage platform where you can support your favorite content creators for as little as a $1 a month.
Please visit our page on Patreon and watch a short video of us recording the show and talking about our expansion plans. If you'd like to help out, there are five different pledge levels (and with clever names too — Mannahatta, New Amsterdam, Five Points, Gilded Age, Jazz Age and Empire State). Check them out and consider being a sponsor.
We greatly appreciate our listeners and readers and thank you for joining us on this journey so far.
________________________________________________________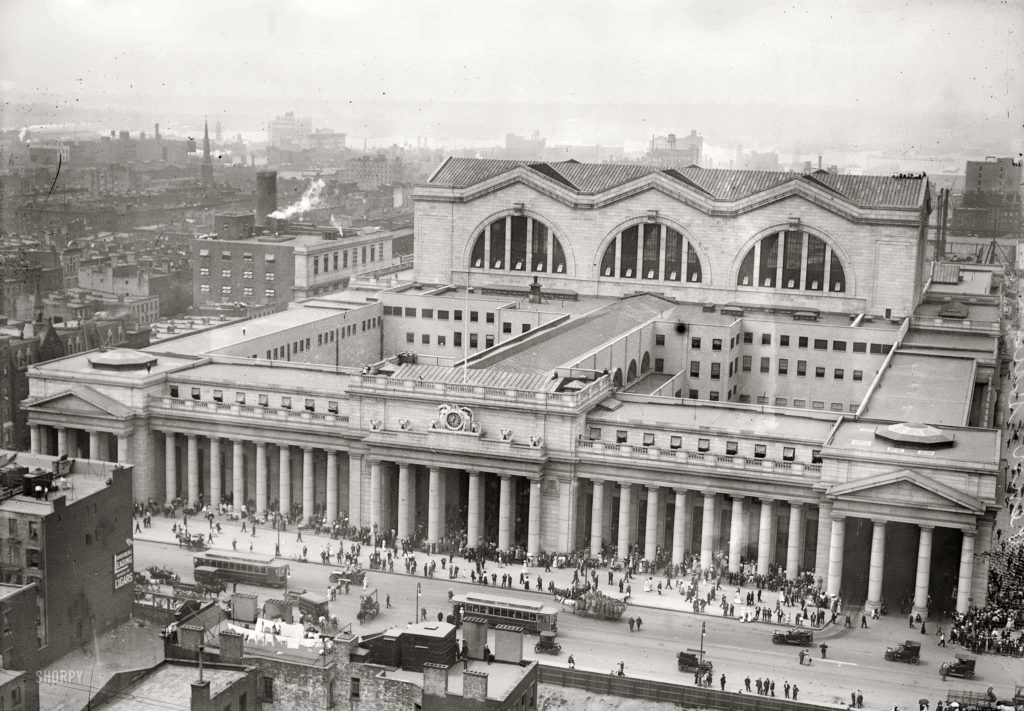 The 32nd Street entrance in 1910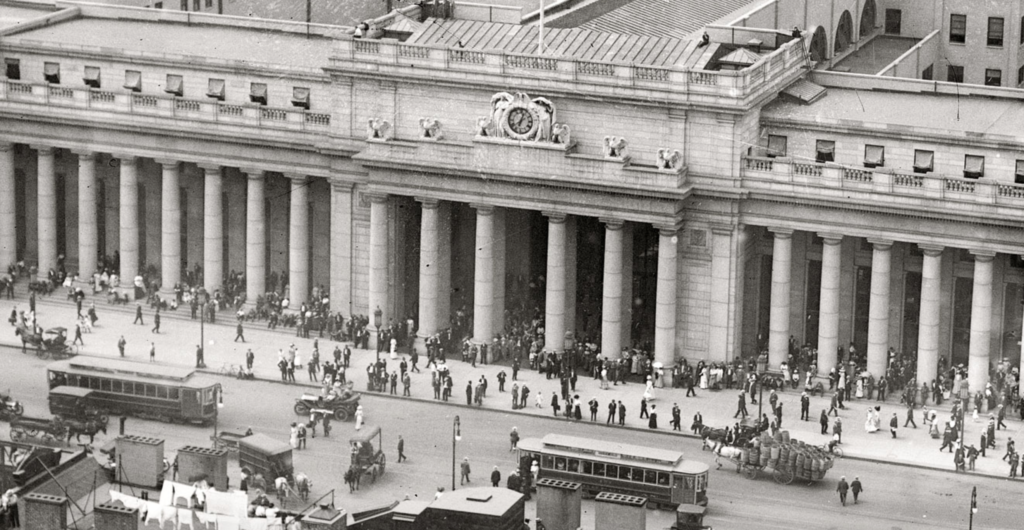 The corner of 31st Street and 7th Avenue, entrance to the south carriage entrance, 1914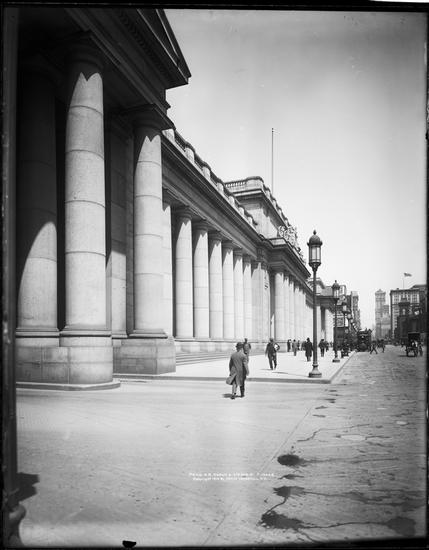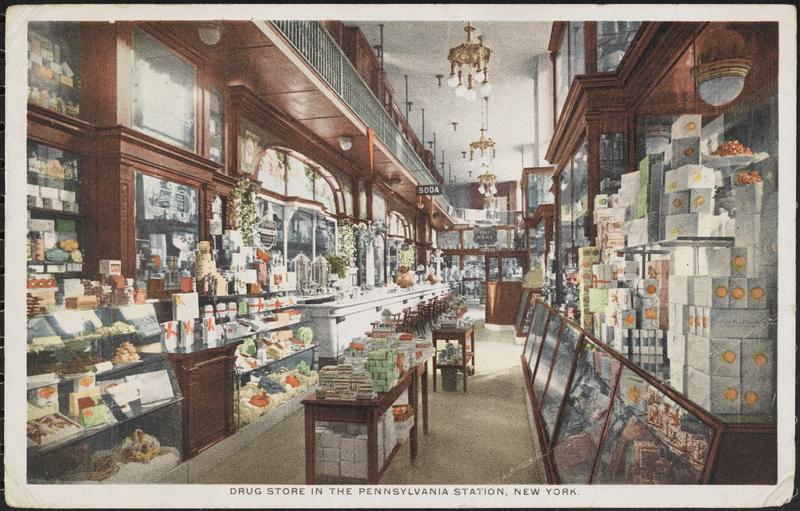 The Pennsylvania Station restaurant, found after one stepped through the arcade but before the waiting room.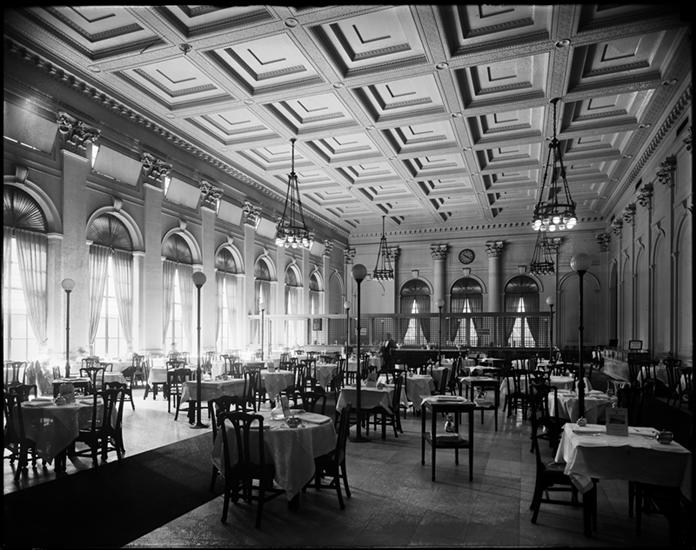 The train concourse, 1911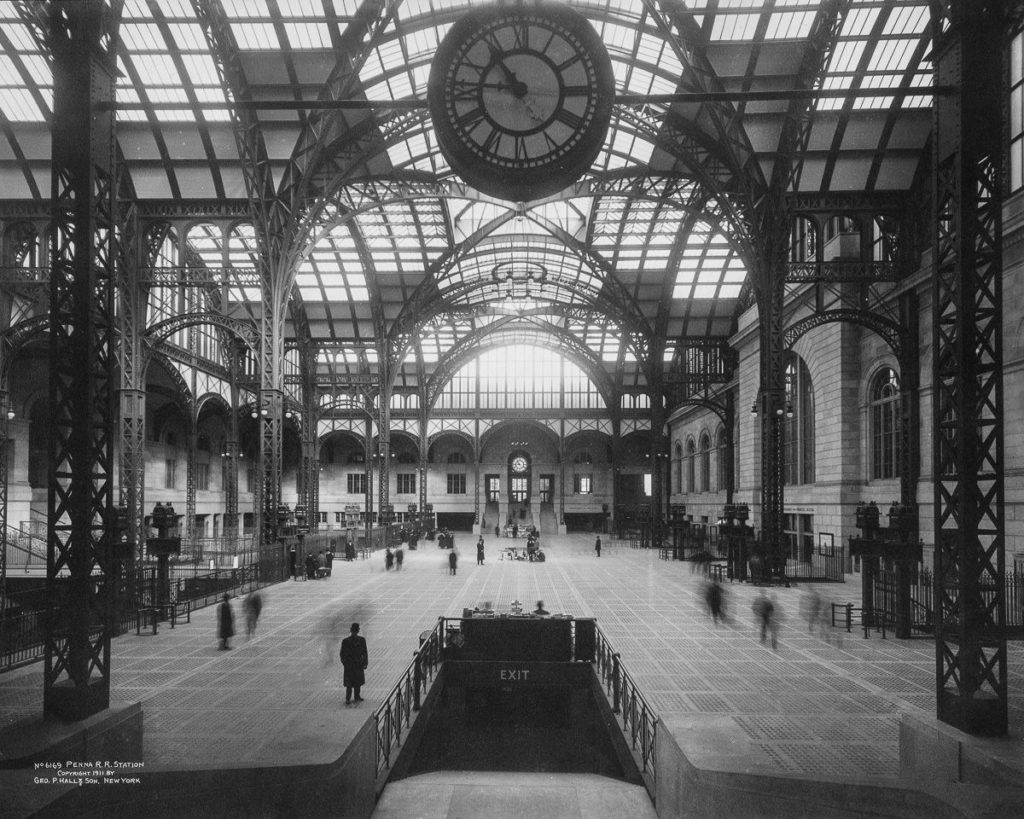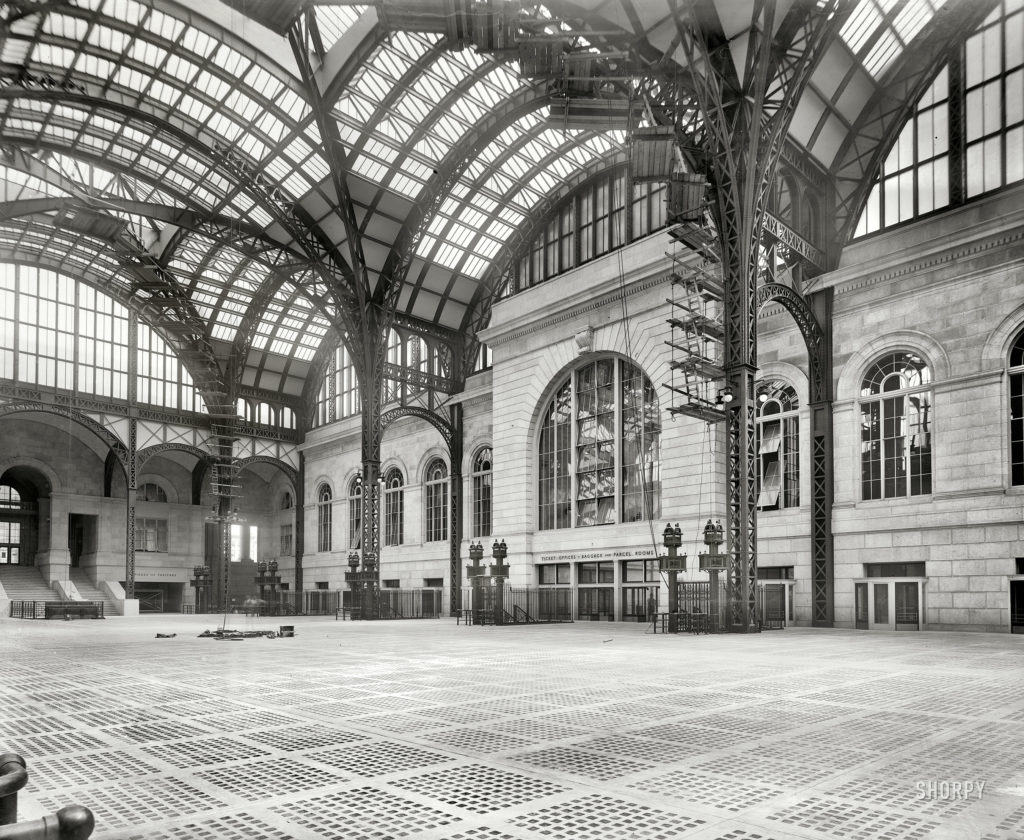 Awaiting the arrival of preacher Billy Sunday. (Read more about the context of this extraordinary picture here.)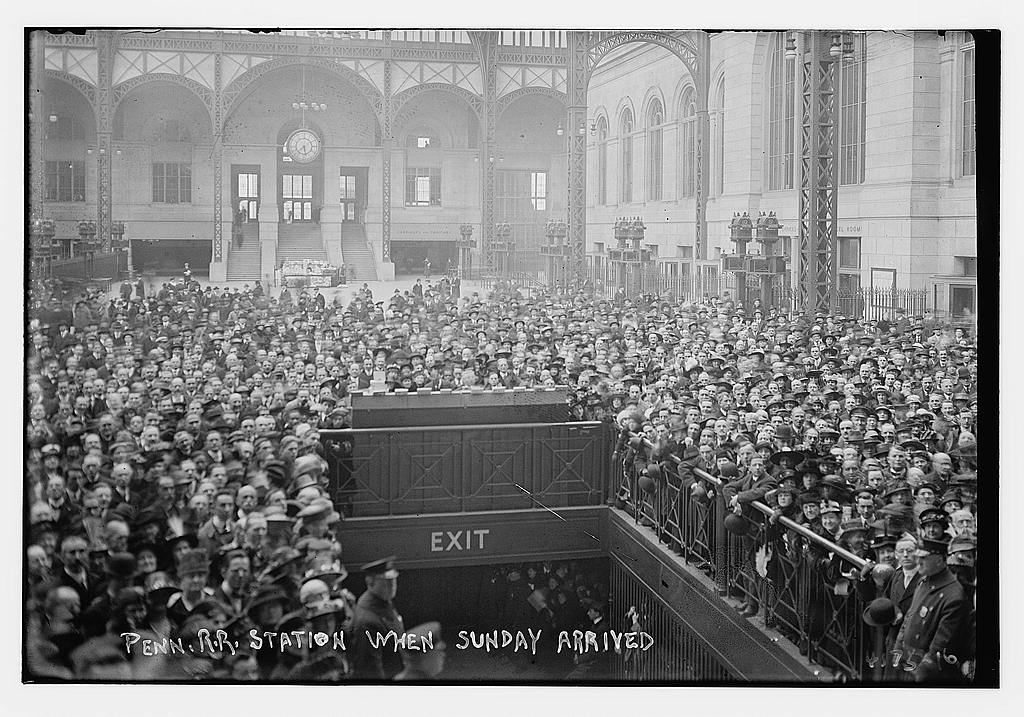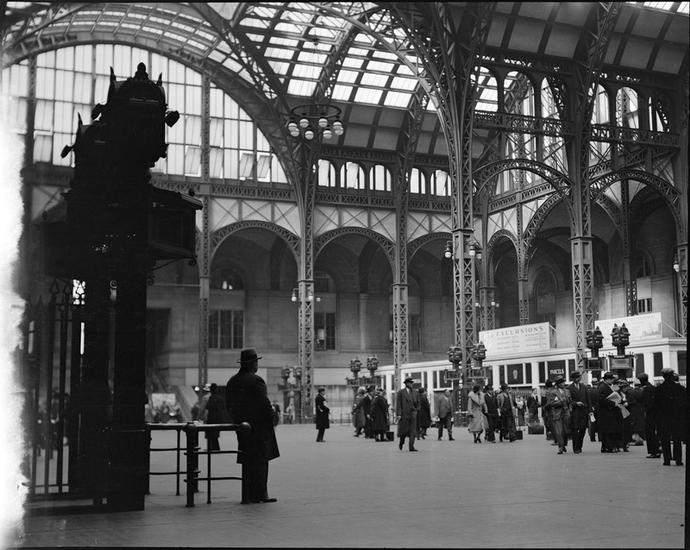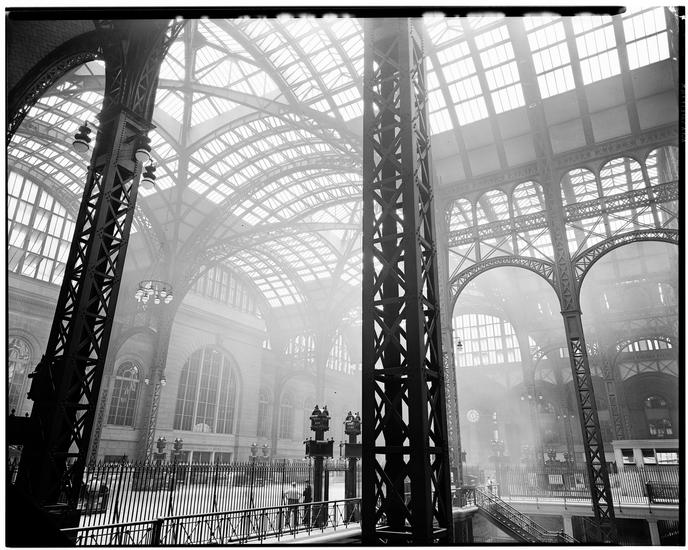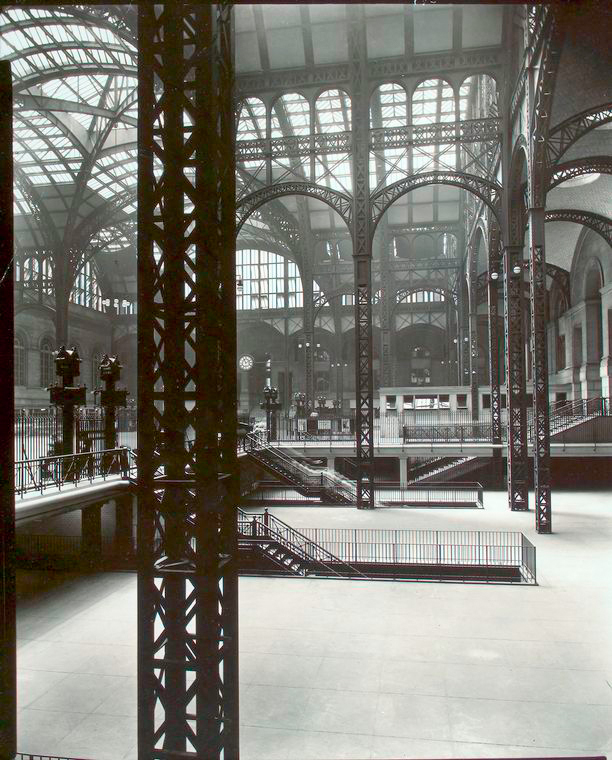 The view of the concourse from the Grand Waiting Room, 1939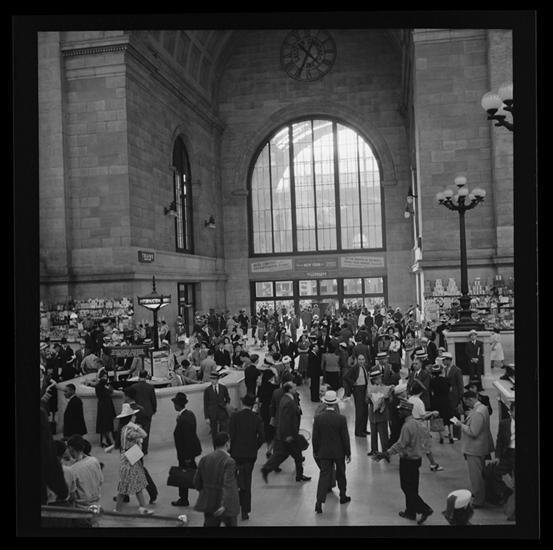 The loggia, leading to the grand staircase, 1939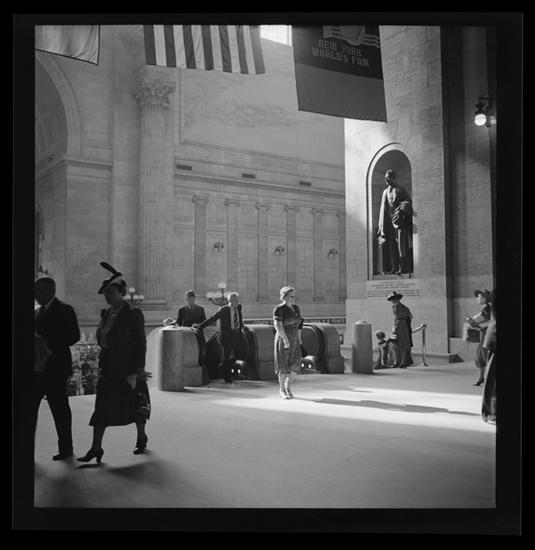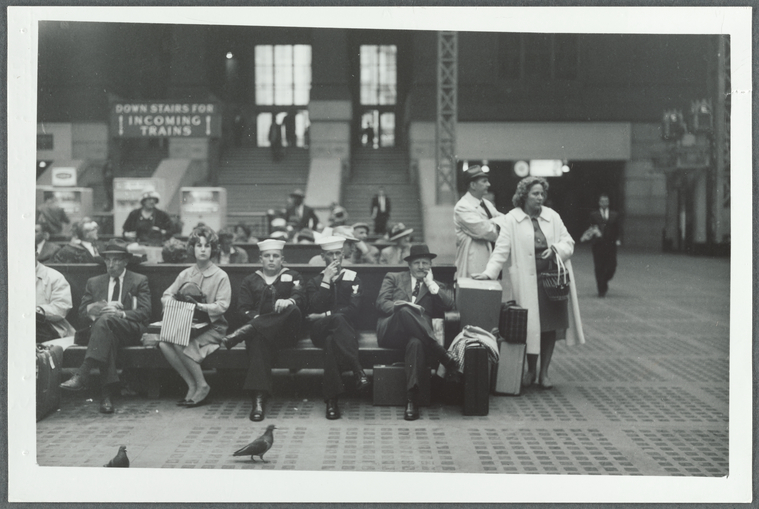 A 1955 bar menu from the Penn Station restaurant/bar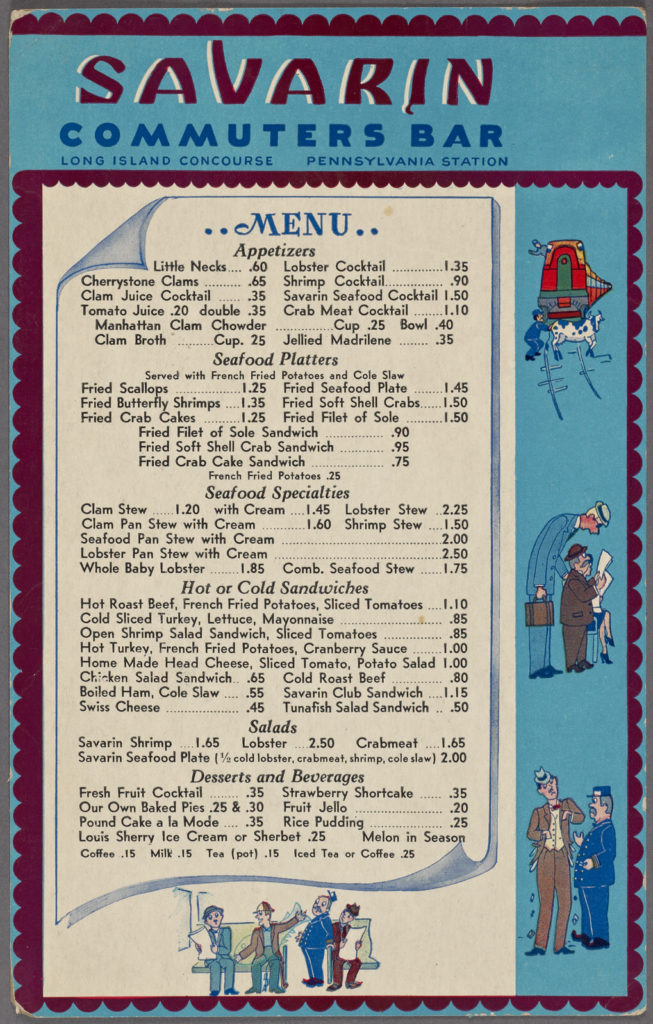 The AGBANY protesters including Philip Johnson and Jane Jacobs.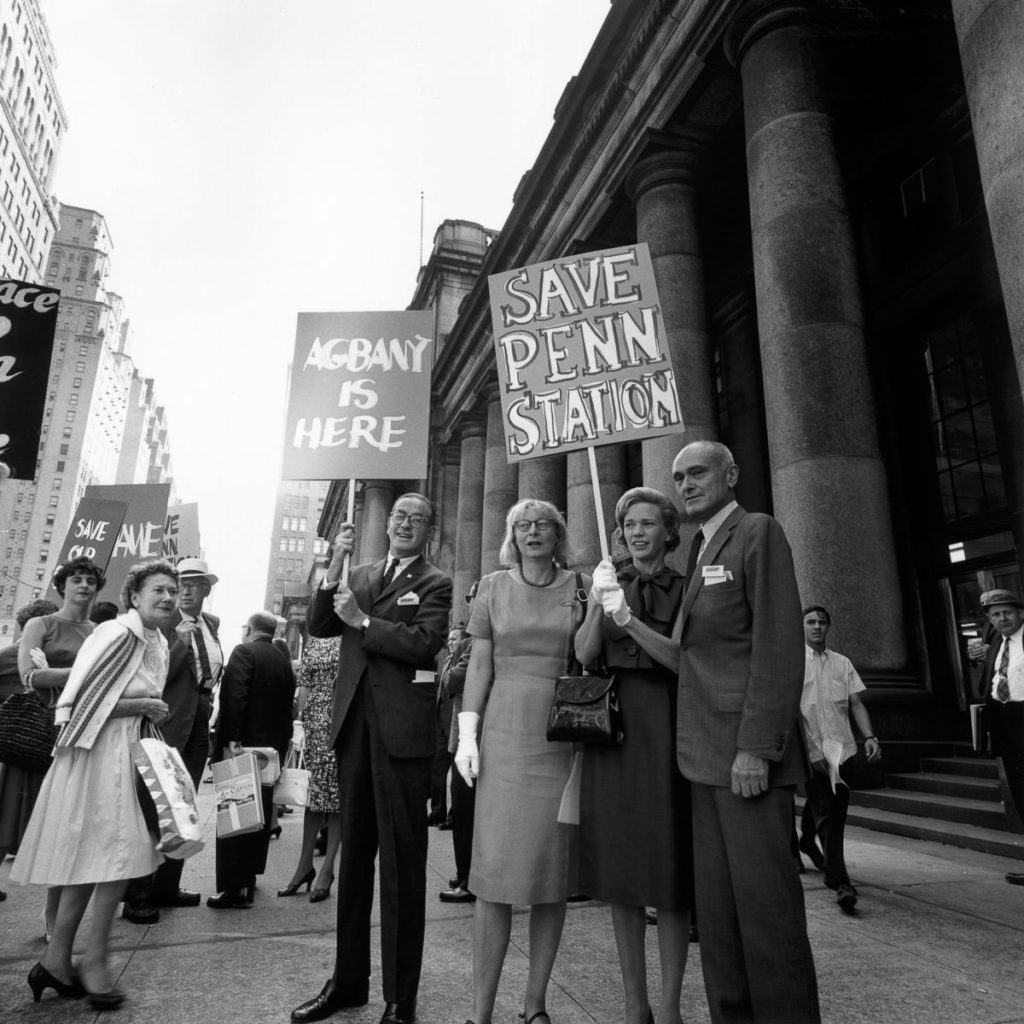 Madison Square Garden rose as old Penn Station was slowly demolished.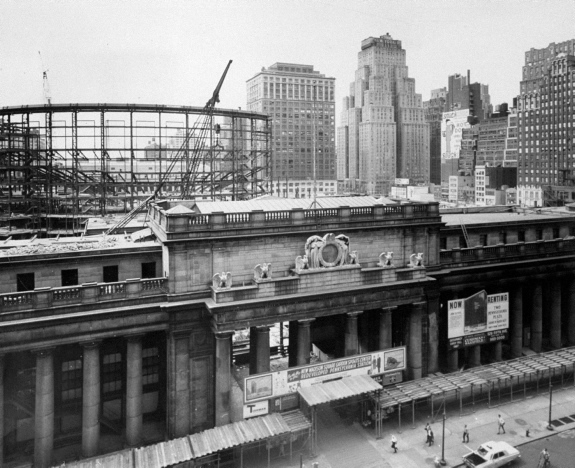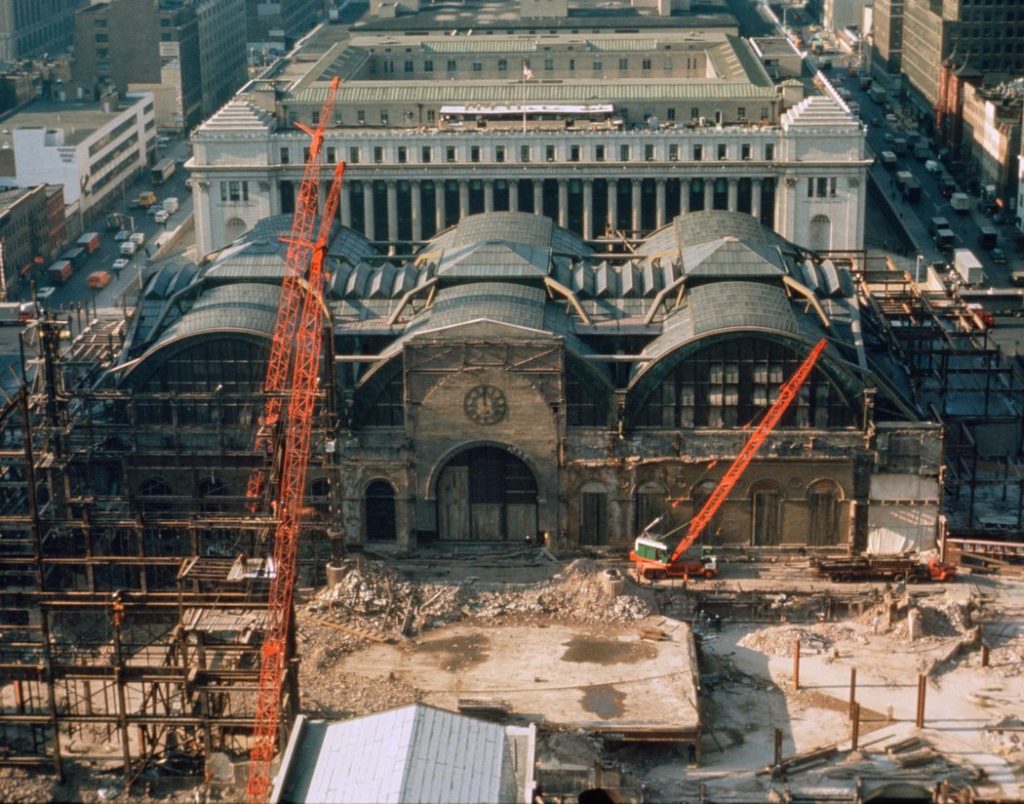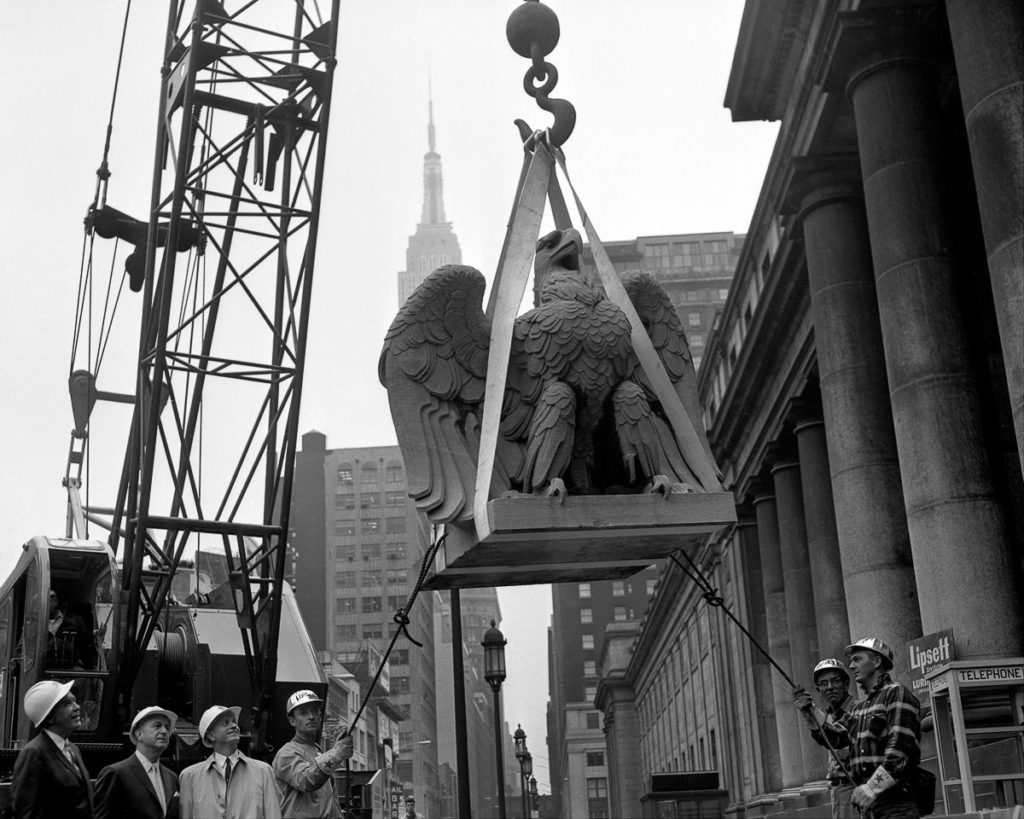 A couple eagles still flank the 7th Avenue side of the Madison Square Garden/Penn Station complex today.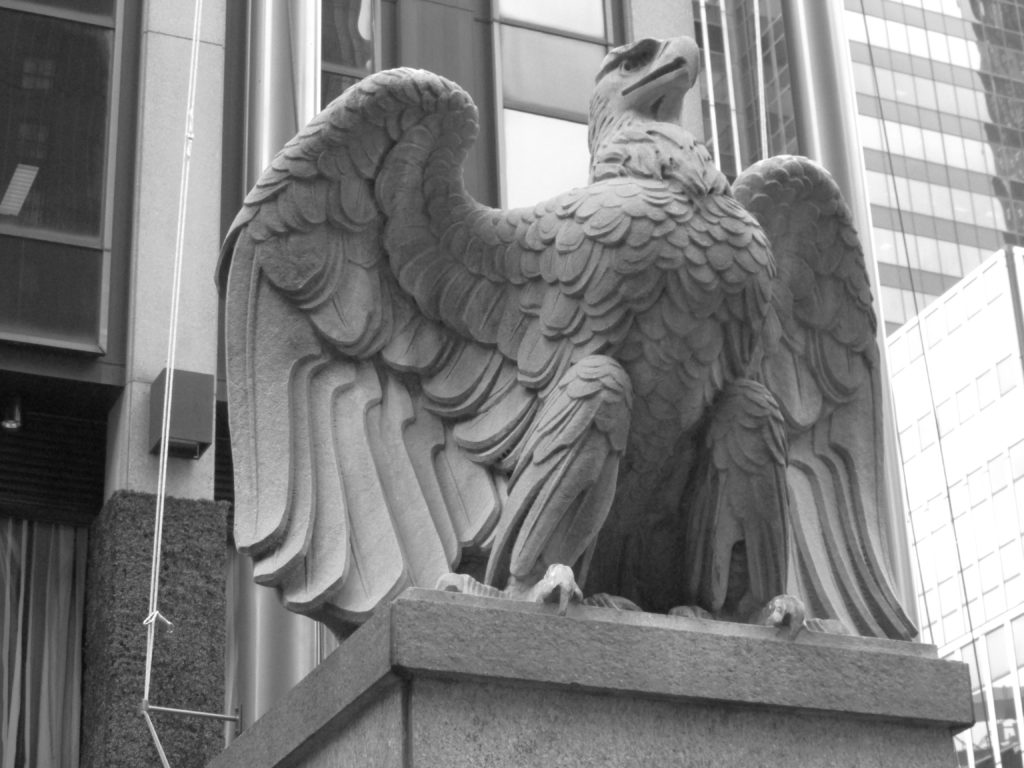 The Samuel Rea statue that once greeted commuters from the original Penn Station loggia. In his hands are blueprints to the old Penn Station and a model of the station to his side.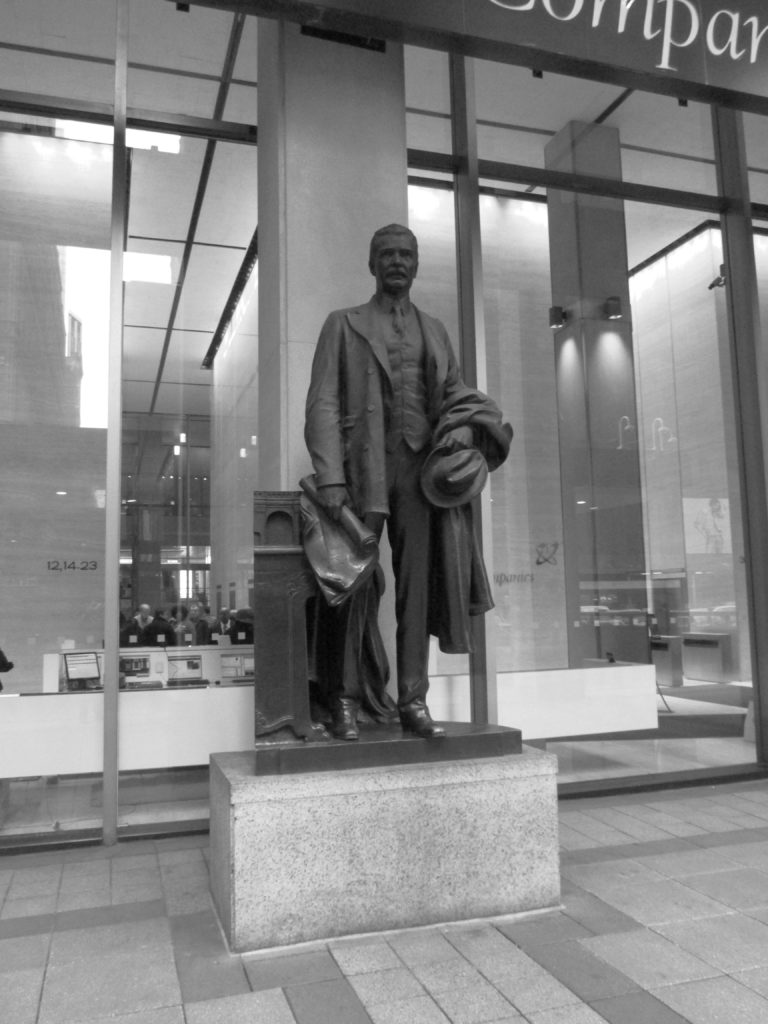 Tom and Untapped Cities guide Justin Rivers walking down one of the original Penn Station departure staircases, still in operation.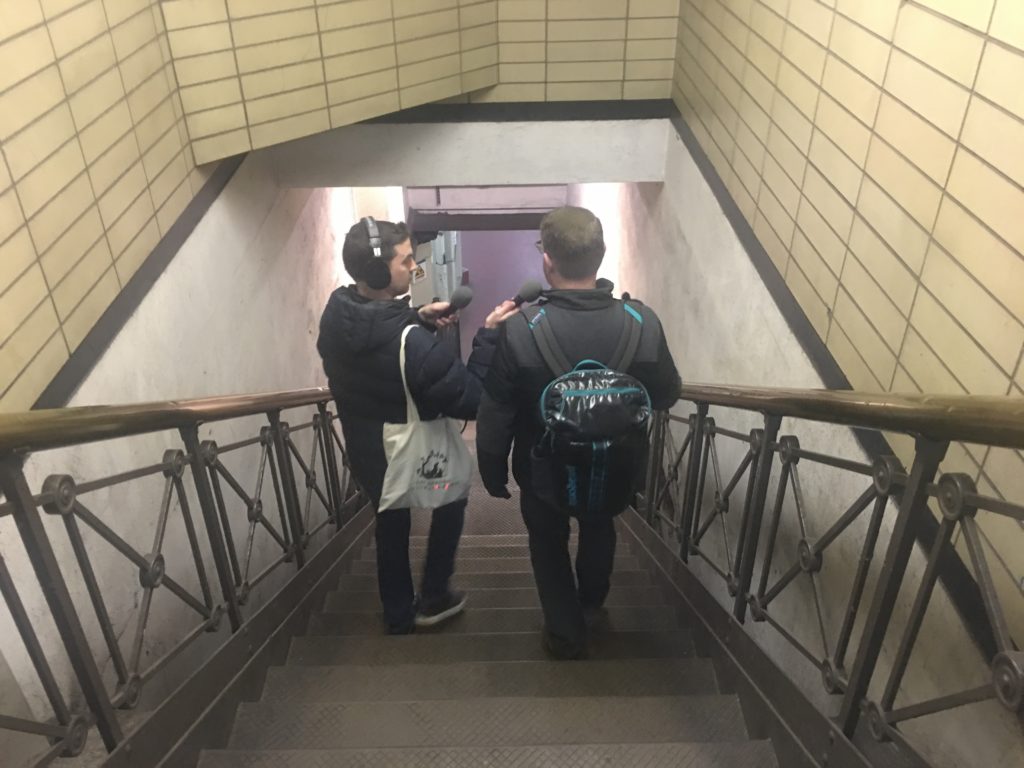 An original arrivals staircase.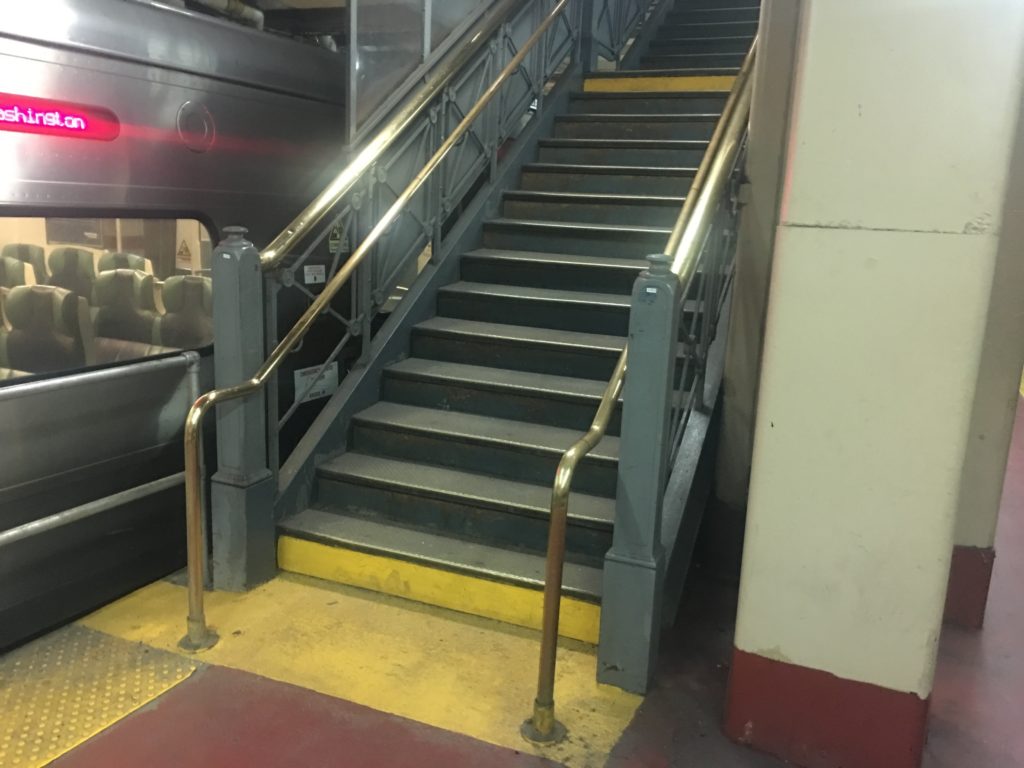 FURTHER READING
The Late Great Pennsylvania Station by Lorraine B. Diehl
Conquering Gotham: The Construction of Penn Station and Its Tunnels by Jill Jones
Old Penn Station by William Low
Pennsylvania Station: McKim, Mead and White by Steven Parissien
TOURS
The Remnants of Penn Station, led by Justin Rivers for Untapped Cities
FURTHER LISTENING
The story of Pennsylvania Station involves more than just nostalgia for the long-gone temple of transportation as designed by the great McKim, Meade and White. It's a tale of incredible tunnels, political haggling and big visions.

Special thanks to Kieran Gannon for helping with editing this week's show.