On January 1, 2021 Moynihan Train Hall officially opens to the public, a new commuters' wing catering to both Amtrak and Long Island Railroad train passengers at New York's underground (and mostly unloved) Penn Station.
To celebrate this big moment in New York City transportation history, we're going to tell the entire story of Pennsylvania Station and Pennsylvania Railroad over two episodes, using a couple older shows from our back catalog.
---
PODCAST The story of Pennsylvania Station involves more than just nostalgia for the long-gone temple of transportation as designed by the great McKim, Mead and White. It's a tale of incredible tunnels, political haggling and big visions.
Pennsylvania Railroad was the largest railroad in the world by the 1880s, but thanks to Cornelius Vanderbilt's New York Central Railroad, one prize was strategically out of their grasp — direct access to Manhattan.
An ambitious plan to link New Jersey to New York via a gigantic bridge fell apart, and it looked like Pennsylvania passengers would have to forever disembark in Jersey City.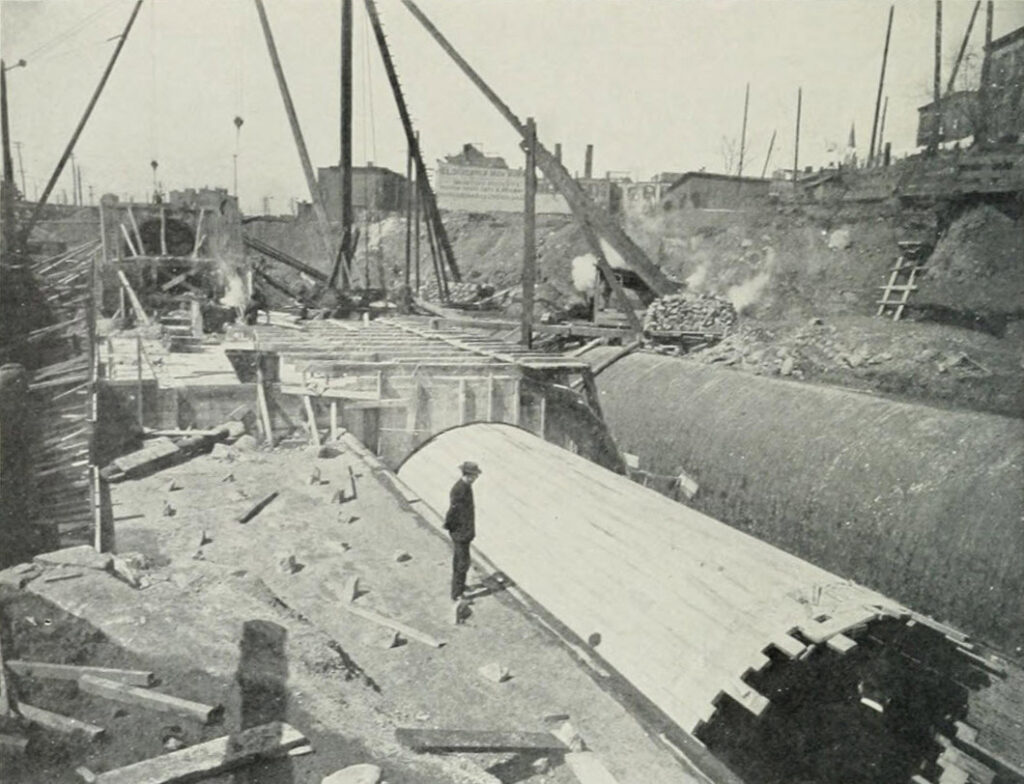 But Penn Railroad president Alexander Cassatt was not satisfied. Visiting his sister Mary Cassatt — the exquisite Impressionist painter — in Paris, Cassatt observed the use of electrically run trains in underground tunnels. Why couldn't Penn Railroad build something similar?
One problem — the mile-wide Hudson River (or in historical parlance, the North River).
This is the tale of an engineering miracle, the construction of miles of underground tunnels and the idea of an ambitious train station to rival the world's greatest architectural marvels.
Listen to the show here or on your favorite podcast player:
THIS SHOW WAS ORIGINALLY RELEASED AS EPISODE 80 — APRIL 10, 2009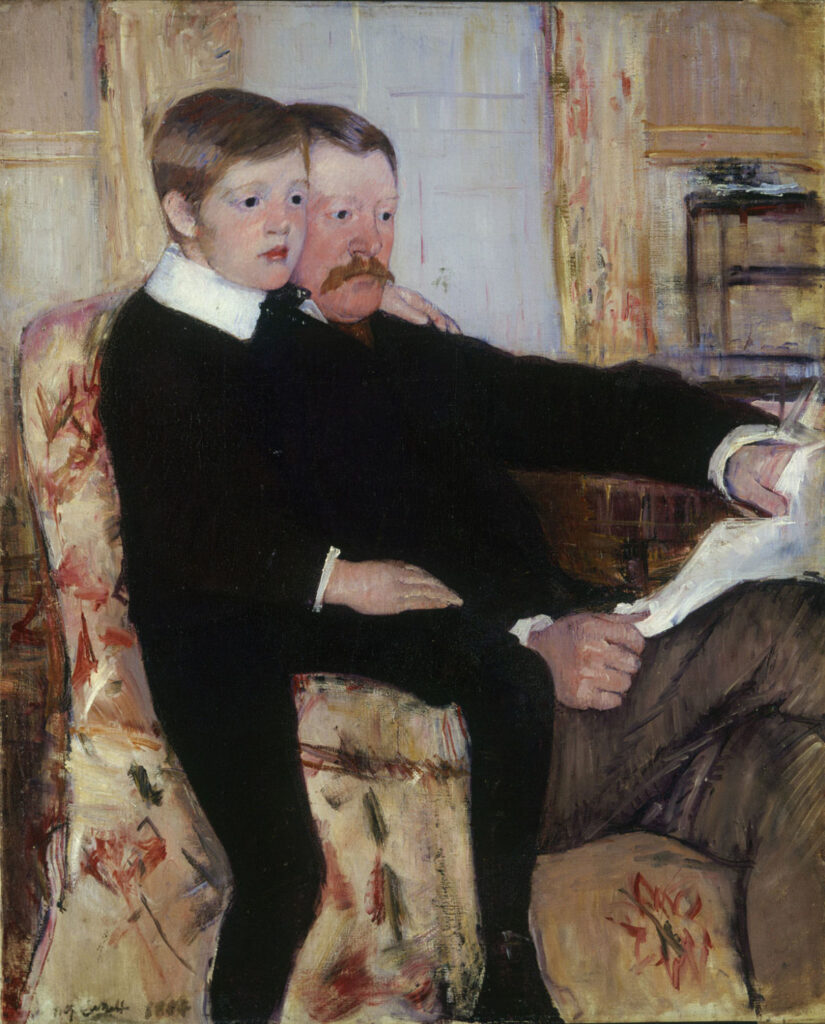 ---
The Bowery Boys: New York City History podcast is brought to you …. by you!
We are now producing a new Bowery Boys podcast every other week. We're also looking to improve and expand the show in other ways — publishing, social media, live events and other forms of media. But we can only do this with your help!
We are now a creator on Patreon, a patronage platform where you can support your favorite content creators.
Please visit our page on Patreon and watch a short video of us recording the show and talking about our expansion plans. If you'd like to help out, there are six different pledge levels. Check them outand consider being a sponsor.
We greatly appreciate our listeners and readers and thank you for joining us on this journey so far.
---
Old Penn Station vs the new Moynihan Train Hall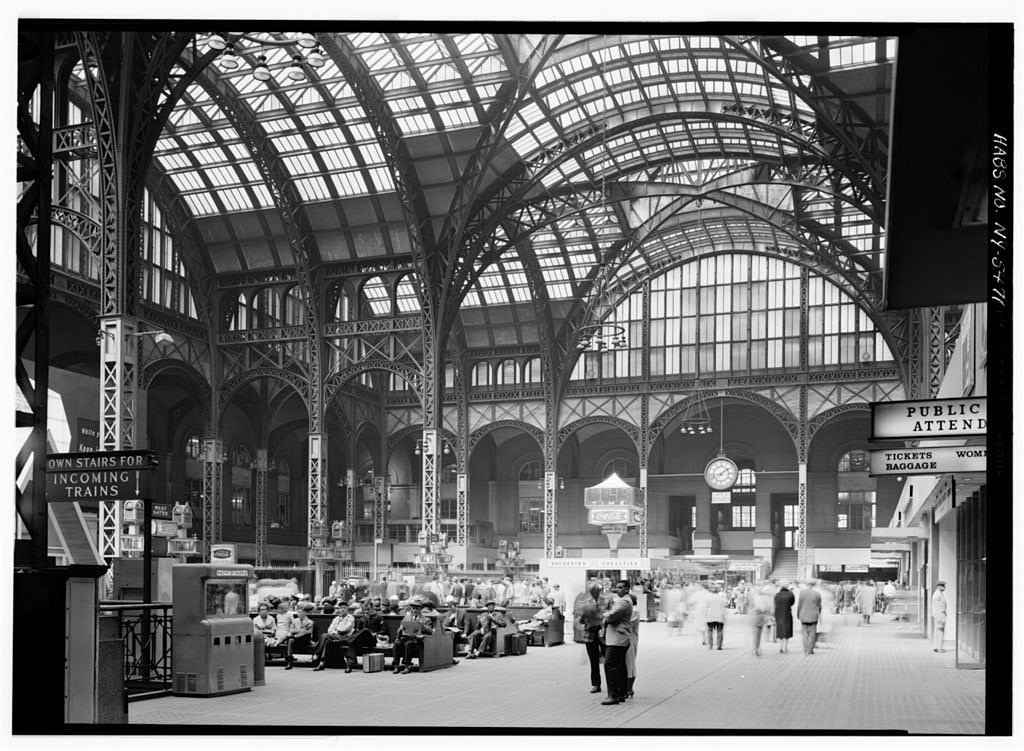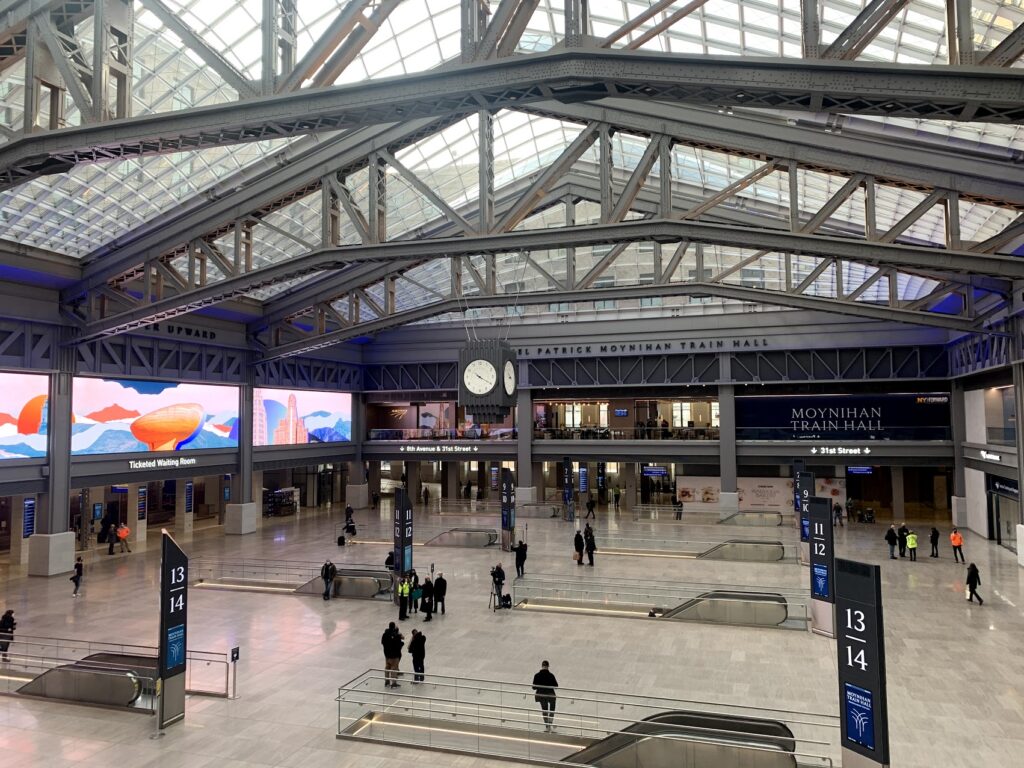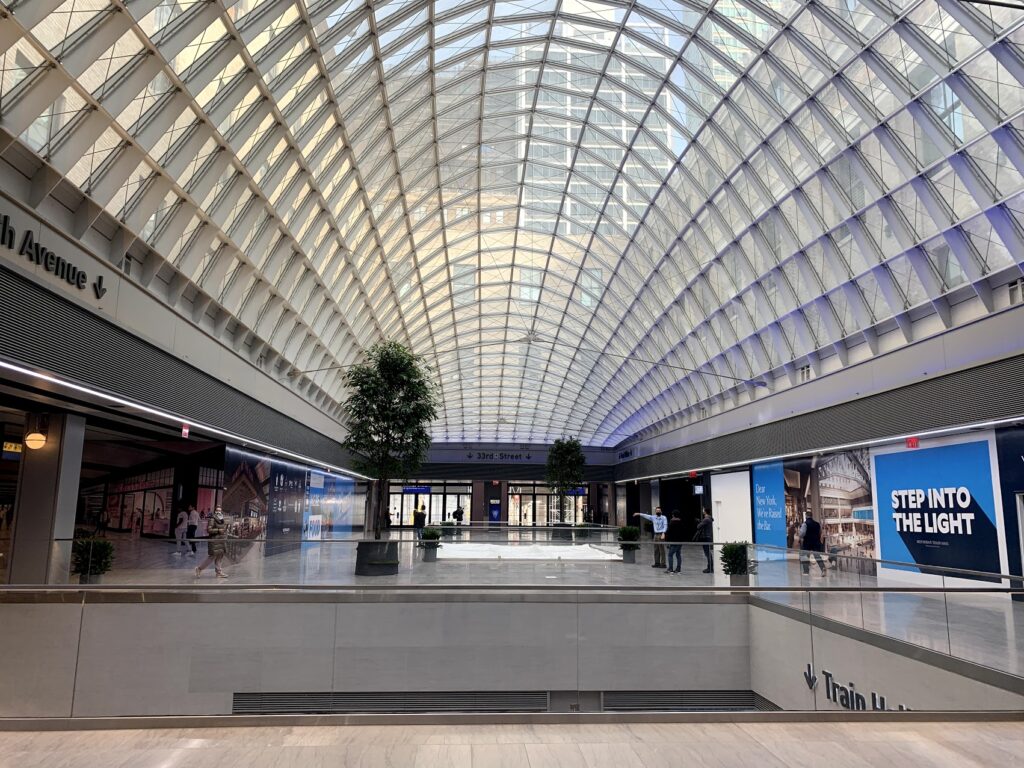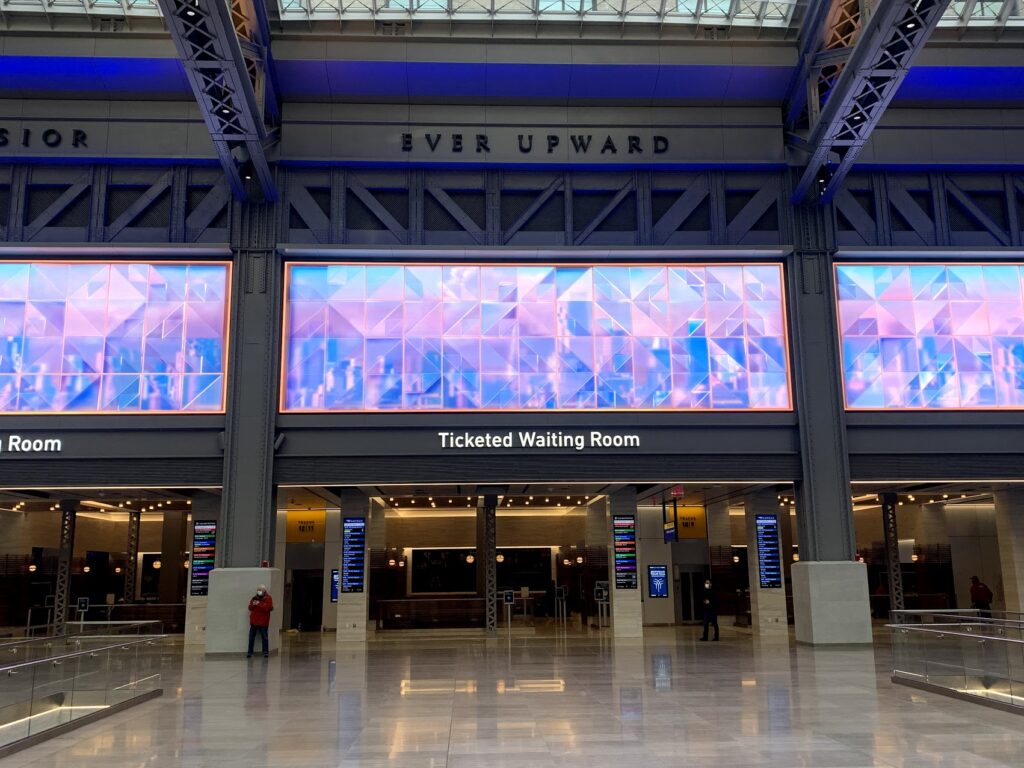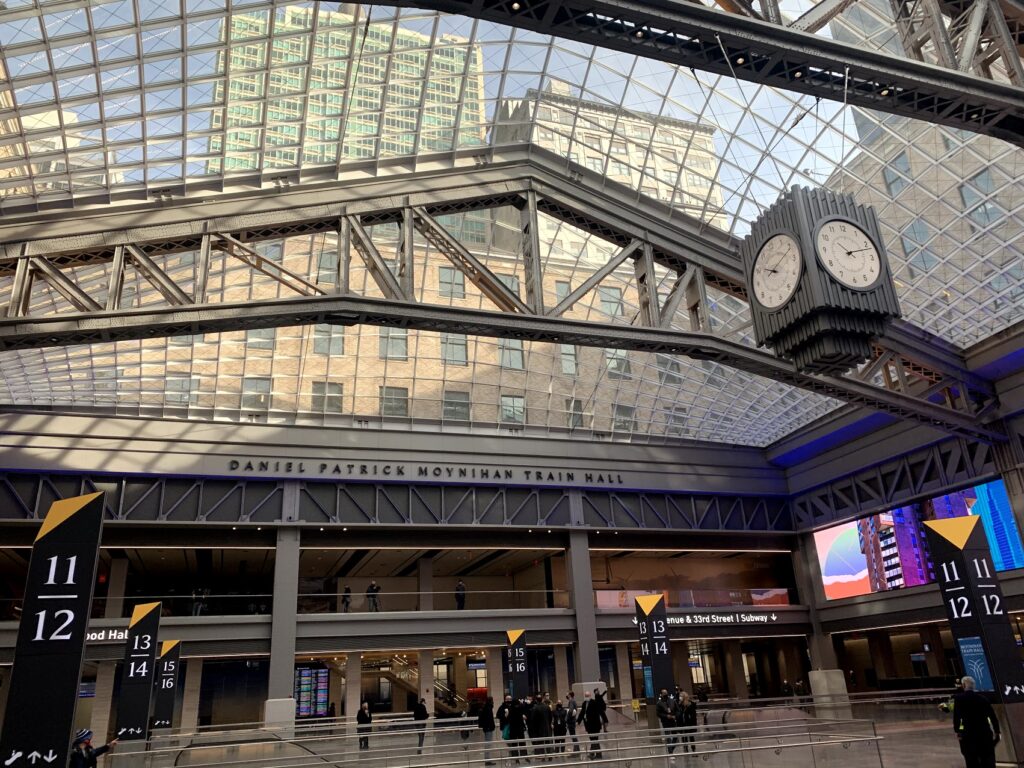 ---
The view of Penn Station from the roof of Gimbels Department Store.
For this round of photographs, let's focus on the inside of the station, shall we?
Images of the spectacular main waiting room and the classical Corinthian columns. Read here about something very mysterious and tragic which occurred near here in 1914.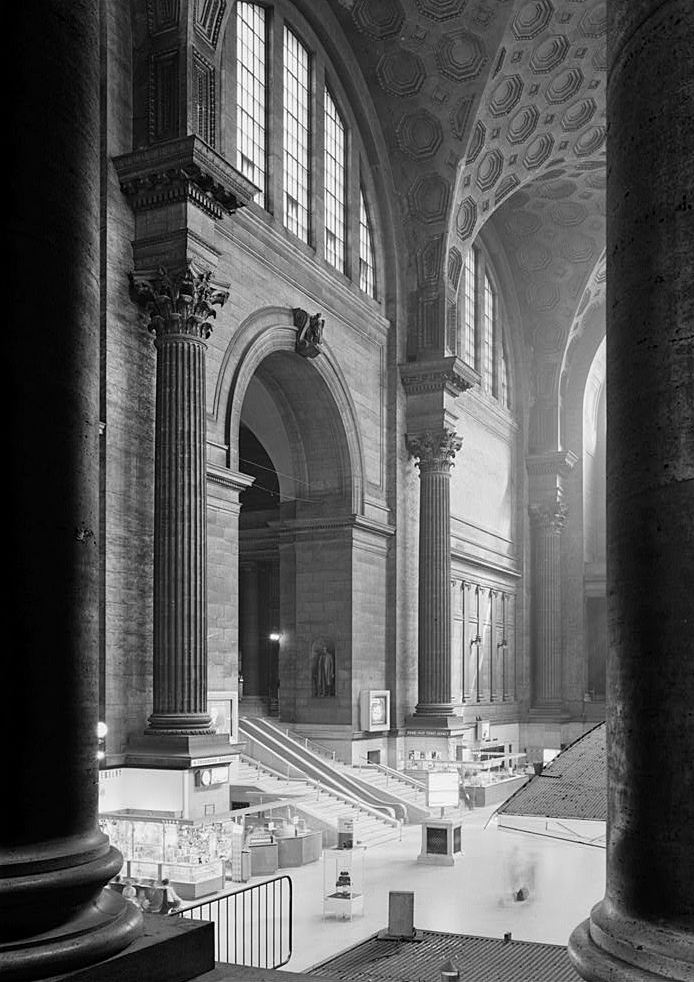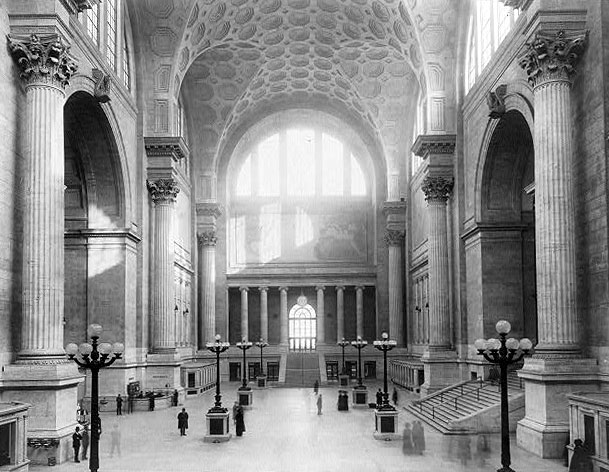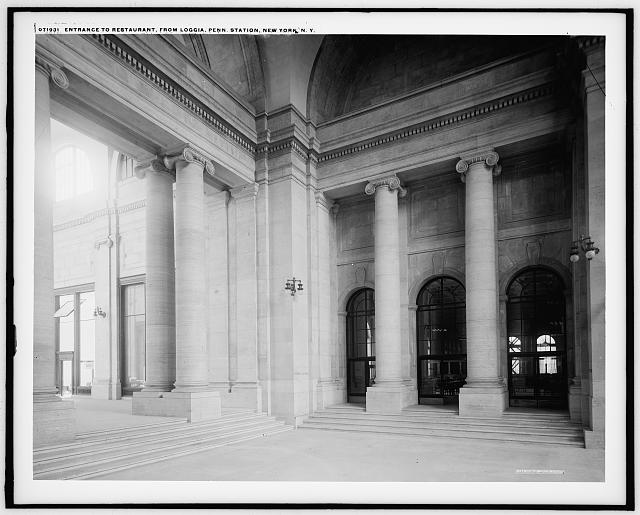 This is what greeted you as you got off the train and headed for 33rd Street.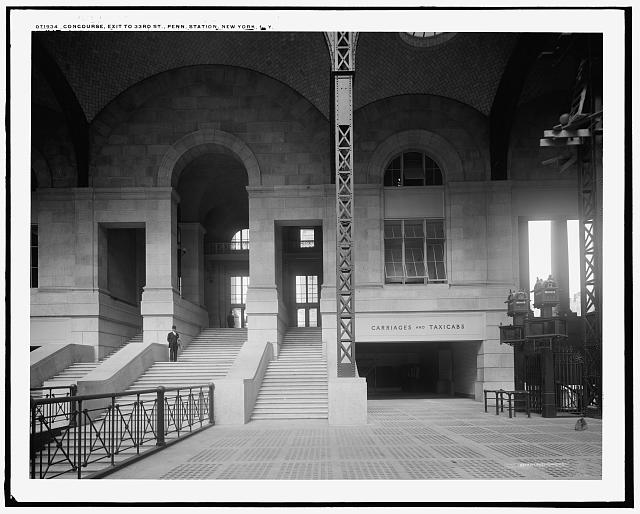 Crowds await the arrival of superstar preacher Billy Sunday in 1917. Read all about his visit here.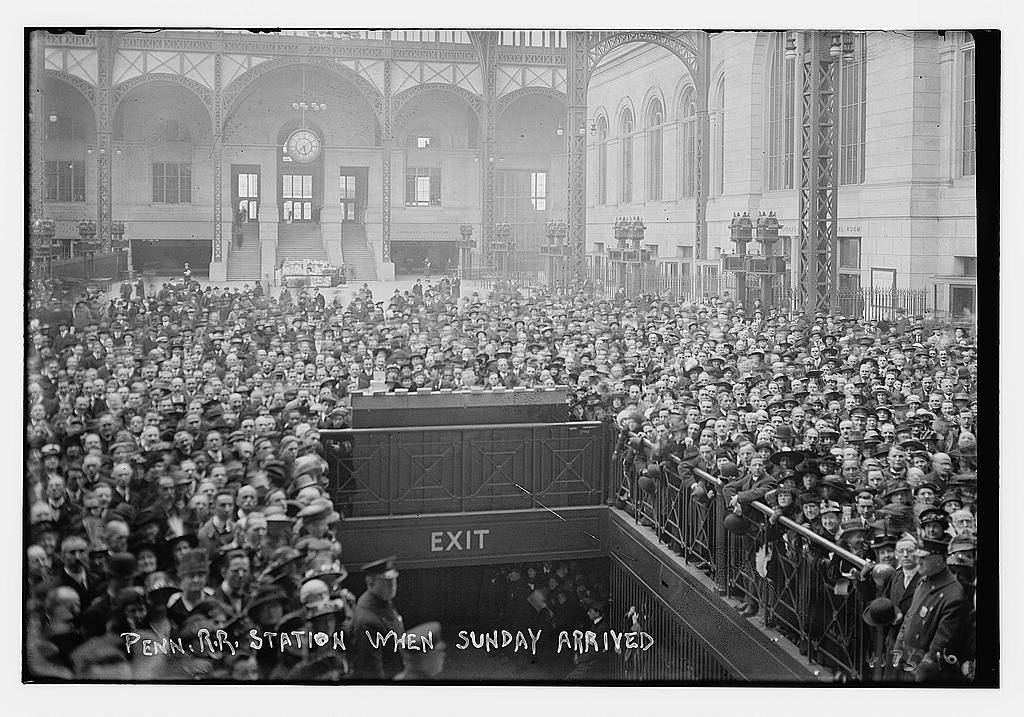 The interior from the 1950s during rush hour. Getty has a terrific collection of Penn Station photographs over the years.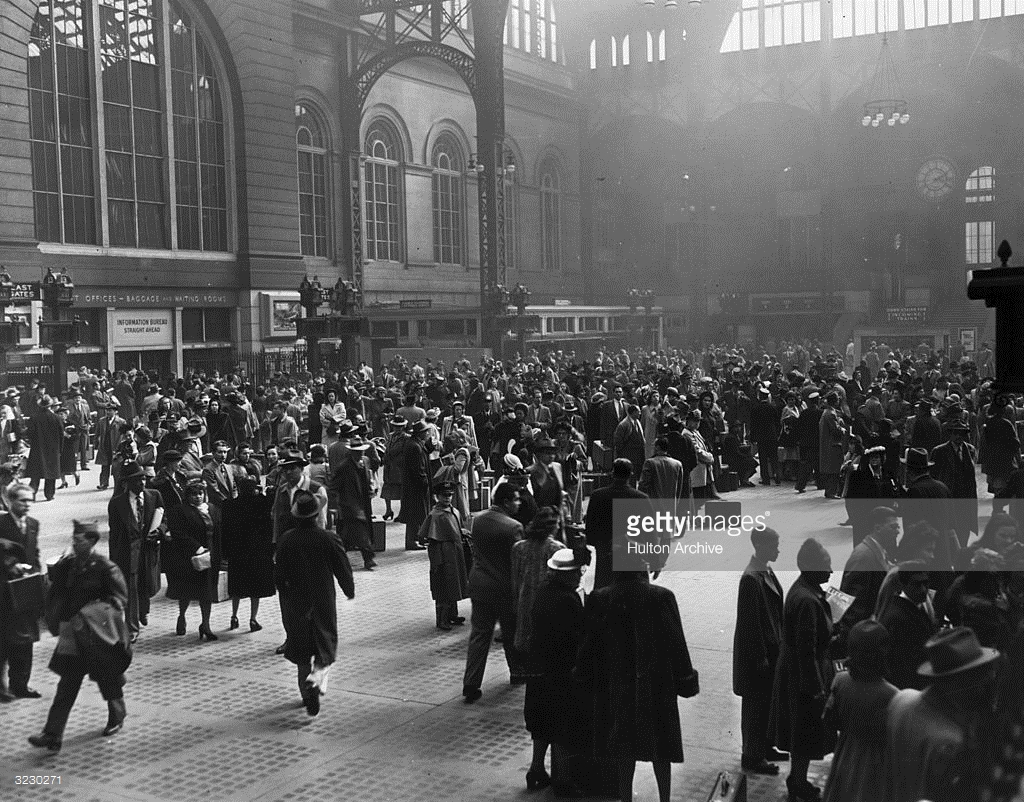 From this angle of the waiting room (taken in the station's early days) you can see a statue of Alexander Cassatt, Penn Railroad's former president, in its wall niche. Cassatt, brother of impressionist painter Mary Cassatt, never got to see the completed station, as he died in 1906. (The station opened in 1910.)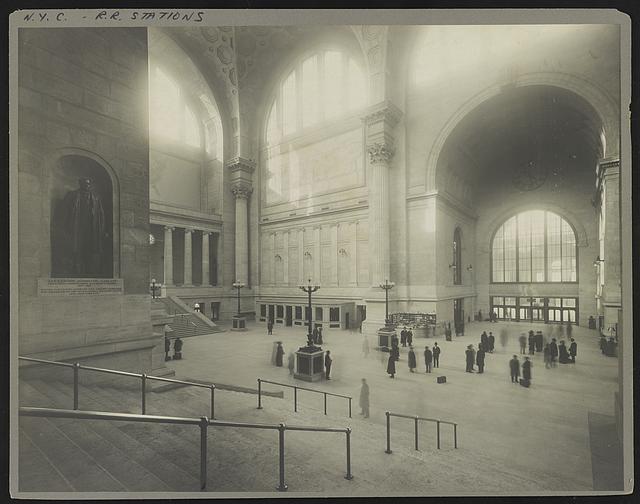 From this angle, you can really see the relation of the train platforms with one of the entrances. Seems easier to navigate than the current Penn Station, don't you think?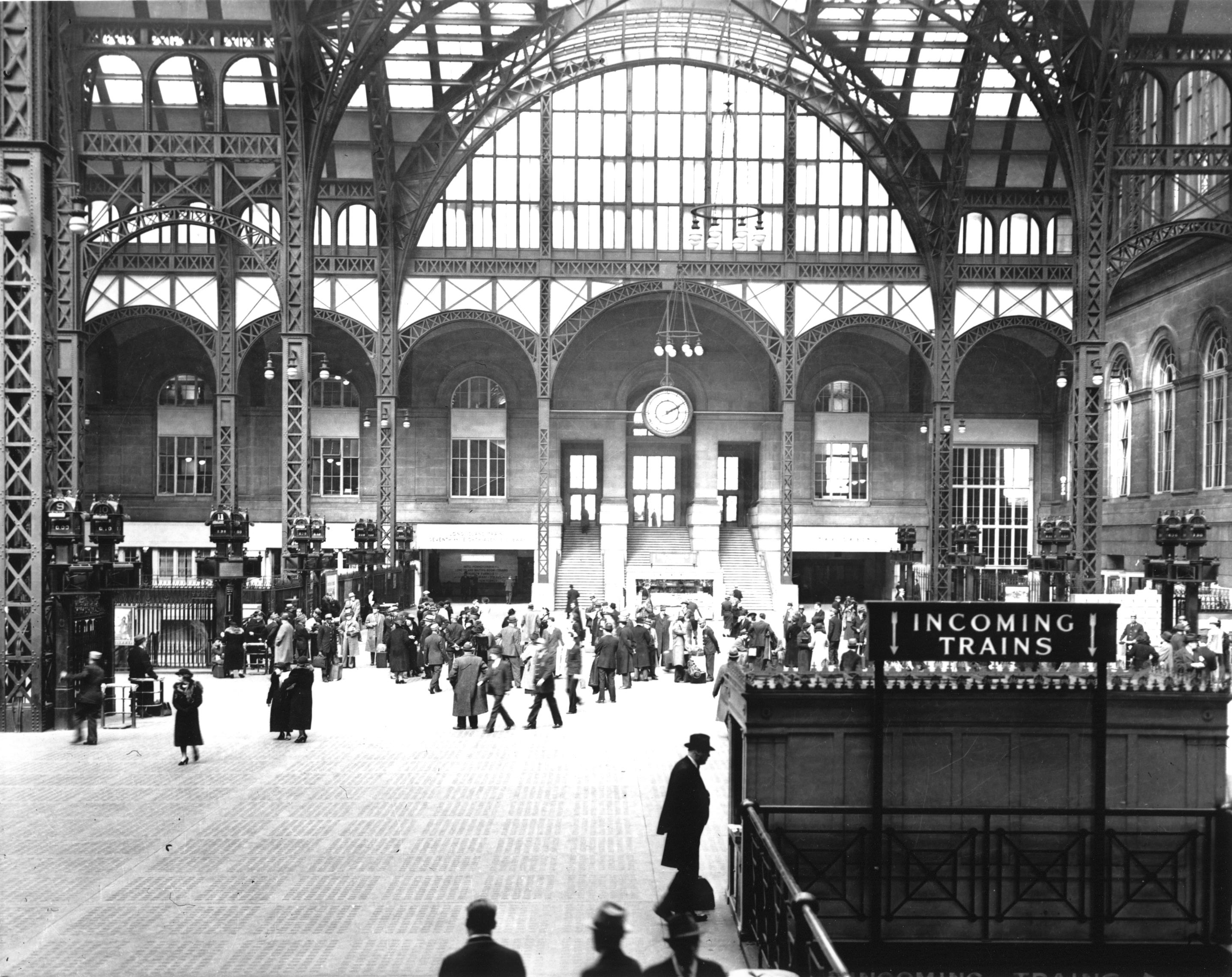 Here are a few 'cleaned up' hi-res images from the fine folks over at Shorpy, who have a bit of a thing apparently for old Penn Station. Go over to their blog to check out the rest of their work.
FURTHER LISTENING
The Holland Tunnel
George Washington Bridge
Grand Central Terminal