Our modest little series about some of the greatest, notorious, most important, even most useless, mayors of New York City. Other entrants in our mayoral survey can be found here.
Many of our city's early mayors are marginal figures obscured by a lack of personal information in publications of the day. We only know a few by their actions and can only indirectly discern their personalities from their popularity and effectiveness.
Not so with Philip Hone, the Whig mayor of New York City for a single solitary term (1826-27). Thanks to his fascinating and well written diary, we not only know all about him, we have an uncommonly vivid window into the workings of the early city.
Hone was born in 1780 on Dutch Street (between John and Fulton streets) and made his name on the nearby ports as an teenage auctioneer selling goods right off the boat. His auction business became known throughout the ports of the new America, and by age 40, the self-made Hone had amassed such wealth that he effectively retired to the life of a "gentleman".
From his lavish home on 235 Broadway across from City Hall, Hone dined with politicians and celebrities, a good-natured and cultured bon vivant, an old school Knickerbocker who would consider himself good friends with the likes of Daniel Webster, Washington Irving, and John Jacob Astor (whose Astor House would sprout up next door). His parlor hosted a nightly gallery of political and foreign dignitaries mixing it up with New York's social strata.
Naturally, political ambitions also came knocking, and Hone was elected an alderman in 1824 before winning the mayoralty in 1826, a rare representative of the Whig party in a city ever so dominated by Democrats.
It seems that Hone's strengths as mayor came as a direct extension of his role as New York's social network king. He's as known as much for his parties as for his policies. The introduction to his diaries doesn't even bother to disguise this: "Mr. Hone represented the city socially as well as politically. He entertained officially; and visiting strangers during his term enjoyed a hospitality which reflected credit upon the whole community."
Translation: the hottest club in 1826 was City hall.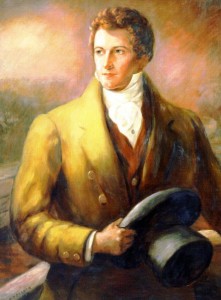 Constantly distracted, he amassed membership in a variety of clubs and associations, became a trustee in New York's first insane asylum, and dabbled early in canal building as president of the Delaware and Hudson Canal company (later to become the basis of the D&H Railroad).
Perhaps as a result, his tenure as mayor is marked by little of actual substance. His somewhat elitist views and political outsiderness left him stranded in a city where 'Whiggery' often equated only to upper classes. His anti-Irish, anti-Democratic views were fighting against the wind. Later, by the 1830s, the power struggles between Whigs and Democrats would virtually wipe Hone's party from the city's political map.
Mostly, he's remembered as a cultural ambassador, even commissioning artwork for City Hall, approving of a developing theater district in the not-yet-seedy Bowery and encouraging the city's growth as an American capitol of arts and sciences.
Perhaps though it's best that he left office anyway. Moving to the "south-east corner of Broadway and Great Jones street" above Houston Street, where he would remain until his death in 1851, Hone would document in a remarkable diary the everyday, upper-class life of New York, from political shifts to the latest opera. Hone's "graphic pen", as described in a New York Times review in 1896, would become one of the great chronicles of early New York history. Most notable is his description of the terrible Great Fire of 1835, a tragedy which momentarily gutted the high society he had fostered for years.
The diary is indispensible for New York historians. I'm not sure if it's in print, but you can look at pages of it for free here.