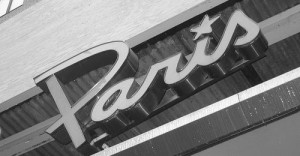 The Paris Theatre, as eccentric as any film its ever played, has the benefit of having the Plaza Hotel and Central Park to ensure it never goes out of style. But the history of this romantic and occasionally radical movie house, now in its 60th year of screening art house and foreign features, is as cinematic as its more photo-friendly neighbors.
No less than Marlene Dietrich cut the ribbon on opening day of the Paris in September 13, 1948. Opened by the French film distributor Pathe Cinema, the old-style 586 seat theatre with balcony was intended to debut significant achievements in foreign film, an ambition it still mostly retains today, along with re-issues of classic movies. Its first film was La Symphonie Pastorale by the almost-forgotten French director Jean Delannoy and might have continued to enjoy quiet renown among foreign film aficionados if it wasn't for Roberto Rossellini and Federico Fellini.

In December 1951, the Paris decided to show three films under an umbrella title Ways of Love. One of these was a forty-minute piece entitled The Miracle, directed by Rossellini and starring Anna Magnani as a pregnant woman who's convinced she's carrying the Christ child after meeting a shepherd (played by Fellini) whom she believes is St. Joseph.
Its subject matter enraged the Catholic Church, and the theatre was assaulted with hundreds of protesters for weeks, orchestrated by Cardinal Spellman from his pulpit at St. Patrick's Cathedral. Eventually the Paris was ordered to stop showing the film, a decision Paris manager Lillian Gerard, along with the film's distributor, appealed in court. The case eventually went all the way to the U.S. Supreme Court who ruled the banning a violation of free speech.
No other film at the Paris would draw as much international attention, but the theater would affect cinema history in other ways, helping build the reputations of foreign directors on American soil. Franco Zeffirelli's Romeo and Juliet ran for almost an entire year from 1968-69. Director Claude Lelouch's A Man And A Woman and the Marcello Mastroianni comedy Divorce Italian Style would play for over a year. Merchant and Ivory preferred to debut all their films here; A Room With A View played almost nine months, Howard's End seven.
It's had equally grand success with revival screenings. Allegedly, Harvey Weinstein himself was unhappy with the decision to book the reissue of Luis Buñuel's 1968 drama Belle De Jour starring Catherine Deneuve (below) until it debuted with the highest single-screen gross for a foreign film ever. I saw Lawrence of Arabia for the very first time here in 1997. Anytime the Paris shows a great film like that, I highly recommend you cancel all your plans and go.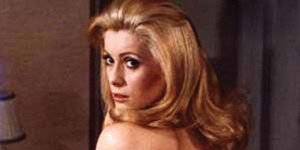 Pathe pulled out of the Paris Theatre in 1990 with intentions of opening another screen in New York. (It never did, but Pathe is still in business, and you can find their film on most art-house screens in New York.) Loews operated the theater as the Fine Arts Theatre before the landlord bought them out and renamed it back to the Paris. Given the theatre has gone through few aesthetic alterations since 1948, today the theatre is a popular place for Hollywood movie premieres. Most likely, if Nicole Kidman stars in it, it premiere at the Paris.
You can find a lot of fun personal recollections by former ushers and managers at Cinema Treasures.