PODCAST

The strange and wonderful life of Nikola Tesla in New York City.

The Serbian immigrant Nikola Tesla was among the Gilded Age's brightest minds, a visionary thinker and inventor who gave the world innovations in electricity, radio and wireless communication. So why has Tesla garnered the mantle of cult status among many?

Part of that has to do with his life in New York City, his shifting fortunes as he made his way (counting every step) along the city streets. Tesla lived in Manhattan for more than 50 years, and although he hated it when he first arrived, he quickly understood its importance to the development of his inventions.

Travel with us to the many places Tesla worked and lived in Manhattan — from the Little Italy roost where the Tesla Coil may have been invented to his doomed Greenwich Village laboratory. From his first job in the Lower East Side to his final home in one of Midtown Manhattan's most famous hotels.

Nikola Tesla, thank you for bringing your genius to New York City.

PLUS: The marvelous demonstration at Madison Square Garden in 1898 that proves that Tesla invented the drone!

To get this week's episode, simply download it for FREE from iTunes or other podcasting services or get it straight from our satellite site.

You can also listen to the show on Stitcher streaming radio and TuneIn streaming radio from your mobile devices.

Or listen to it straight from here:
The Bowery Boys #203:Â Nikola Tesla In New York

___________________________________________________________________________

The Bowery Boys: New York City History podcast is brought to you …. by you!

We are now producing a new Bowery Boys podcast every two weeks.  We're also looking to improve the show in other ways and expand in other ways as well — through publishing, social media, live events and other forms of media.  But we can only do this with your help!

We are now a member of Patreon, a patronage platform where you can support your favorite content creators for as little as a $1 a month.

Please visit our page on Patreon and watch a short video of us recording the show and talking about our expansion plans.  If you'd like to help out, there are five different pledge levels (and with clever names too — Mannahatta, New Amsterdam, Five Points, Gilded Age, Jazz Age and Empire State). Check them out and consider being a sponsor.

We greatly appreciate our listeners and readers and thank you for joining us on this journey so far. And the best is yet to come!

________________________________________________________________________

A page from the 1942 comic book Real Heroes, illustrating the life of Nikola Tesla: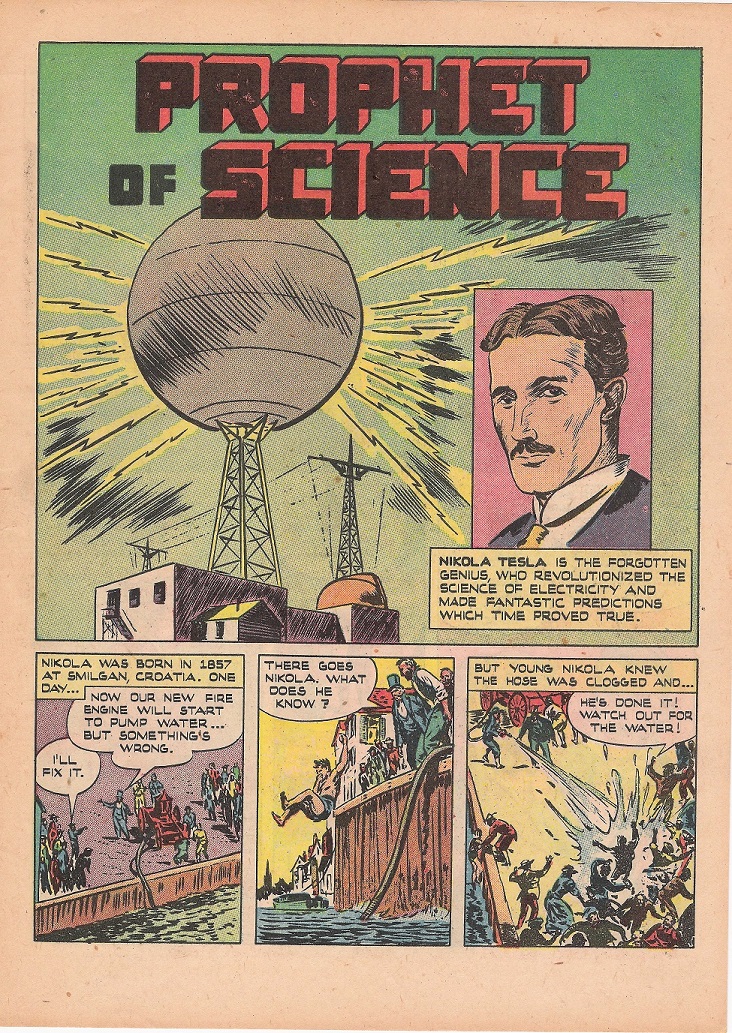 Young Tesla in 1885 while still in the employ of Thomas Edison.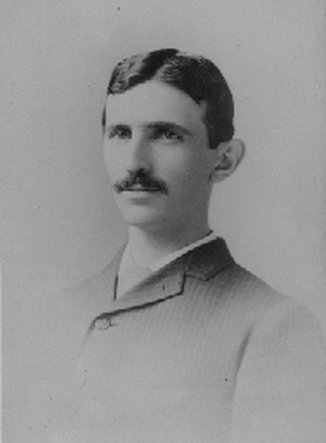 Mark Twain and Joseph Jefferson in Tesla's South Fifth Avenue Laboratory. That's Tesla, blurry, in the background.
Tesla's 1888 lecture at Columbia changed his life. His demonstration dazzled the room of distinguished scientists and professors and particularly grabbed the attention of journalists.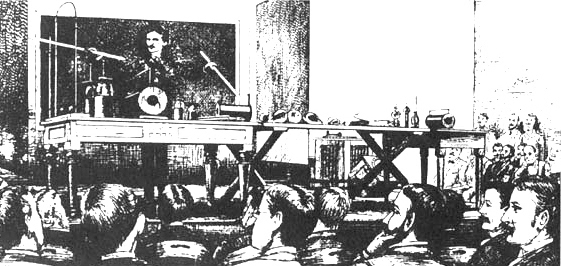 Diagrams of Tesla's inventions from the 1880s and 90s have an almost otherworldly quality that wouldn't look out of place in a gallery of modern art.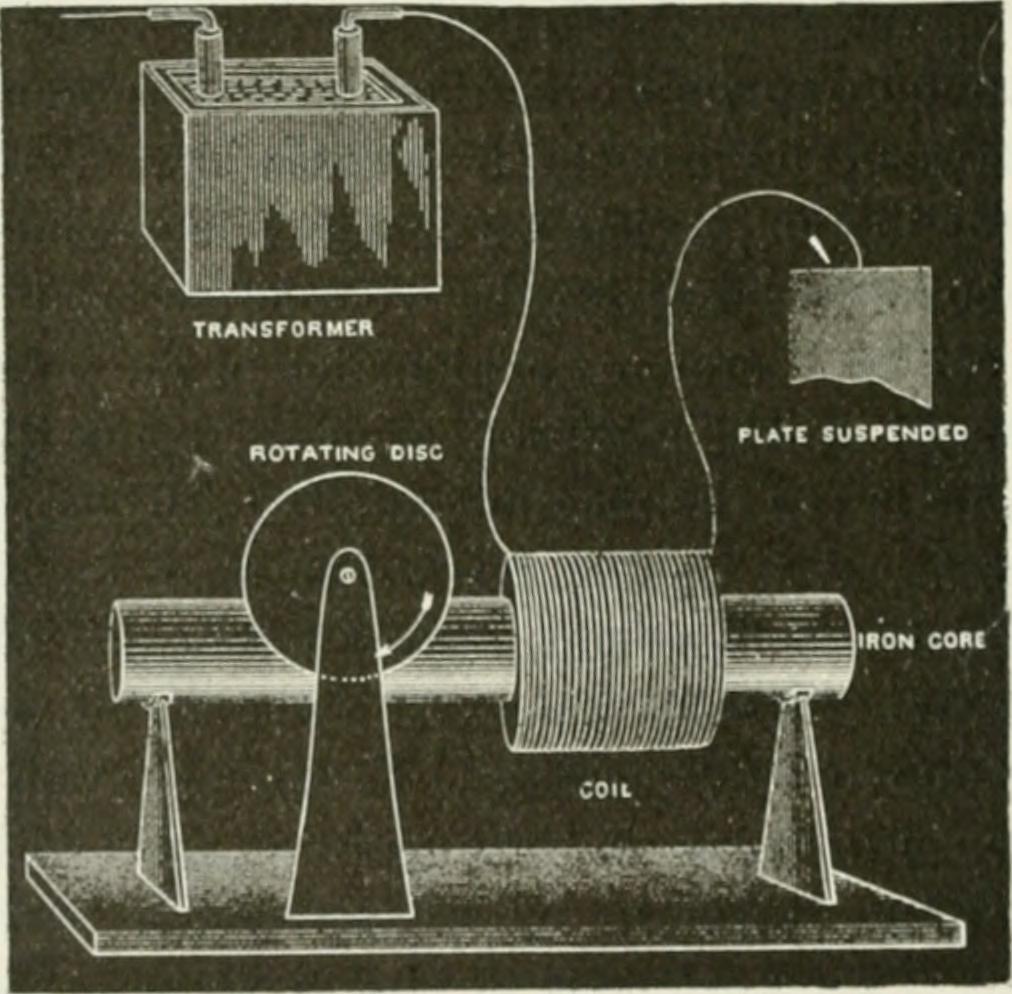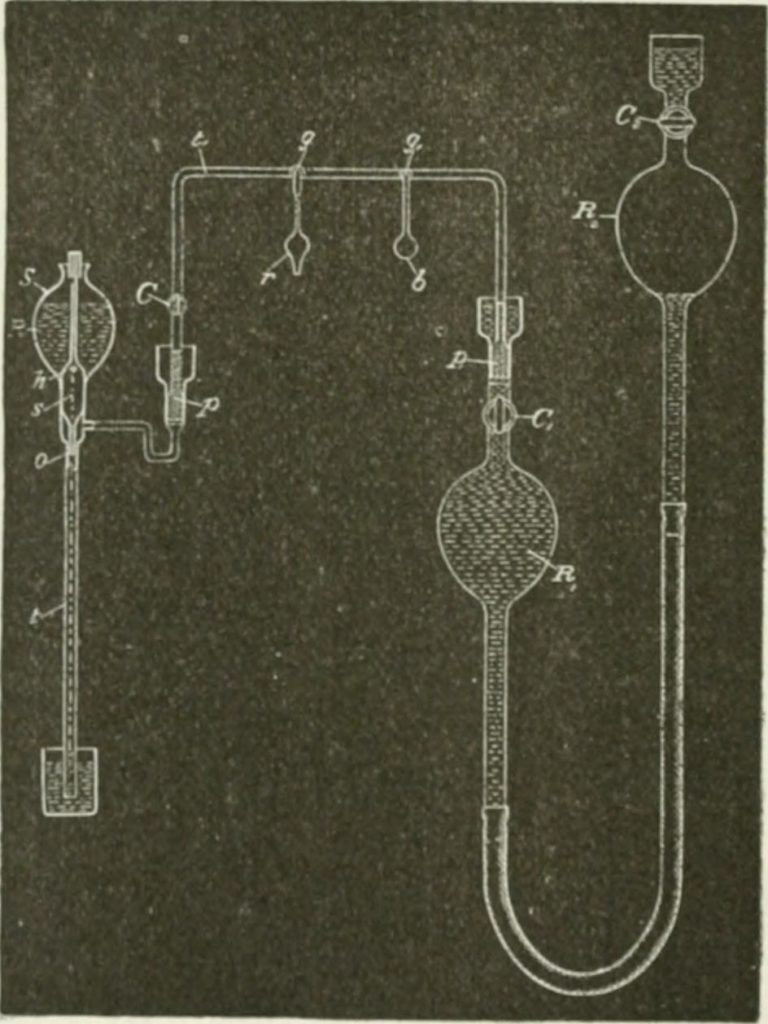 The Not-so-mad Scientist: Tesla posing with perhaps his most famous prop — a large bulb which could generate light from the human body.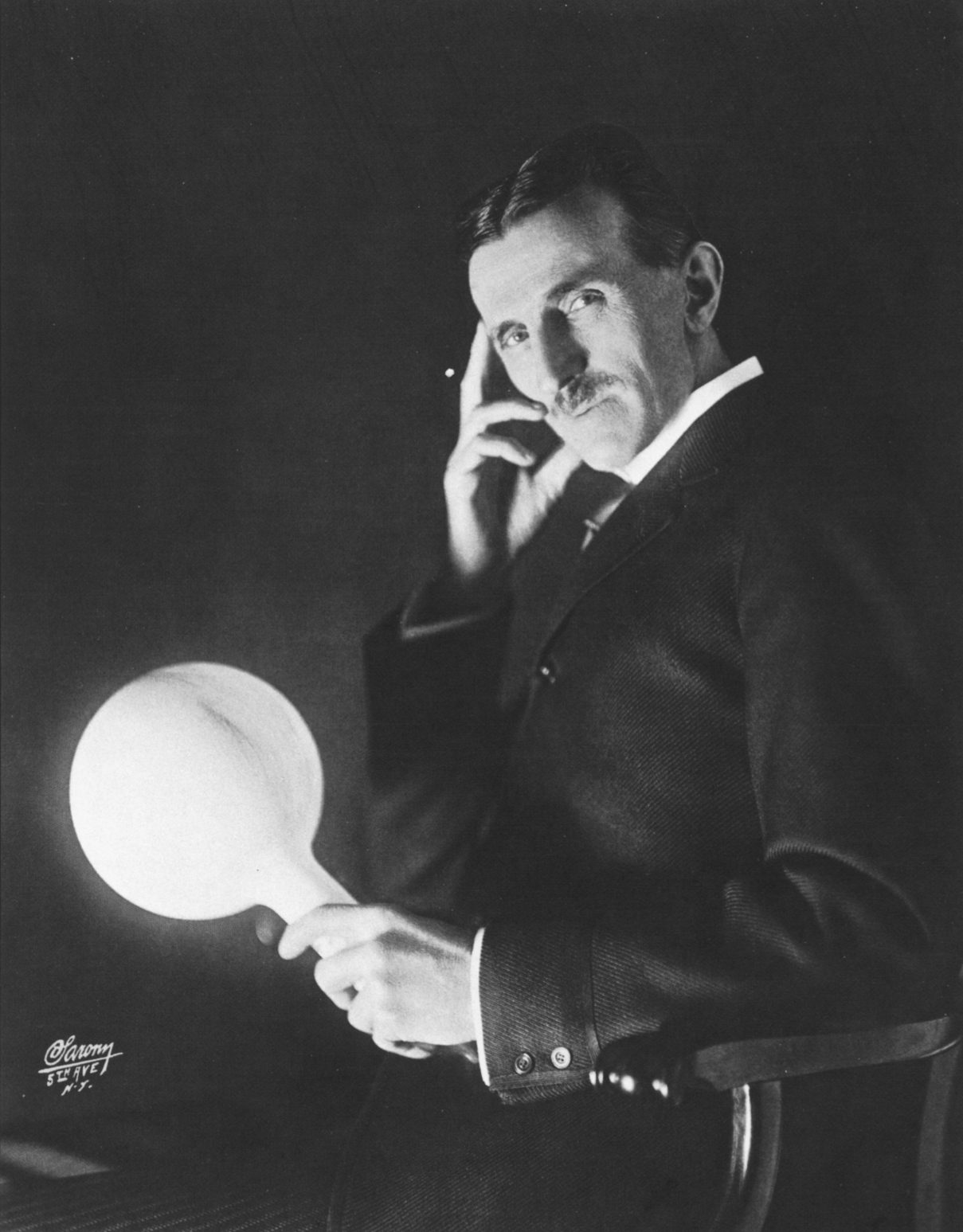 Tesla in Colorado Springs, 1899. From the caption: "A publicity photo of a participant sitting in the Colorado Springs experimental station with his "Magnifying Transmitter". The arcs are about 22 feet (7Â m) long. (Tesla's notes identify this as a double exposure.)"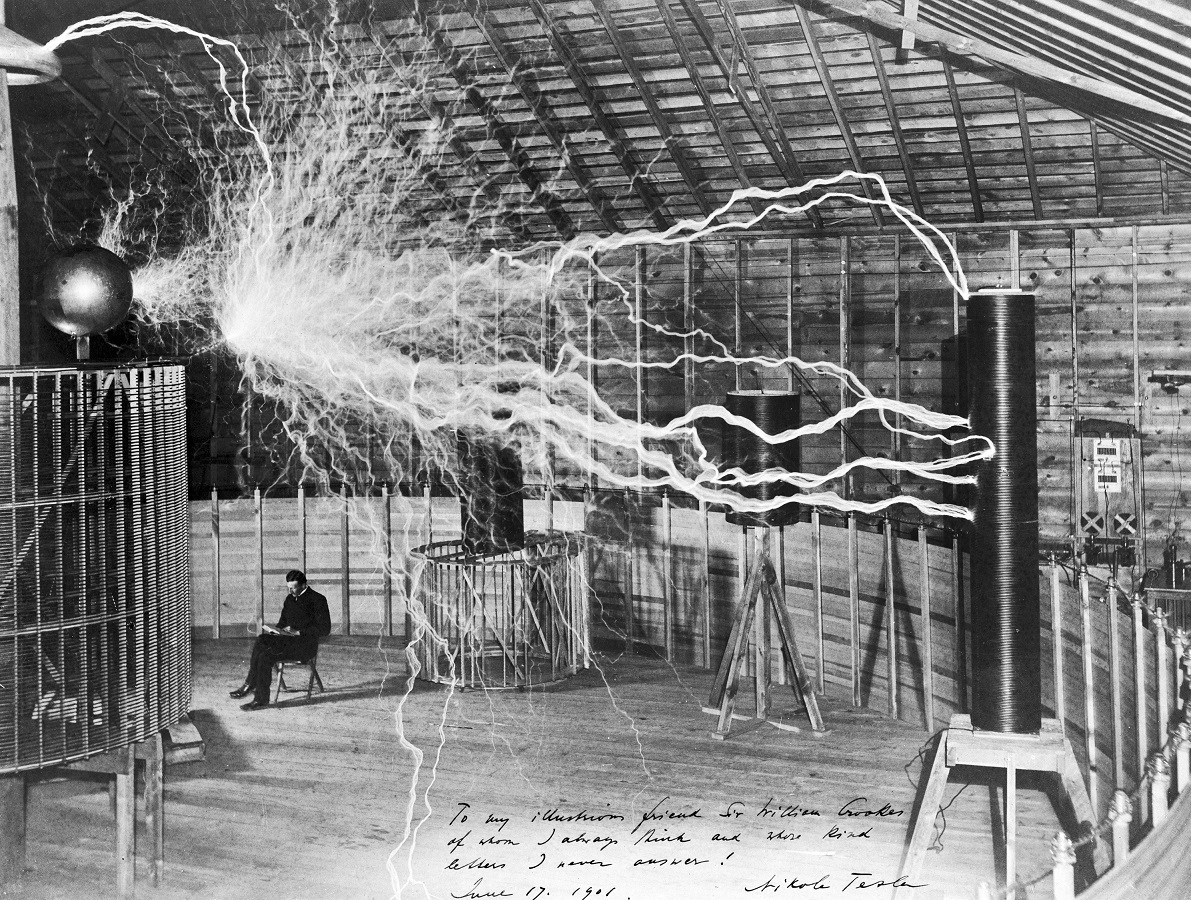 A view of Wardenclyffe Tower, Tesla's grandest attempt of creating a wireless tranmission of electricity.
(From Electrical World and Engineer, 1904)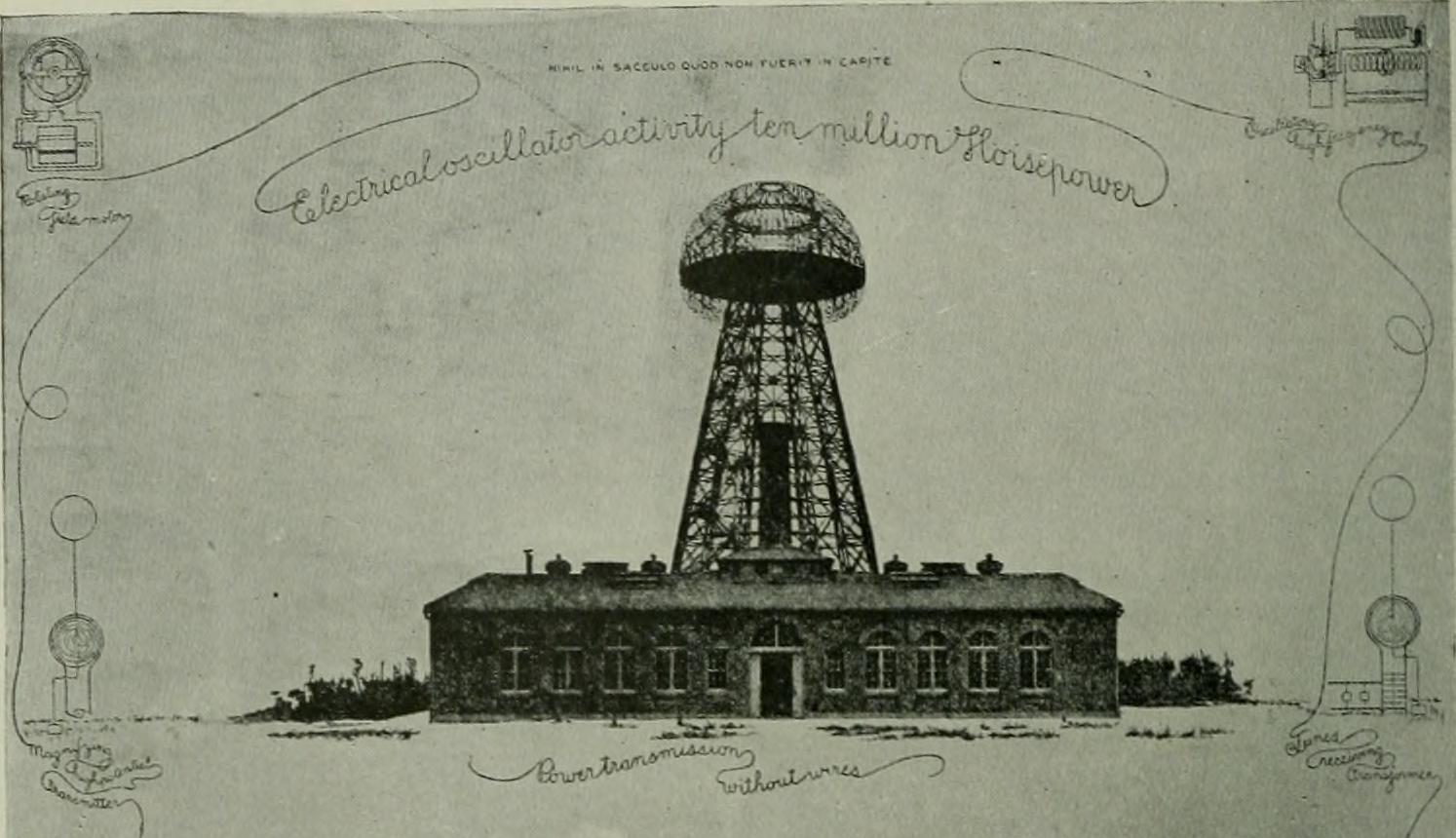 From the New York Sun, March 31, 1912: "Tesla's wireless system for the transmission of intellegence and power involves a number of inventions, all of fundamental character."
1916: Tesla poses in his West 40th Street laboratory, 1916.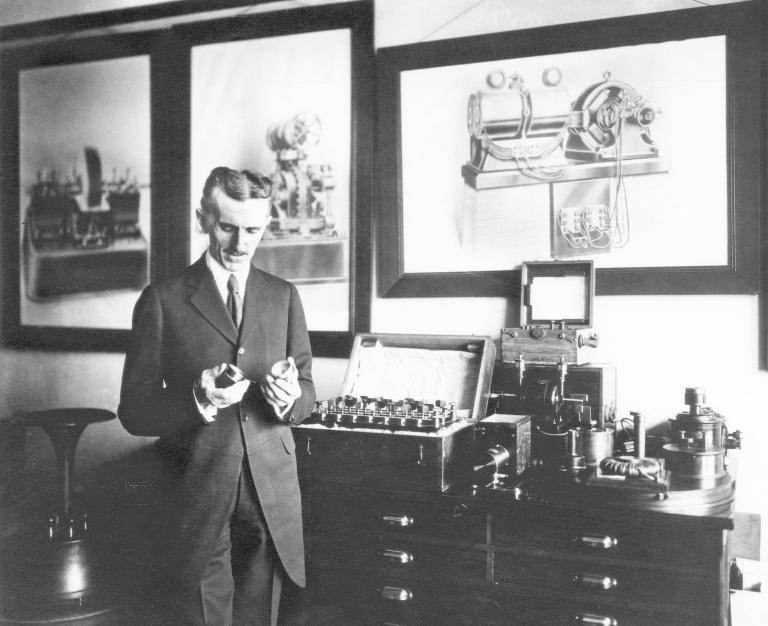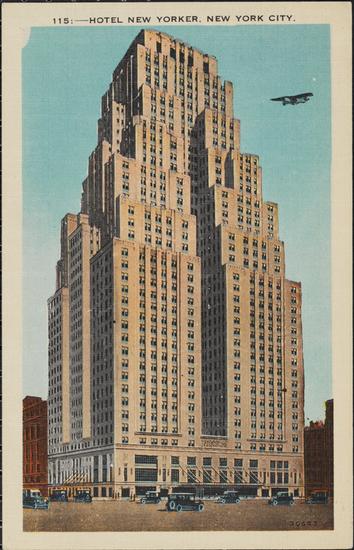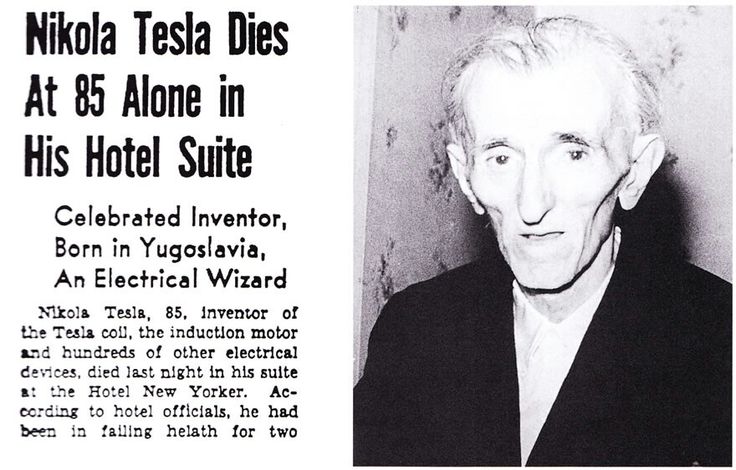 Bryant Park, near the spot of Tesla's former laboratory and the place where he fed the pigeons.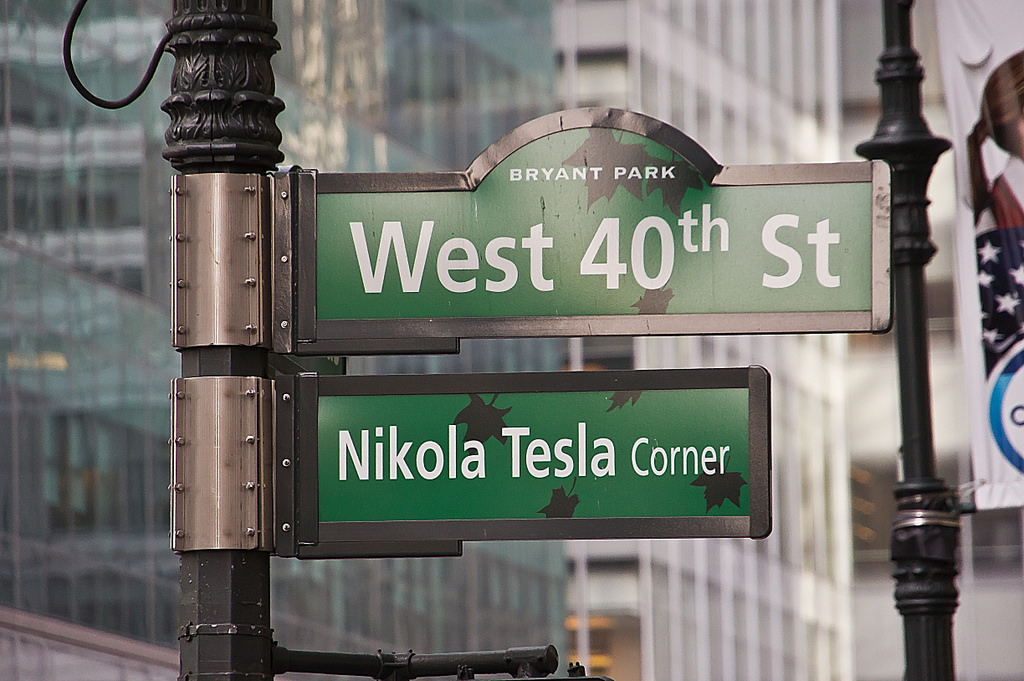 For more information:
Visit the excellent blog by author Martin Hill Ortiz, deeply exploring the life of Tesla in New York City.
There are many societies devoted to the life and work of Nikola Tesla including the Tesla Memorial Society of New York. Â The Oatmeal is behind the effort to turn Wardenclyffe into the Tesla Science Center. Go read up on Tesla at The Oatmeal first, then check out their efforts at the Tesla Science Center.
Wann learn more about Tesla? There's a few great books on his life including the latest by W. Bernard Carlson — Tesla: Inventor of the Electrical Age. — and  Sean Patrick's Nikola Tesla: Imagination and the Man Who Invented the 20th Century.  Then there are Tesla's own writings — My Inventions: The Autobiography of Nikola Tesla and The Inventions, Researches and Writings of Nicola Tesla