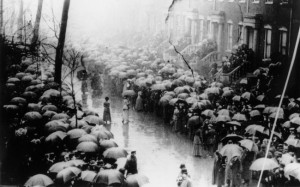 Mourners filled the streets of New York on April 5th, 1911 , in honor of the victims of the Triangle Factory Fire. This March, modern New Yorkers will get their turn to commemorate the tragedy.
Next month is the 100th anniversary of one of the most horrific tragedies in New York City history — the workplace fire at the Triangle Shirtwaist Factory east of Washington Square. The swift and destructive blaze killed 146 workers on March 25, 1911, the greatest loss of life in a New York workplace until the attack on the World Trade Center.
What will certainly add poignancy to the conservation,
given recent headlines
, is the tragedy's importance in the growth of worker's unions and the improvement of workplace conditions and building codes.
Here's some ways to get yourself caught up on the facts of the event, in time for memorial ceremonies on March 25:
TV
: Tonight on PBS is the debut of the one-hour
American Experience 'Triangle Fire'
, giving a dramatic narrated recount of events. Check your local listings, but this will undoubtedly be repeated throughout the month.
Watch the full episode. See more American Experience.
Press
: Lots of articles will be generated about the fire, but I recommend you start with the New York Times story last week about researcher
Michael Hirsch
and his quest to identify the last six remaining victims of the fire whose names until now had been unknown. [
New York Times
]
Books
: There are several books in print, both non-fiction and narrative retelling, but the one I can most passionately recommend is
Dave Von Drehle
's '
Triangle' The Fire That Changed America
', focusing on some of the early voices for worker's rights and unrest prior to the tragedy. And Von Drehle's depiction of the fire itself is both methodical and heartbreaking.
Websites: The School of Industrial and Labor Relations at Cornell University has organized an extraordinary repository of information about the event and the aftermath, including a huge collection of photographs and audio interviews from some of the survivors. Remember The Triangle Factory Fire]
Podcast
: And finally, I recorded a podcast on the Triangle Factory Fire back in April 2008 (Episode #42) that gives a dramatic overview of the event. I've always been particularly proud of this one. You can check it out by downloading it
straight from this link
or getting it on iTunes from our back catalog feed
Bowery Boys: New York City History Archive.