The 1980s in New York City were defined by glossy magazines and gallery shows, the earnest giving way to irony, the facile passed off as profound. What would ring hollow in the following decade might have seemed still crisp and dangerous in the Ed Koch years.
At the Strangers' Gate
Arrivals In New York
by Adam Gopnik
Penguin Random House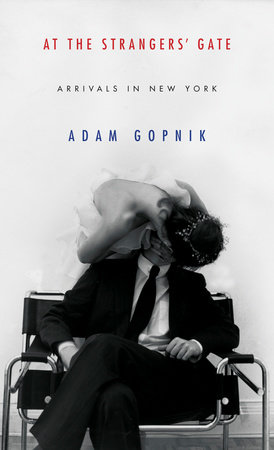 Many chroniclers of this period fall victim to its excesses, treating guest lists like poems. Not Adam Gopnik, the New Yorker writer who resides within his written settings retaining a voice of wonder and restraint. Â At the Strangers' Gate: Arrivals in New York, Gopnik's lovely recollection of New York during this heady, escapist decade, recounts tales of tiny studio apartments and dinners with iconic photographers with equal measures of joy and admiration.
The book is divided into two parts, named for two separate apartments which housed the writer and his wife Martha. The Blue Room was an uncomfortably small studio on the Upper East Side. The Big Store was a serviceable loft space in SoHo that happened to leak molasses. (It was located in an old candy factory.) It's through these two awkward spaces and via the extraordinary professional connections Gopnik makes in those neighborhoods that the author and his wife — two Canadians — become New Yorkers.
I admired the first section, detailing Gopnik's first jobs at the Frick Art Reference Library and the Museum of Modern Art (where he gave tours), as well as his absurd responsibilities at GQ Magazine, conjuring grooming advice from thin air. ("Yet, having invented a rule about, say shaving in the shower, I followed it religiously. I became a true believer in a faith I fabricated.")
But I loved the second section as Gopnik takes the reader on an impassioned tour of SoHo, leading us through restaurants and lofts, detailing a Saturday gallery stroll with such vivid specifics that you can probably use that chapter as a virtual, self-guided walking tour. We also get a glimpse of TriBeCa, its prominence as a chic art and food destination on the rise.
Certainly he glamorizes SoHo's rich art scene, already in decline by the time he and Martha moved there, but he doesn't oversell it. "The SoHo we moved into in 1983 was still a village, a village of art ….. The sense of art in process, being made — canvases arriving, and sculpture being anchored — was still evident."
But he makes sure to elaborate on the capitalism fueling the scene and the odd motivations of its many players including profiles of critic Robert Hughes and artist Jeff Koons, best known for his works of life-size pop cultural objects. The bemused, fascinated tone of At the Strangers' Gate is best illustrated in this detail about Koons:
"One night, at dinner, he politely and enthusiastically asked Martha, 'What is irony? People keep telling me that my art has it, and I really don't understand what it is.' She stumbled, taken aback, 'I don't know, Jeff, I think you should tell me.' ….. He really didn't know what irony was, and was hoping, politely, that someone would tell him."
Romance is a principal theme, not merely with the city but with the rarest of companions — an actual person who is willing to live with you in a micro-sized apartment, a lover whose fascinated with New York's rugged realities, a partner up for going on an adventure with you and legendary photographer Richard Avedon. Most of us imagine a life as interesting as Gopnik's; fortunately At the Strangers' Gate is written invitingly, an 80's spectacle without a guest list, without irony.
Top image of SoHo in the early 1980s courtesy photographer Janet Delaney. You can see other examples of her work here.