The story of the Brooklyn Heights Promenade and the preservation of New York's first historic district
PODCAST Part Two of our series on the history of Brooklyn Heights, one of New York City's oldest neighborhoods.
By the 1880s, Brooklyn Heights had evolved from America's first suburb into the City of Brooklyn's most exclusive neighborhood, a tree-lined destination of fine architecture and glorious institutions.
The Heights would go on a roller-coaster ride with the opening of the Brooklyn Bridge and the transformation of Brooklyn into a borough of Greater New York. The old-money wealthy classes would leave, and the stately homes would be carved into multi-family dwellings and boarding houses.
The new subway would bring the bohemians of Greenwich Village into Brooklyn Heights, transforming it into an artist enclave for most of the century. But even with addition of trendy hotels and the Brooklyn Dodgers (whose front office was located here), the Heights faced an uncertain future.
When Robert Moses began planning his Brooklyn Queens Expressway in the 1930s, he planned route that would sever Brooklyn Heights and obliterate many of its most spectacular homes.
It would take some devoted community activists and some very clever ideas to re-route that highway and cover it with something extraordinary — a Promenade, allowing all New Yorkers to enjoy the exceptional views of New York Harbor.
This drama only served to highlight the value and unique nature of Brooklyn Heights and its extraordinary architecture, leading New York to designate the former tranquil suburb on a plateau into the city's first historic district.
FEATURING: Truman Capote, Jackie Robinson, Gypsy Rose Lee, St. Ann's Warehouse, Matt Damon and the Jehovah's Witnesses!

LISTEN NOW — THE PROMENADE AND THE PRESERVATION OF BROOKLYN HEIGHTS
To get this week's episode, simply download or stream it for FREE from iTunes, Stitcher, Spotify or other podcasting services. You can also get it straight from our satellite site.

Or listen to it straight from here:
---
Standing on the roof of the Standish Arms (at 171 Columbia Heights) in the early 1900s, looking out towards sprawling Brooklyn. Today the Standish is a luxury condominium.
The dramatic fire which destroyed the Brooklyn Academy of Music on Montague Street, 1903.
1921: "Greenwich Village is moving to Brooklyn. No there isn't a catch in it. It's so. The new site of Village activities is Brooklyn Heights, that's right, that part of the City of Churches just to the right of the Brooklyn Bridge."
Children play in front of the brick row houses of Willow Place (nos. 43-49) with Greek Revival colonnades, in 1937. These stunning houses are still with us today.
70 Willow Place, photographed on May 14, 1936. Almost 20 years later, Truman Capote would live in the basement rooms, cranking out work like Breakfast at Tiffany's.
113 Willow Street, also taken in 1936. "Boys in sailor hats play with toy guns under fanciful wrought iron porch front of clapboard house with shuttered windows; girl sits on railing." Once again, thanks to preservation, the house looks entirely unchanged today.
Pierrepont Place, before the construction of the Promenade.
Construction of the Promenade and the BQE, 1948….
…and in 1949, nearly completed. Note the rows of warehouses along the waterfront.
An excerpt from "Discover New York with Henry Hope Reed, Jr.– : a series of well-mapped walking tours, reprinted from the pages of the New York Herald Tribune" . The whole book is an amazing time capsule.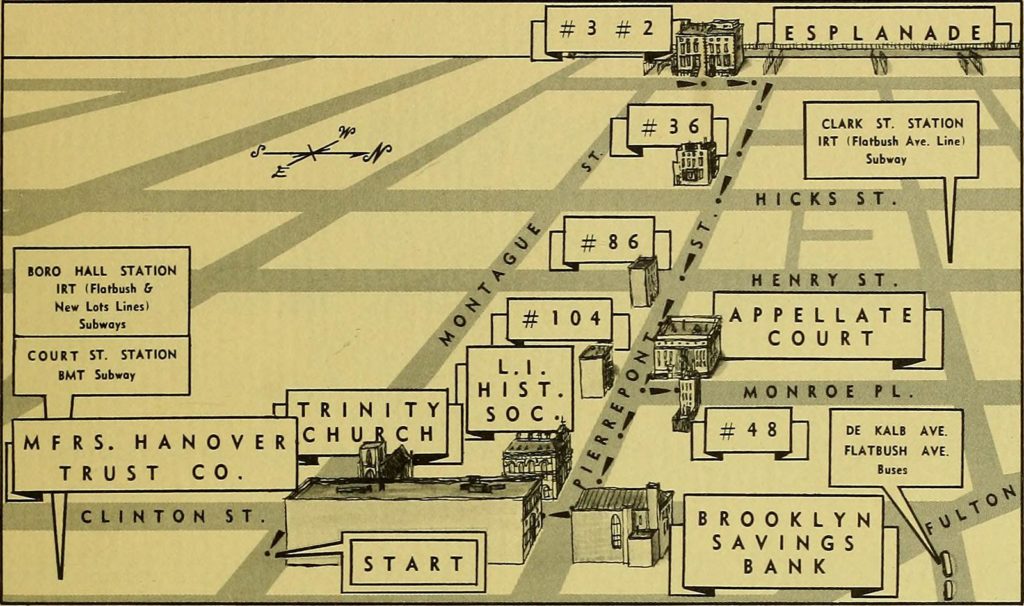 The Brooklyn Heights Historic District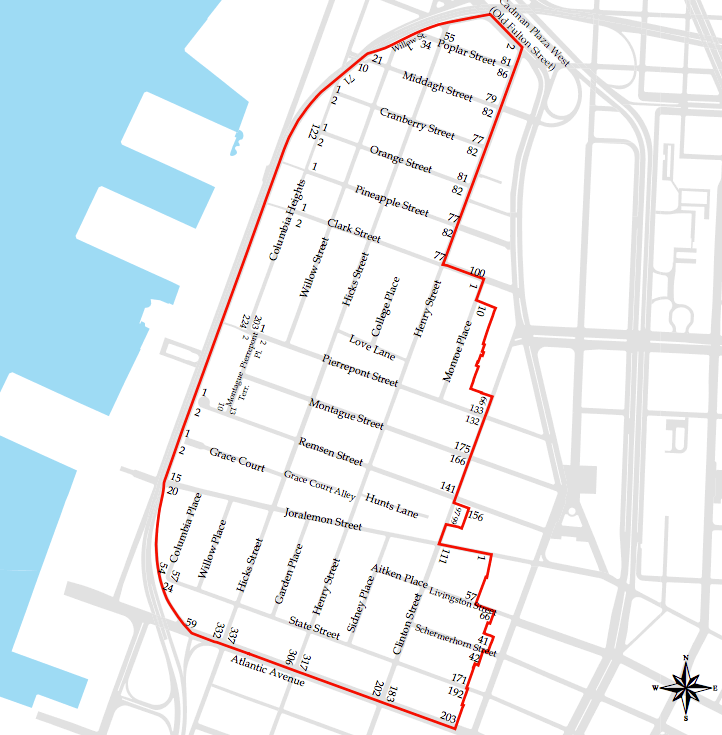 FURTHER LISTENING:
Listen to these shows in our back catalog for more information on subjects mentioned in this show —
Part One of our series on the story of Brooklyn Heights:
The Consolidation of Greater New York was not a concept that the people of Brooklyn unanimously embraced.
Bohemian Brooklyn: Author Hugh Ryan joined us this summer to discuss Brooklyn's unique bohemian (and LGBT) character:
Robert Moses: Did he save New York City — or destroy it?
Red Hook: Moses' BQE project may have spared Brooklyn Heights, but it pretty much cut off the neighborhood of Red Hook from vital services.
FURTHER READING:
The Brooklyn Heights Historic Designation Report
Battling for Brooklyn Heights: The Fight for New York's First Historic District by Martin L. Schneider
Brooklyn Heights: A Personal Memoir by Truman Capote
Brooklyn Heights: The Rise and Fall of America's First Suburb by Robert Furman
Brooklyn Heights: Yesterday, Today and Tomorrow by Bridgewater Meredith Langstaff
The Brooklyn Heights Promenade by Henrik Krogius
The Invention of Brownstone Brooklyn by Suleiman Osman
Old Brooklyn Heights: New York's First Suburb by Clay Lancaster
The Power Broker by Robert Caro
When Brooklyn Was Queer by Hugh Ryan
Yesterdays on Brooklyn Heights by James H. Callender
"Brooklyn Heights: History of Montague Street and Surrounding Area," by John B. Manbeck
"How Brooklyn Heights Became America's First Historic District," by James Nevius
"Jehovah's Witnesses' Watchtower Sales Revitalize Brooklyn Neighborhood" by Alex Boyer
__________________________________________________________________________
The Bowery Boys: New York City History podcast is brought to you …. by you!
We are now producing a new Bowery Boys podcast every other week. We're also looking to improve and expand the show in other ways — publishing, social media, live events and other forms of media. But we can only do this with your help!
We are now a member of Patreon, a patronage platform where you can support your favorite content creators.
Please visit our page on Patreon and watch a short video of us recording the show and talking about our expansion plans. If you'd like to help out, there are six different pledge levels. Check them out and consider being a sponsor.
And join us for the next episode of the Bowery Boys Movie Club, an exclusive podcast provided to our supporters on Patreon.
We greatly appreciate our listeners and readers and thank you for joining us on this journey so far.
________________________________________________________________________
Top photo of the Brooklyn Heights Promenade courtesy Brooklyn Public Library