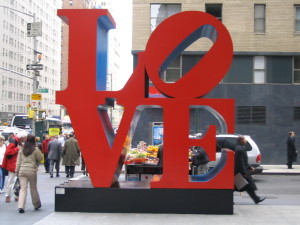 So this past weekend I was in Philadelphia — yes, I know, what's a Bowery Boy doing there? — and in my jaunt around the city came upon one of its most famous landmarks, the Robert Indiana LOVE sculpture in Love Park. And, like a typical New Yorker, I looked at this thing, elevated off the ground on a platform, and thought, "Hmmm, that's smaller than New York's on Sixth Avenue."
Indiana gave the city of Philadelphia one of his sculptures in 1976 for the bicentennial celebration, and citizens immediately took a liking to it. But Indiana is far more associated with New York and its pop art scene, with a focus on commercial signage and stencilling. The LOVE logo first popped up on a Christmas card for the Museum of Modern Art in 1964, and its first sculptural form came two years later at the Stable Gallery at 33 East 74th Street — an important showcase for pop art that in a former location actually had been a horse stable.
And not to make either city feel totally unspecial or anything, but Indiana has LOVE sculptures up in New Orleans, Las Vegas, Indianapolis, and on many college campuses throughout the US. There's even a few scattered around the world, West Shinjuku in Tokyo probably being the farthest he's spread the LOVE.
And if for whatever reason New Yorkers get tired of the one that sits at 55th Street, they can always go to Pratt Institute in the heart of the Clinton Hill neighborhood in Brooklyn, where sits a version in far greener pastures: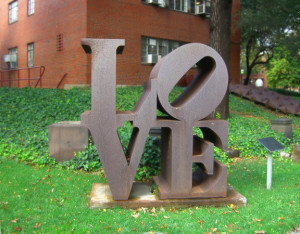 But Philly's LOVE is probably the best presented of all the Indiana statues, situated as it is close to a beautiful fountain at the foot of the Benjamin Franklin Parkway, the city's tree-lined avenue of museums.
Meanwhile, New York's LOVE neighbors a Citibank, a Bank of America, and a Commerce Bank. *sigh*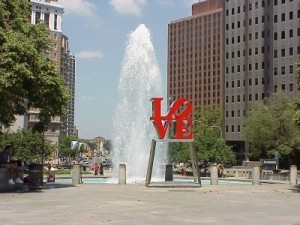 I love Philadelphia by the way, and if youre in New York, its only an hour and a half away by train.