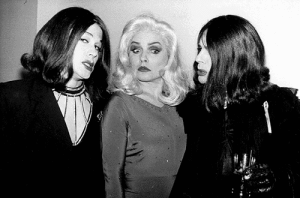 To get you in the mood for the weekend, every Friday we'll be celebrating 'FRIDAY NIGHT FEVER', featuring an old New York nightlife haunt, from the dance halls of 19th Century Bowery, to the massive warehouse spaces of the mid-90s. Past entries can be found here
I was reading Vanishing New York's piece yesterday on the absurd descent of condos and high fashion culture onto the Meatpacking District, into an area that still, well, processes meat. And it got me thinking of the days when that area was a lot less burdened with designer clothing stores. The days when its aesthetic was dictated not by fashionistas and the upwardly mobile, but by burly leathermen and transsexual prostitutes.
In the '80s and '90s, Meatpacking was host to some truly 'alternative' nightclubbing options. For the gay leather set, you had The Lure (featured in the controversial 80s Al Pacino flick Cruising), while straight folks with debauched inclinations had the Hellfire Club. The still operating Hogs & Heifers, with its mountain of discarded bras, made the East Village's Coyote Ugly seem like a classic three-star restaurant. (Hogs has since lapsed into a camp tourist destination.)
But lording over the region was the dark and quirky Mother, a small, caverned club that found its niche as a freakshow outside the universe of the '90s mega-clubs. And no evening at Mother quite resonated throughout the city as Jackie 60, the Tuesday night party of kooks and costume.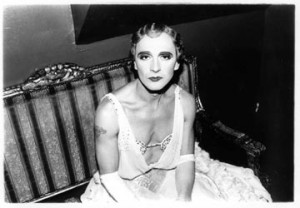 What set it apart from the mega-clubs was its unique sense of creativity and inclusiveness. In fact, its creators Chi Ci Valenti and Johnny Dynell specifically designed it to emulate the fertile spirit of late '70s places like the Mudd Club (featured in our very first Friday Night Fever article).
According to Chi Chi, "We decided to create a place in the spirit of those smaller clubs. And when someone who used to go to a place like the Mudd Club walks in to Jackie and says, "This feels like those days," well, that's when I feel like we've really done our job."
The two met at the Mudd Club and soon created a party together that took some of the neighborhood ideas (remote locale, S&M and sexual imagery) and combined it with striking costumes and themes, incorporating punk, drag and theater. They soon added British fashion designer Kitty Boots and choreographer Richard Move to the mix, and the flamboyant stage was set.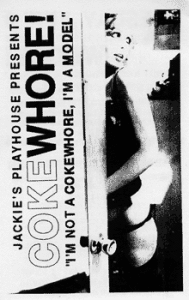 Unlike the spirit of exclusivity that possessed the monster doormen at big clubs, Jackie 60 drew a wide range of people, the only criteria being a flair for the dramatic — and the guts and confidence to exhibit it. As Dynell describes it, "For example, you never know what somebody is here. They could be anything. They could be straight. They could be straight to bed. At Jackie we have an expression: For every cup there is a saucer."
Frequent special guest Deborah Harry (seen in the pic at the top and below) being the exception, celebrities like Mick Jagger, Marc Jacobs, Jack Nicholson, and Robert Deniro came through and were barely noticed. How could you be noticed?
Along with a 'classic dress code' (attire within reason, basically), Jackie 60 frequently had an inspired weekly dress code. For example, on Bleak House night (yes, as in Charles Dickens) one must wear 'Vivienne Westwood urchin-look' with 'gruel bowls and utensils'. You can just imagine what Klingon Women Night (an actual theme night) must have looked like.
The regular clientele came attired often in the theme of the evening — Rimbaud night, Hasidic hip-hop, Hooker's Ball, even supermodel disasters night.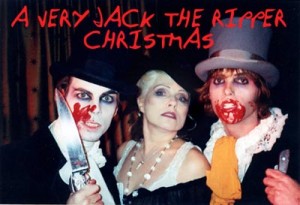 Jackie 60 even had a monthly poetry reading at midnight, with verse delivered from the most painted of lips. Satellite Jackie events included theatrical productions (with one written by Michael Musto) and spinoff parties (Click + Drag, a cyber themed soiree in the days before iPods).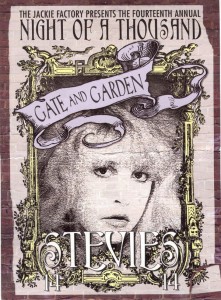 But what was easily their most celebrated event was the Night of a Thousand Stevies, a yearly gathering where hundreds of Stevie Nicks fans from around the country descended on that little hole in the Meatpacking District to worship their favorite songstress. Men and women, young and old, beautiful and not-so, for one night each year, the cobblestone streets were filled with swirling shawls and tambourines.
Jackie 60 closed on the last Tuesday of the 20th century, but the Night of a Thousand Stevies parties live on every May, as do other events in the Jackie 60 brand. In these days of nightlife homogeny, the kids at Jackie 60 just look better with age.
A loving tribute with tons of photos can be found here, or visit their official tribute site and one from Mother.