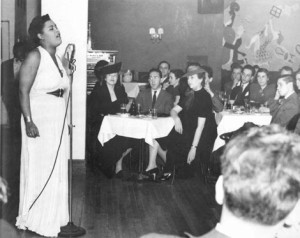 To get you in the mood for the weekend, every Friday we'll be celebrating 'FRIDAY NIGHT FEVER', featuring an old New York nightlife haunt, from the dance halls of 19th Century Bowery, to the massive warehouse spaces of the mid-90s. Past entries can be found here .
For this week's edition, we're bringing you the tale of how a simple club in the basement of a West Village building opened the door to a revolutionary (and now obvious) idea in New York City music and delivered one of the most significant moments in all of music history. (How's that for a lead?)
In the 30s it was the midtown clubs that were alight with the bourgeoisie, tuxes and evening gowns, tables and banquettes of rich white people drinking champagne, and often entertained by black performers borrowed from Harlem. It was putting on the ritz, it was dancing cheek to cheek. It was embodied within the phrase 'cafe society', coined by the one of the scene's wittier celebrities Claire Booth Luce, darling playwright of 'The Women' and a toast of Broadway.
But there was also something saccharine and square — and segregated — about the midtown haunts. Things were wound too tightly.
What would become one of the New York music world's most fertile spots was far, far downtown from the 'real' nightlife, at 1 Sheridan Square in the West Village. And like all brilliant ideas, it seemed to come from out of nowhere. 
New Jersey shoe salesman Barney Josephson had an affinity for jazz music — partially grown from visiting the bawdy clubs of underground Berlin — but grew irritated at the race segregation, which even occurred in Harlem, at places like 
The Cotton Club
.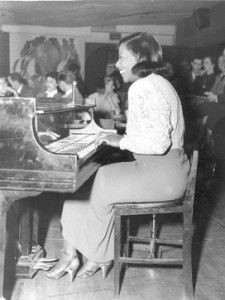 Josephson envisioned a venue where musicians of any color could perform — and audiences of any color could enjoy it — but such a notion seemed to fly in the face of modern 'cafe society' culture. "I wanted a club where blacks and whites worked together behind the footlights and sat together out front. There wasn't, so far as I know, a place like that in New York or in the whole country."
So, acquiring his Greenwich Village location, what a better name to call this rather kooky experiment than Cafe Society? Luce, knowing good irony when she saw it, even encouraged the bar's lusty slogan: The wrong place for the right people.
Opening on Dec. 18, 1938, Cafe Society was festooned in wacky caricatures of music stars, comedians and personalities of the age. Walls were muraled by local artists. (See some examples of these quirky murals below, and you can spot them in the photos on this page.) The club doorman played with the notion of informal glamour, wearing a tattered top hat and white gloves with the fingertips ripped off. But there was none of the silly, castoff frill of the uptown fare — "no girlie line, no smutty gags, no Uncle Tom comedy".
What happened on its stage was far from typical. Josephson began hosting performers of all stripes, many taking to a mixed stage for the first time in their careers. Over the course of its ten-year run — and that of a second location, coyly placed at 58th and Park — Josephson and his partners would host dozens of soon-to-be jazz stars, in many cases paving the way to their success. Art Tatum, Lena Horne, Sarah Vaughn, Mary Lou Williams (pictured above), Lester Young, Burl Ives, Jo Jones (pictured below), the Golden Gate Quartet, Ella Fitzgerald — in fact its easier to make a list of jazz and pop music icons who didn't perform there.
But Cafe Society's biggest claim was there from the beginning. On opening night, a young woman took to the microphone. She had started achieving some success and had even snagged a recording contact with Columbia Records. But the legend of Billie Holiday would begin here.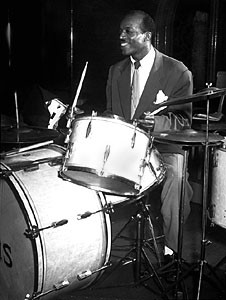 To have Holiday as your in-house singer (for nine months!) would have been an honor enough. To give her — and the world — a defining musical moment, well, that's New York. 
Cafe Society naturally took on a liberal, left-leaning clientele and with that, a political edge to it. (More on that in a bit.)
Josephson presented a song to Holiday that he had heard at political gatherings, a piercing tune about lynching, one that forcefully reminding listeners that violence and discrimination still very much existed outside the doors of his club. Billie was originally indifferent to the song, written by a white Jewish schoolteacher Abel Meeropol; then after contemplating it, considered it too bold.
But she was convinced to sing it, and on three consecutive nights early in 1939, Holliday ended her sets with the song — "Strange Fruit." A spotlight tightly focused on her face, she stunned the audience with its searing intensity. And then she left the stage, not returning to hear the thundering applause. It was theater at its finest; thousands of less talented chanteuses would search to recapture the drama in dozens of Village clubs and cabarets, from then to today.
The 'experiment' of Cafe Society wasn't to last long. Josephson's brother Leon was being investigated for communist ties, and Barney soon felt the heat of J. Edgar Hoover and his House Un-American Activities Committee. The FBI even staked out the clubs, photographing patrons, and Hoover soon 'opens a file' on Barney himself. Both locations of Cafe Society were closed by 1950.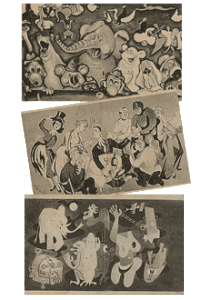 He managed to pick himself up and soon opened another influential downtown jazz club, the Cookery. Holiday entered the pantheon of musical legend, at immense cost to herself through her abuse of drugs and alcohol. (Story has it that she smoked lots of marijuana between sets at the Cafe.)
But for a moment, that gritty nightclub became the center of the musical universe. Most music critics agree that Holiday's original performances of 'Strange Fruit' at Cafe Society are among the ten most influential musical moments of 20th Century and basically constitute the birth of political activism in popular music.
You can visit the location of the former Cafe Society simply by taking the subway to Sheridan Square (hub of the old gay neighborhood) and going to its northeast corner.